Since we have entered a new decade, door to door marketing is continuously losing its purpose. Internet has become the home of every individual and their social accounts are their own sanctuaries. To replace the door to door method many alternatives of digital marketing are being used. These tools have become a necessity for every business giving it to their mass reachability with lesser effort. One such part that can get you one to one interaction or communication with prospected clients is Email Marketing. To drive your campaigns via email here are some best email finding tools that can make all the difference you desire.
Let us go ahead and look at the top 8 best tools to find email addresses.
ClearBit
It is one of the most popular marketing data search engine that gives a wholesome customer experience and share with you the insights of trends in customer behavior as well. The data provided is fresh and accurate with real time lookups. Some of their services are free also.
While searching for the comprehensive database of customer emails, ClearBit is a popular recommendation. There interactive interface gives the user freedom to act on the immediately shared databases and there is a real-time integration with your system.
In the data provided one can get company attributes like employee count, technologies used, details of roles and seniorities. Even job change notifications can come at your fingertips. If this is the case, then imagine, how good can you optimize your content according to the current needs of your client. With their machine learning algorithms, lead generation is quite handy and business growth is assured.
For the rate of 199$ per month you can get information for 2500 clients. You can increase these packages as per your business requirements. This makes it one of the best tools to find emails.

Voila Nobert
They commit to find any individual's email address for you. They have promoted themselves in ways like 50 free leads when you sign up. They help in building a well-maintained data of corporate emails. They have a facility to validate the emails in real time to reach real people and keeping the sender score safe.
Their online integration with Google Chrome browser is a smart feature where the extension sources contacts of companies', right as you prospect online. They also drive integration with powerful sales tools like Zapier, Hubspot, etc.
Nobert's online platform specializes in following fields:
Sales
Recruiting
Content Marketing
Business Development
PR
The site claims to have served more than 60,000 customers with 1.4 billion authentic email addresses.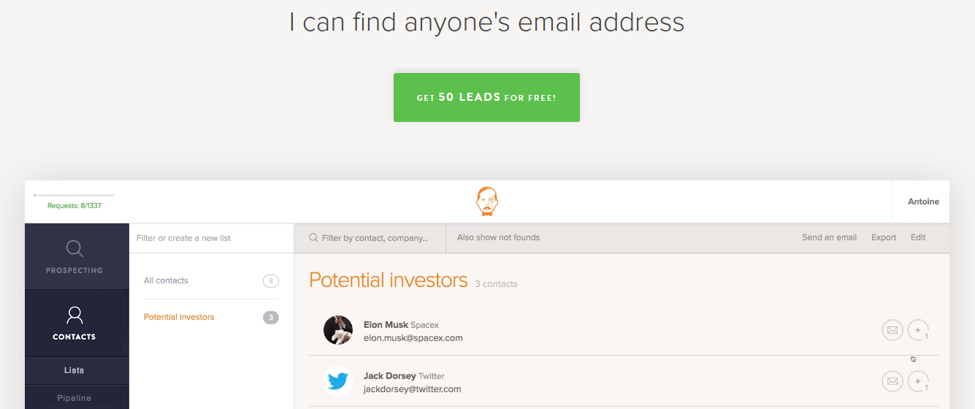 Find Emails
This is the one that can fit one's budget easily. Plans start from 19$ per month. Additional credits can be purchase at prices as low as 1 cents per credit. Like other competitors they too share an insight around the decision makers of each targeted company and every contact details for the person of interest. They claim to run a mail-server test for every email address one finds to validate.
With their strategic approach they verify the previously created lists also. Their application program interface is one of the best that is available in the market and can be skillfully used to extract people or possible leads from the designated web pages.

Ninja Outreach
This is one of the best email finders for finding influencer emails. The pricing is 99$/month per seat which can look at the higher end but at the same time it is a bang for the buck. It is quite versatile in preparing its database and we can personalize it time to time as per the business needs.
It has proved to be 98% accurate and is one of the best tools to find email addresses. It is both available in the form of website or a chrome extension that automatically feeds you with the data and refreshes the same for every use.

Hunter
With its robust service you can the email addresses working behind any website. You can domain search the name and email addresses found directly via web. They also help you polish the content you are putting in your broadcast messages. The general features are same as that of other such search engines.
Pricing can start from 49$ per month and go up to 399$ for premium services required by bigger enterprises.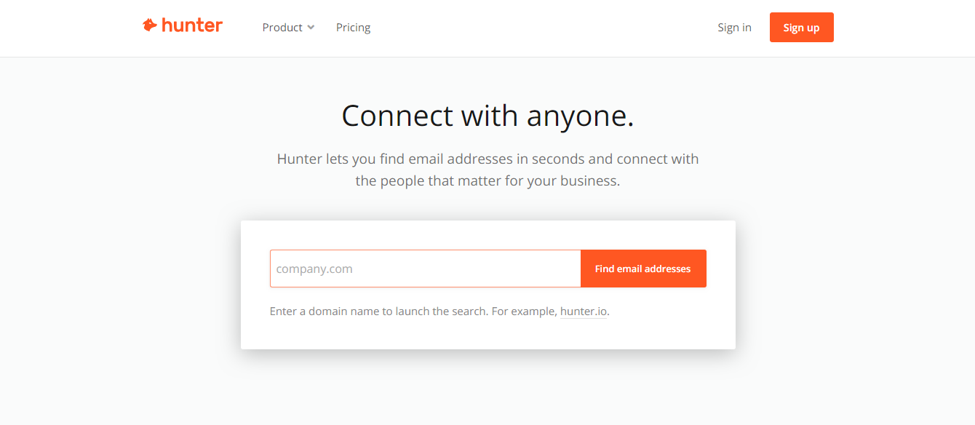 Vocus.io
It has almost same features like rest of the above. It links with LinkedIn for providing better and accurate results. The pricing starts from as low as 5$ which can be a boon for beginners or small businesses.It is one of the best tool to find email addresses.
This list might suffice your knowledge in comparative way to easily enter the email marketing game and churn out some interesting sales growth results.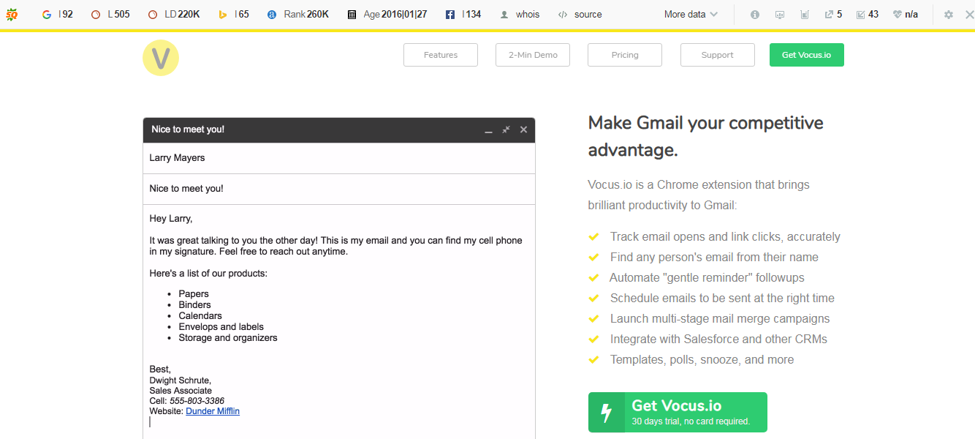 Adapt IO
You can be sure that your CRM game will be going strong thanks to the fact that you can add this tool to your dashboard and keep track of all prospects and email addresses that you need to find. This tool also hooks up to your LinkedIn profile for the best results.
Skrapp
Now this one is super interesting because it is used by some of the top companies worldwide including Oracle, Siemens, Cisco, and many others to boot. What does this mean? Well, simply put, it means that you have a great chance at finding the exact email addresses for the biggest companies in the world!