When choosing a monitor for the office PC, size is an element that you must necessarily consider, with due attention. To make an informed and functional choice, it will be important to consider the use you will have to make of it. With reference to the size of the PC monitor for the office , in recent years the screens have become increasingly large , thanks to technological evolution and optimized and lowered production costs.
Ten years ago, it was normal to have a 14-inch PC monitor for the office , in a 4: 3 format; only true enthusiasts and professionals with specific needs (designers or graphic professionals) invested in the purchase of screens characterized by larger dimensions.
Although the trend today is to buy large monitors, it is possible to find more limited models on the market: the standard however is represented by measures ranging from 21 to 23 inches, with 16: 9 format. In recent years, the 24-inch screen market has undergone a significant increase.
Article summary:
What is the ideal size of the pc monitor for the office?
PC monitor: what is the right size
PC monitor size for gaming and screen response time
PC monitor size for Autocad and design
Monitor size for full HD pc, for those who love to watch movies on the computer
The best pc monitor size
PC monitor: sizes from 32 inches up
Monitor size per pc: 24 inches
PC monitor: size 19 inches
PC monitor: size 40 inches
Ultra wide monitor for pc: big size for big goals
All in one touch screen pc Hp
UAE Technician: your strategic partner for the purchase of quality PC monitors
Interactive SHARP monitors
Our multifunctional applications
PC monitor: what is the right size
What is the right size of a pc monitor? Why buy a large monitor? If you have enough space on your desk to accommodate a large screen, you can choose a 26-inch or 27-inch model . It should be noted that a large screen does not automatically mean more space for files on the desktop. In fact, the resolution is the same on most commercially available screens.
On a large monitor, you can view larger images and texts. This facilitates various activities, such as consulting emails or using applications and software for production. With a 27-inch monitor, for example, you can use a smaller zoom when working on Excel. You can view multiple elements on the screen, or even two word files side by side.
PC monitor size for gaming and screen response time
What are the best PC monitor sizes for gaming ? If you are a gamer and a big game enthusiast , you have to pay attention to the response time of the screen , that is the time that a pixel takes in the transition from one gray scale to another.
The value is expressed in milliseconds (ms) and is a technical datum of fundamental importance for all players.
The lower the ms value of a monitor, the more the risk of the so – called wake effect is reduced , the annoying pixel overlap of two successive images. It consequently increases the sharpness of the image and the realism of the game.
In a standard monitor with a 60 Hz refresh rate, the screen response time is a maximum of 17 milliseconds. If the monitor is for gaming, the response time should be less than 5 milliseconds.
So what are the ideal dimensions of the PC monitor for gaming? The 32-inch PC monitors are ideal for playing on the computer. You can also choose smaller screens, but for gaming it is good that it does not drop below 22 inches.
 PC monitor size for Autocad and design
The best PC monitor sizes for Autocad , or other graphics programs, are 26 and 27 inches: the bigger the screen, the better the working conditions.
For those who use Autocad or graphic programs, in addition to the size of the screen it is very important to also consider the brightness.
Monitor size for full HD pc, for those who love to watch movies on the computer
The best full HD pc monitor size for those who like to enjoy watching movies and videos on the computer is 32 inches . Our advice is this: buy a TV monitor. In fact, monitors for televisions also have a TV tuner and have special interfaces to facilitate connection with PCs.
 The best pc monitor size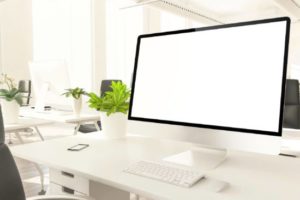 So what is the best size of a pc monitor? For a typical arrangement on a desk, a screen must be at least 50 centimetres away from the operator's eyes , without ever exceeding one meter.
For an average use in the context of an office, you can choose a 23 or 24 inch model : the screens of this size are able to offer a good relationship between price and ergonomics. If you have more space and the price is not a problem, you can buy a larger screen model and improve the working conditions of your collaborators.
PC monitor: sizes from 32 inches up
Over the past few years, some monitor models for PCs with a size of 32 inches and up have appeared on the market. These are LFD monitors , Large Format Displays, screens specially designed to convey interactive commercial communications.
These models are widely used in railway and underground stations, but also in hotels and in famous fast food places, supermarkets and shops. The use of large format monitors is increasingly widespread: these models must be able to remain on for long periods (sometimes 24 hours a day). In fast food restaurants and restaurants, these devices are used to allow customers to register their orders in complete autonomy.
 Monitor size per pc: 24 inches
For the use of the computer in the office, without the need to work on specific graphics and design applications, you can decide to buy a 24-inch pc monitor . It is an ideal choice to make the most of the 1,920 by 1,080 pixel resolution. A monitor of this size allows you to place several windows side by side and to see clearly the page you are working on.
PC monitor: size 19 inches
A 19-inch pc monitor can be defined as a small screen: this measure represents the minimum size for daily use in the office or at home, for work or study.
For a pc monitor, 19 inches in size are therefore a starting point, below which it will be better not to go down. For business use, the best choice is certainly a monitor that will range in size from 24 to 27 inches.
 PC monitor: size 40 inches
The choice of a 40-inch PC monitor can be considered for special work needs or if you intend to use the monitor as a TV. This solution is undoubtedly the non plus ultra for all those who use the computer to watch television or love to watch streaming movies.
 Ultra wide monitor for pc: big size for big goals
Large monitors for ultra wide PCs with 21: 9 or 21:10 format are also available on the market : these models can be used both in the professional field and for gaming and leisure. The ultra wide, monitors for large PCs, guarantee engaging effects, especially playing video games.
These models are certainly also very interesting for professional use. In particular, ultra wide monitors for large PCs are useful for presenting Excel charts and tables during conferences and business meetings.
The monitors for ultra-large PCs are also widely used in the medical health sector. Some models have a characteristic curved screen, which has experienced particular commercial success in the past and which today continues to influence the production of PC monitors.
All in one touch screen pc Hp
A very interesting model is certainly All in one touch screen pc Hp . This HP pc is equipped with a special anti-glare touch screen, which guarantees excellent definition and brightness. This monitor is perfect for working without interruptions and maintaining high production standards.
UAE Technician: your strategic partner for the purchase of quality PC monitors
UAE Technician is the most reliable partner for purchasing PC monitors with high quality standards. Our company boasts a long experience and skills of qualified technicians. The goal of our consultants is to provide cutting edge office equipment and IT solutions. We are constantly engaged in the development of innovative services to make production processes more efficient and support business and professional realities of all entities.
UAE Technician stands out as a serious and reliable professional reality, always in step with the evolution of technological systems. Our professionals are able to advise the customer in the best possible way in the choice of products suitable for each specific need.
Interactive SHARP monitors
Relying on the great experience of UAE Technician, you can buy the special interactive monitors called "Big Pad Sharp". These are models designed specifically for the needs of schools, universities and academic environments in general. They are also suitable for working environments and for all contexts that require an economic, effective and intuitive solution in everyday use.
Sharp Big Pad monitors can be used both in the context of a training room, an auditorium, making your lessons more engaging. Big Pad Sharp is also useful for a corporate meeting room. Its monitor, in fact, can act as a high-performance communication platform, to stimulate creativity and effectively promote teamwork and at the same time speed up the decision-making process.
The teacher, inside a classroom, the speaker of a congress or even the moderator of a meeting, can use this technological tool that will help them carry out their professional tasks. Users do not necessarily need to be IT experts  to use this tool. Big Pad Sharp has an intuitive and simple to use interface
Those who use Big Pad Sharp can concentrate on the teaching or presentation of work they are illustrating to their colleagues: Big Pad will think of the technology.
 Our multifunctional applications
Sharp interactive screens are the ideal technological tools to support the activity of teachers and speakers, in the context of a conference room, a training room in the school and academic environment. With the use of our interactive screens, you can motivate your audience and contribute to a significant improvement in your image, giving your speech the right communicative impact.
By providing your communication team with an interactive screen, professional opportunities will multiply and every moment will be good for a successful presentation.
Sharp interactive screens make the difference in communicating a message: with a screen up to 80 inches in size , with a spectacular HD resolution , you can enhance and give quality to your teaching or communication activity. Using an extremely intuitive Sharp Pen interface, you can control your presentations, lessons or conferences in a highly professional way: the pen settings, such as the color and the thickness of the stroke, can be defined independently, for each touch pen, using the relevant function buttons.
For information on UAE Technician's products and the professional technical repair services provided, do not hesitate to contact us : we will be happy to respond as quickly as possible to all your requests.