Today we are going to compare the market's two most popular foldable phones: Samsung's Galaxy Fold and Huawei's Mate X. While both models have screens that fold in half, top-notch specs and an incredibly high price, the similarities end here.
Sure, at first glance, these folding phones look pretty similar. But take a closer look, and you'll see that the two smartphones are very different. From screen display quality to durability (after all, cell phone repair will probably be difficult on these two models), the Fold and Mate X differ in almost every category.
Galaxy Fold vs Huawei Mate X: Screens
Folded up, the Galaxy sports a 1960 x 840 display that measures 4.6 inches. Meanwhile, when the Mate X is folded up, it boasts a 2480 x 1148 front display that is 6.6 inches and another 2480 x 892 6.38 inch display around the back.
Upon opening the devices, we can see that the Fold has a 2152 x 1536 Infinity Flex tablet display that is 7.3 inches. The Mate X has an 8 inch, 2480, 2200 FullView display laid out. Both the Mate X and the Fold's large screens are appropriate for multi-tasking.
Display Quality
Much like the other Samsung Models, the Fold has a sharp display quality that holds up to the Galaxy standard. Meanwhile, the Mate X has a smoother display quality.
Durability
Samsung is known for ultra durable smartphones that can withstand falls, but experts believe that the Mate X is more of a sturdy phone.
Design
Fans of the Mate X will enjoy the lack of notch on the screen when this model is folded out. To get around "the camera problem," the Mate X placed it's camera as a sort of "dedicated sidebar."
Although this adds a bit of bulk to the Mate X when it is folded out, the design is otherwise pretty slim. You can also hold the sidebar as it is easy to grip.
Samsung and Huawei have drastically different designs. The Fold has an external and internal display while the Mate X has two screens facing outwards.
In the design department, Huawei has built a phone that seems to present a bit better. Most consumers agree that the Mate X is the more attractive of these two devices.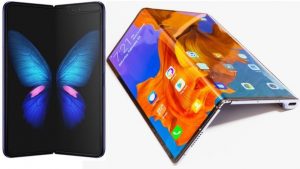 Cameras
Samsung offers three cameras on the rear: a 12 MP wide-angle camera, a 16 MP ultra-wide camera and a 12 MP telephoto sensor. It also has two cameras on the inside: an 8 MP RGB depth camera, a 10 MP camera, and a 10 MP sensor on the front.
The Mate X boasts four cameras that sit on the device's sidebar. This means that you can take pictures no matter which way you are holding the Mate X, a handy feature. The Mate X also features Mirror Shooting, a mode that allows the person you are taking a picture of to see how they look when you are snapping the photo.
The reason for all of these cameras is because you will likely be taking photos as you use your device in various configurations.
Battery
Samsung's batteries work together, with a total battery capacity of 4380 milliampere. The Mate X has a 4500 mAh battery capacity – but remember that its screens are more demanding on power than the Fold's.
The Mate X 55W SuperCharge feature is a nice one – you can go from a completely drained battery to 85% in a matter of a half hour.
Thickness 
In phone mode the Galaxy Fold appears to look like two smartphones glued together, making it a chunky device. It doesn't fold completely flat, adding extra bulk.
Meanwhile, the Mate X folds flush and looks more polished. It folds entirely flat and its sidebar is only visible from the back. Finally, the tablet folds up nicely, producing no gap between the screen when it is packed up.
Price
Although both phones bring exciting new features to the world of technology, nobody can deny they come at very high price tags. The Huawei Mate X is more expensive than the Galaxy Fold, but one could argue that it has more features.
Are you thinking about purchasing a folding phone this year? Which model will you go with?