With the constant progression of technology, today even car rental service has come a long way, with their being different types of car rental services available to the customers, ranging from corporate car rentals, self-drive car rentals, outstation car rentals, local car rentals, P2P car rentals, long-term car rentals and last but not the last, airport car rentals. And today in this blog we will be focusing on the concept of airport car rental mobile apps, and what can be done to cater a great customer experience through these apps.
It started with Uber and Lyft, and marching on their footsteps today there are a plethora of car rental platforms available to meet the commuting demands of people. From the business point of view, the rising need and demand for diverse transportation methods have opened huge business opportunities. Hence, if you are looking to make a mark in the arena of car rental mobile apps then you have made the right decision.
Now talking of the airport car rental apps, as per the research and markets, it is fore casted that by the year 2022, the global car rental industry will reach an estimate of $99.6 billion and it is expected to grow at a CAGR of 5.5% from the year 2017 to 2022. The main reason begins the growth of these airport rides is the increasing number of international air travelers and also the rise in the volume of domestic tourists.
Car-Rentals worldwide Statista Market Forecast
In this blog, we will be discussing how you can attract your target audience to your airport car rental mobile app and how to set yourself apart from the other airport car rental platforms.
Out there, several of iOS and Android apps for airport car rental service is available, however as you approach with your app, try to design a simple User Interface and keep the whole of on-demand car rental app development experience very simple yet robust. Instead of bombarding your app with too many features, just include the key features and get started. This way your user will enjoy using your app.
USER PANEL
Keep the process of car hiring simple:
In earlier times, people used to book a taxi or car in advance whenever they had an upcoming flight. However, in the case of airport car rentals, owing to the increasing volume of air travelers, car rental businesses make it a point to keep the supply more than the demand. This way the taxis are easily available in real-time and that too in a hassle-free manner.
Also, earlier travelers were required to wait for a car outside the airport and had no option but to pay more for the taxi service owing to the levied taxes on it. But this scenario also changed with airport car rentals apps as these apps provide the car delivery and pick-up service as and when demanded by the customer.
How great is that now?
Not just this, but these services are now reaching in most areas, and that too consistently, in order to make car renting easy and efficient for their customers.
Thus if you are looking to enter this business, then endeavor to provide an efficient solution to your target audience with your app, and look to create a convenient platform for them. This will work both in favor of your customers as well as your business.
Also Read: Car Rental Mobile App Development Cost And Key Features
Allow your users to modify their requirements:
Customers like the idea of being in control, hence they would certainly love the idea of being able to alter the reservations as per their requirements. Like, in case of most car rental apps, they allow their customers to choose the type of car. Similarly, the customers can be allowed modification in other areas as well, like they should be allowed to place special requirements while booking for an airport car rental service, like to ask for a car with more luggage storage or maybe last-minute cancellations. In a few of the car rental apps this feature of special "child sitting" selection is provided. Offering these special services via your car rental service will make the user feel special and in control and they would prefer to use your app every time they need renting a car.
Instant help 24×7: 
For a car rental service, it is crucial to provide emergency roadside assistance whenever the need arises, whether the car breaks down, battery service, towing, fuel delivery, lockout service, flat tire service, or extrication. It will help in building a level of trust in your customers when such issues are tacked hands-on and no money is charged for this service offered to them. Other than this, new businesses in the arena of car rental service should incorporate GPS service facility in their cars so that they will be able to easily track the users to provide roadside assistance. Nothing makes for good branding then offering good services and nice gestures. This will instantly get you great reviews from the cab service users.
Allow quick Payments:
Usually, the cab users picking the cab for the airport are in a hurry and simply want to make it on time. So, make sure that you offer a smooth experience throughout, right from booking a car to taking the payments. Yes, it is vital to offer multiple payment modes, like Debit/Credit Cards, PayPal, Stripe, Braintree, etc. in your in-app payment system. This will enable the cab users to make quick payments without having to work about change or other things.
Behavior Tracking: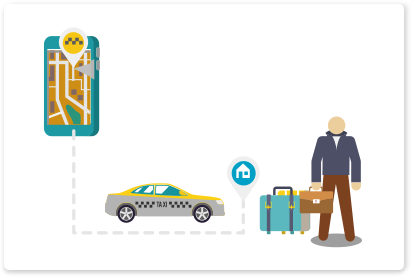 Algorithms can be used in order to make the search process smart for users. This is just a great idea as these algorithms are able to store all the recent bookings made by the users so next time when the user opens the app to schedule a booking, the suggestions can be made as per the previous specifications are chosen by these users. This way, the process of car hiring becomes quite effective and easier for users.
Offers:
It is a good idea to leave your app users surprised from time-to-time. Think of offering promo codes and other offers to them. Not only the users will appreciate it but will get the chance to use your app more often. Hence, it is a good idea to keep the users engaged with the app and also it will enhance your user base and app visibility. All in all, you are in for a profitable deal.
In this super busy world no one appreciates the idea of hustling time with car dealers and airport cabs, instead, they like the concept of instantly booking a cab with preferred modifications in just a few clicks. This is why, airport car rental service is making quite a stir at the moment, and it is nowhere to die down looking at the current situation when international travelers are increasing at such a great pace.
In case you are looking to create an airport car rental app for your business, then it will be helpful to get in touch with an app development firm dealing with airport car rental mobile app development services. The idea of the customized app is great as it allows to choose the features and services as well your business offerings. And with right car rental app developers on board, you really make a difference.