Today, shopping has truly gone digital — from flight tickets to electronics, apparel, shoes, daily groceries, furniture, and jewelry, we now prefer to buy everything online. But when it comes to buying art online, especially high value, most of us are still not comfortable clicking the button. Though buying art online comes with numerous benefits, such as no geographical constraints, easy access to an extensive catalog of artworks — in terms of medium (painting, sculpture, drawing, pencil portrait), technique, subject matter, or style — landscape paintings, religious artworks such as Radha Krishna portrait, vibrant abstract art, and more, we hesitate to make a purchase without having explored the piece for real. Also, many feel unsure about the authenticity of the artwork in absence of any physical interaction with the seller.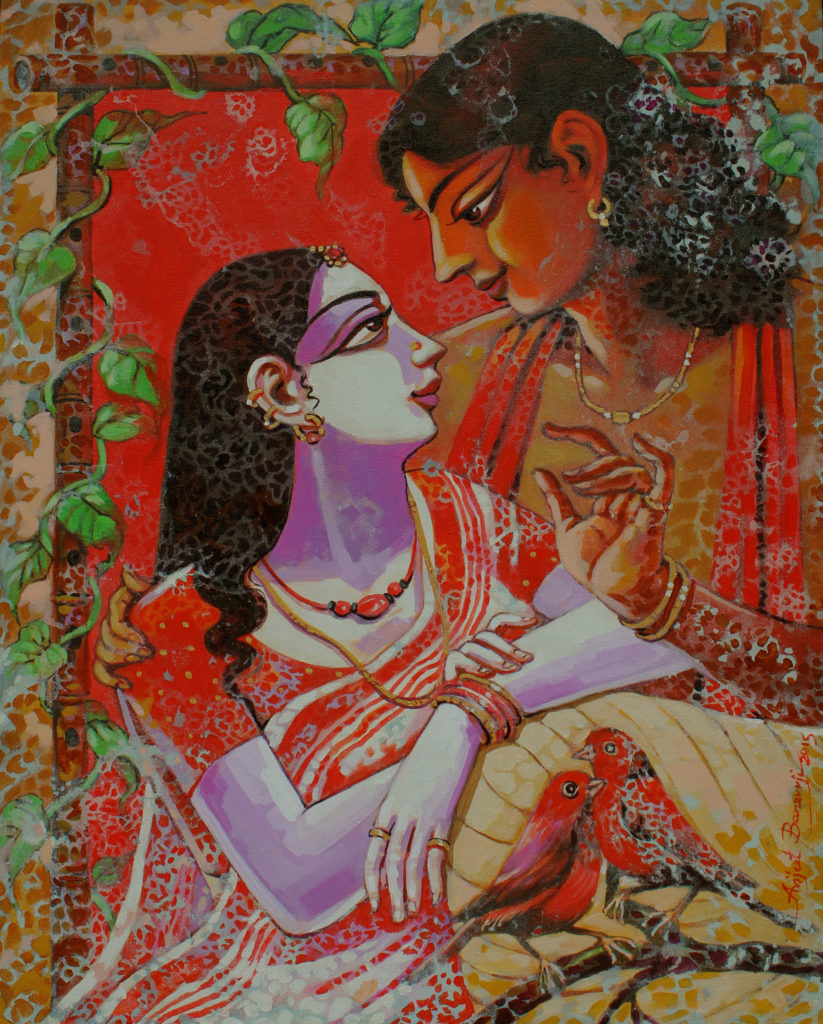 To make your online art buying experience convenient and enjoyable, we have compiled a list of essential tips.
1. Clarify Your Intent
While buying art, it is important that you are clear about your purpose — acquiring art only to adorn your home, or considering it as a long-term investment. It's imperative that you know beforehand what is driving your purchase because it could significantly impact other parameters of budget, size and theme of the painting, reputation of the artist, and the online gallery or auction house you should consider for the purchase.
2. Set a Budget
Buying art online provides you with the option to choose from endless possibilities — whether in terms of subject, style, or medium, all in one place, a lot more than you can explore at any physical gallery, but often it proves to be overwhelming for many. This is where having a defined budget in mind helps. It not only narrows down the options but also saves you from giving your heart to an artwork that you simply cannot afford. In case you are a new art buyer, try not to go beyond your set budget as it is likely that you may regret it later.
3. Know Your Space
Unless you are an art collector, you are likely to encounter one of the biggest challenges of buying art online — visualizing the size of the work despite reading carefully the exact dimensions. If you have a space in mind to display artwork, use a measuring tape to know exactly how big the area really is. You can even use cut-outs made of cardboard or newspapers of similar sizes as a guide to know how much space the piece would take. You can also use a print-out of the piece you are interested in and hold it against the space to get a better idea of how it might look in the room. This will help you determine the dimensions of artwork that you should consider, also help you know about the size limitations so you don't end up appalled when the piece is finally delivered.
While choosing a piece, it is also very important to keep in mind the existing decor and aesthetic of your home. Some artworks can blend well in a contrasting aesthetics, such as adding traditional art such as Radha Krishna paintings in a contemporary setting will enhance the look, be careful about the extreme clashes between the artwork you are willing to buy and the existing set-up of the space you are willing to display the piece including the color palette, furnishing, furniture of the room.
4. Research the Entire Universe
While thinking of buying art, most of us limit ourselves to only paintings. However, there are endless available options out there, which include prints, photography, installations, plastic arts, and several traditional art forms. It is advisable to keep an open mind and invest time to explore different forms of art, which will help you find the right piece. For example, if you have a limited budget, but like to have the work of an acclaimed artist (such as S.H. Raza, Francis Newton Souza) displayed in your home, you can go for buying a signed, single, or limited edition print, which will not only be a masterpiece but also prove to be an investment.
Similarly, you can consider a monotone wall adorning a collage of artworks with pops of colors or a simple photography grid. But to get an interesting art in place, it is important that you don't hesitate to research to find out which forms of wall art you are open to buying and can easily afford.
5. Verify the Gallery's Legitimacy
Undoubtedly buying art from a gallery that you have never visited can be quite daunting. But there are various ways in which you can establish the authenticity of the online gallery. Read about its founders or promoters, associated artists, check their educational and professional backgrounds. You can also check reviews about the gallery's services and reputation by exploring its social media channels such as Instagram, Facebook, Pinterest, Twitter, LinkedIn or YouTube.
However, the design and information available on the website of the gallery will give you a sense of its legitimacy. Still, there are things which will help you check further on its authenticity, check if the site has a secure web presence by looking for the 'lock' sign next to the URL. Also, read carefully about the payment options and if a reputed payment gateway is available. If they insist on 'cash-only transactions', you certainly have a cause for concern.
6. Explore the Artist
It is well-known that a good work of art narrates a story. So, it is important to understand the artist's journey from the beginning, his/her background, and inspirations before buying. Learning about the artist will help form a deeper connection with the artwork as well.
A good online gallery will provide every information about their artists on the website, and would happily assist you if you have any more questions. One of the easiest ways of determining if an artist is a professional or someone just doing it as a hobby is to ask if he/she has held any group or solo shows. If his/her work is part of a museum collection or may find a place in important private or corporate collections, it clearly indicates that the artist is credible and holds promise.
7. Verify the Artwork's Legitimacy
Make sure that the selected artwork is provided by a provenance or authenticity certificate from the gallery. Usually, these certificates provided have the artist's signature and the gallery's authenticity declaration. In case you are buying the work of an artist who is not alive, or is a highly acclaimed/expensive artist, check the source (or provenance), as the selling gallery may not be able to provide you with an authenticity certificate with the artist's signature, especially if it is obtained from the secondary market.
8. Ask More Questions
Don't consider buying an artwork as purchasing a mass-manufactured electronic gadget whose printed details will suffice. You are buying a one-of-a-kind creation, so make sure you should feel completely comfortable asking the online gallery for any and every information related to the artwork. You will have an easily accessible and supportive customer care team for assistance and advice in a credible online art gallery.
Don't forget to match up the pictures of the piece on the website to the actual artwork. You can ask the gallery to share some close-up shots, or even videos of the work and artist (if alive). Also, check on the shipping methods and measures, refunds, returns so that you don't end up in a mess.
9. Love What You're Buying
Quite often a widely admired work of art may not appeal to you, art appreciation is extremely personal and intimate. Hence, it is very important that you truly love the work you are buying online.
Don't get bogged down with the trend of buying a big name, it is you who will have to see the artwork in yoBuy your favorite art at the comfort of your home and relax!ur home every day, and if it is something you don't like or admire, you will end up regretting your decision. Also, remember that art need not always be something that is intellectual or deep but one you love. If you fall for a piece simply for its visual appeal, that's completely fine, buy it.
Buy your favorite art at the comfort of your home and relax!