There are risk of damaging goods during a move, but there are some things that are more likely to get damaged than others. Here in this article we discuss the top four items that are more likely to get damaged during a move. And also we will tell you how you can protect them during the move.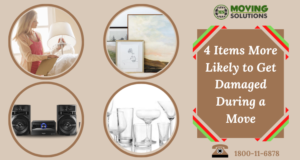 1) Drinking Glasses
There's nothing to be surprised to see this name on the list. In fact this is on the top of the list of breakables items. But, you can still prevent the damages by: –
Using correct packing box. You can find 'dish-pack' boxes in that market. These boxes have double-thick walls which gives extra protection to the items inside the box. So, you should use this box for packing the glasses.
Place the glasses horizontally onto packing paper and then roll the glass into it. According to the glass's thickness you will have to repeat the process 3-5 times using additional sheets of paper.
Provide cushion in the box for the glasses by placing crumpled papers.
Again after putting the glasses into the box, use crumpled packing paper to fill any remaining space.
2) Artwork, picture frames and mirrors
These goods are frequently damaged because moving boxes are either inadequately cushioned or the gaps are left at the top. To prevent the damaging these goods you can follow the following tips:-
Use a picture box.
Place crumpled sheets of paper before placing the items inside the box.
Place your artwork into the box and stuff the front, back, sides and top of the box with paper and/or bubble wrap and make sure no gaps are left.
3) Lampshade
Lampshades are often difficult to pack due to their large size and awkward shape. So, these are also easy to get damaged during the move. Use the following tips to prevent damages: –
Use separate boxes for each shade.
Wrap the shades in bubble wrap, ensure every inch is covered properly.
Use crumpled packing papers to full the interior cavity of the shades. But, do not use newspapers.
Cushion the boxes with crumpled packing paper.
4) Stereo Equipment
Lastly we have listed the stereo equipment that people often pack into a box without any padding between them. If you want to prevent the damage then follow the tips: –
Use bubble wrap to pack each component and make sure they are completely covered.
Tape the bubble wrap and place it vertically into a box.
Pack one by one each component using bubble wrap and place them side by side and do not stack them.
Stuff crumpled paper into any spaces between components.
The best way to avoid any type of damages during the move consider hiring professional packers and movers Delhi to Mumbai. They are trained and experienced in packing different types of goods and can provide you damage-free move.
About Author: Ekta is an expert business analyst. She has written for several online journals. Currently she is rendering her services to Moving Solutions that is offering services for packers and movers Delhi to Noida & packers and movers Delhi to Hyderabad.