Though good sales and traffic aren't exclusive to a particular spell or season, it's hard to disagree with the fact that holiday season, especially October onwards, marks the peak for any online retailer or ecommerce site looking to capitalize on the services they provide.
According to Shopify, the most effective channel for holiday season sales is ecommerce websites: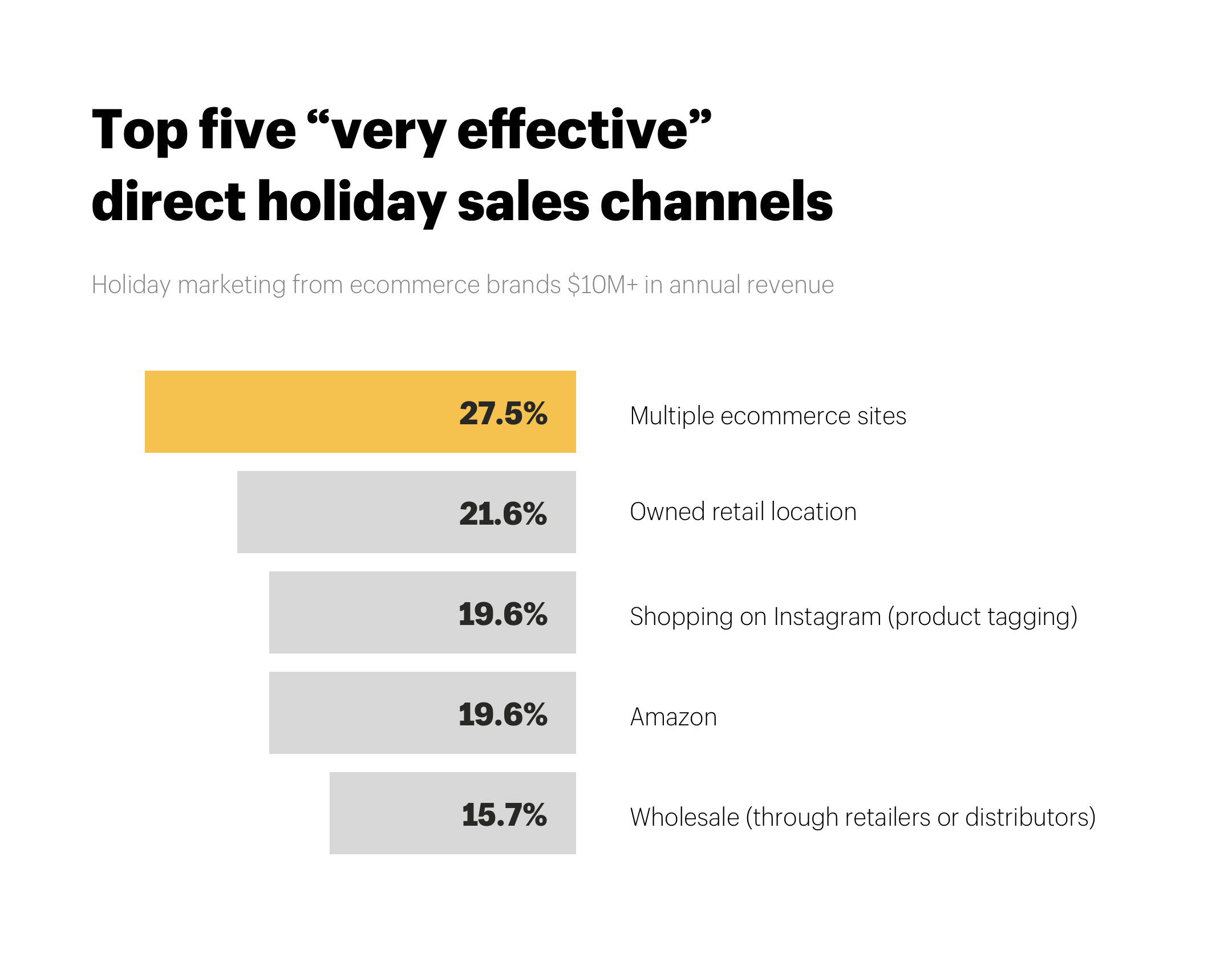 Halloween is already past us, but your business still needs to look forward to Black Friday and Christmas, the two gold mines for sellers.
There's also the prospect of holidays leading into the New Year and beyond. So all in all, there seems to be at least three golden opportunities with lots of potential for sales and traffic for your ecommerce brand.
Using these targeted occasions to profit requires multiple intricate strategies to be employed including but not limited to the following:
the idea of creating urgency
attracting visitors with appealing discounts and voucher
and most importantly, never compromising on quality of service while you're implementing the typical schemes.
Below we discuss effective strategies in the marketing of a brand to capture viewers' interest during holiday season:
Why holiday season?
If we were to put one good reason out, a theory or reason on why holiday season is the most lucrative for businesses around the world, it'll probably be this: family reunions.
Winter holidays are primetime for travelling back to families and spending time with them. Of course, a get-together isn't complete without presents and the ideal option is to shop for them online, thanks to harsh weather outdoors and the convenience that ecommerce brands can provide to their customers.
So what are the key factors that determine how much success your ecommerce venture is likely to have during holiday season?
Deals and lots of them!
Even before a user logs into your website, they'll have a notion or a strong expectation that there will be some discounted services as the homepage loads up.
Especially with Black Friday, you should blow it out of the park when it comes to discounts since it's a once-in-an-year event. The hyper-discounted deals should be upfront and featured while your brand shouldn't shy away from rolling out vouchers too. Vouchers which are exclusive and aimed at targeted audiences via newsletter carry a more 'personal' touch and is likely to veer the viewer in.
Moreover, you should always create a sense of urgency. Holiday season doesn't drag out for long and so your deals shouldn't either. Thus time-sensitive and limited time deals allow the user to make decisions quicker and avoid second thoughts, so this always works in your business' favour.
Amazon does a great job at incorporating both these elements effectively and reflecting them with their '12 Days of Deals' that run through winter season. Each day is aimed at a special category so the window of urgency is extreme with deals lasting merely a day.

Utilizing social media channels to the max
With unrestricted access and hours of free-time in holiday season, social media and networking sites are the ideal platforms for individuals, and not just teenagers, to engage and interact with.
Ugly Christmas Sweaters, for example, make good use of Facebook to promote their knitwear as shown below: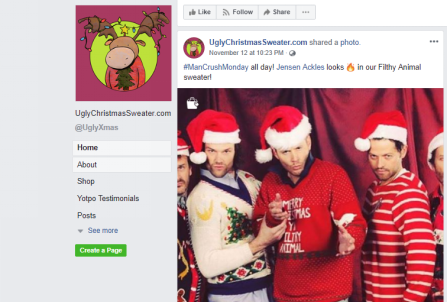 Multiple surveys from popular brands have shown that marketing via social sites, especially Facebook, accounts for more than half of all the traffic brought onto their sites. You probably already have multiple users looking forward to updates in their social feed thanks to subscribers from pages on Facebook and followers on Twitter and Instagram.
To step-up the game even further, why not prioritize direct purchases from these social sites. After all, both Facebook and Instagram online stores are gaining more traction and becoming popular platforms for users confirming their purchases without ever logging onto the brand's actual site.
Furthermore, these platforms will help build credibility and authenticity of your brand for even outside holiday season thanks to the 'social proof' factor which includes both the useful reviews and feedback of the customers that are public for anyone to see.
The role of shipping in customer service
Remember, the deal isn't over until the agreement between you and the customer reaches the end: when the product is delivered, even if it was a pre-purchase.
During holiday season, special attention is to be catered towards the shipping aspect since consumers are willing to try out the product they purchased as quickly as possible. It should go without saying, a fast, convenient and cheaper shipping will always be preferable, even if it's a Sunday. That's why services like the AmazonPrime exist to excel at customer satisfaction.
Many brands like Sophie&Trey as you can see below, give the users the pleasure of free deliveries once they've made purchases over $25.
From time to time, and especially in Holiday season, these brands will include such offers to remove some aspect of burden for the customer when it comes to final check-out. In fact, over 47% of potential consumers won't proceed to the check-out section of the store if free shipping isn't at their disposal.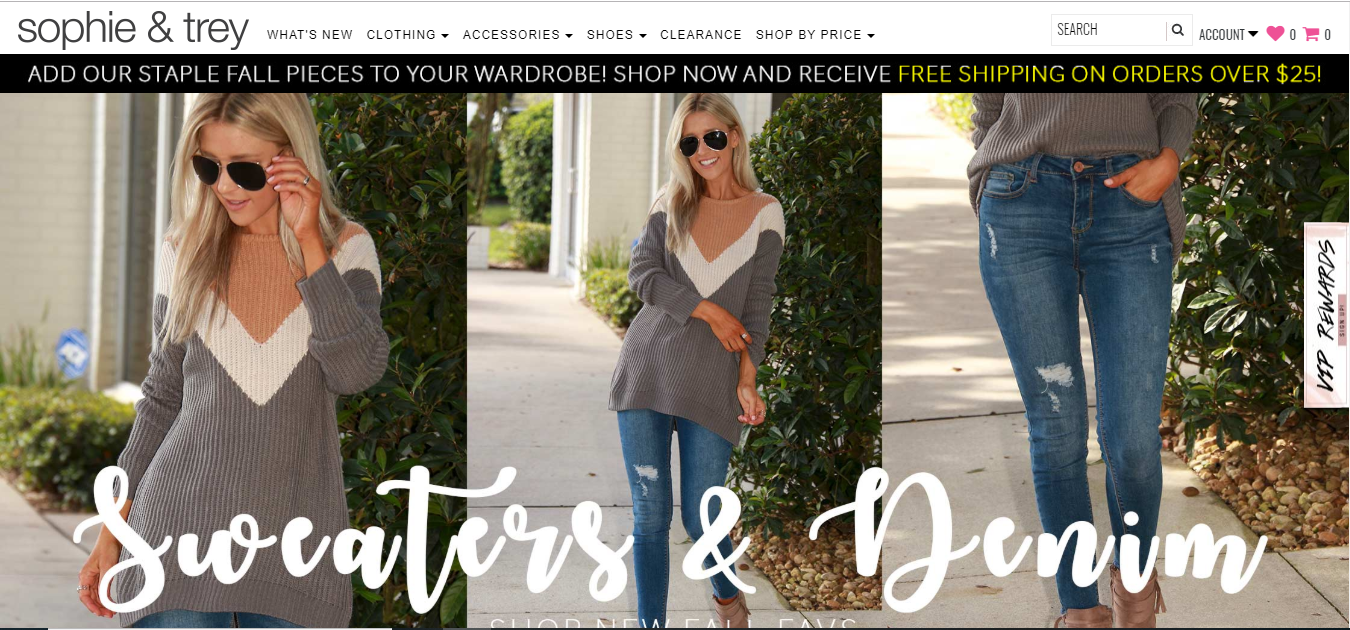 If an unfortunate turn of events does arise and the shipping is to be delayed, your business should be as earnest as possible in communicating this news to the customer.
In cases of such delays, always provide users with alternative options as well including Click-and-Collect services. If the fault is at the business' end, then provide concessions like wavering-off a small amount of the final cost as a means of apology.
Remember, building healthy and strong ties with the consumers is absolutely attention. You don't want to leave a bad taste in their mouth for the next holiday season.
Avoiding inconveniences
From technical issues due to traffic, to inconsistent loading times and stocks running out, each issue should be prepared for well in advance. Shopify has some useful tips for reducing page load times with things like reducing load of internal and external links, a good web host and compression of images.
Furthermore, your technical team should make sure your website is well optimized for mobile channels since handheld devices make up for a bigger half of the total viewers accessing the online store.
Conclusion
When the bells are jingling and the fireplaces are being warmed up, there will always be an individual looking to find some good socks online or a jacket for which he won't need to leave the comfort of his residence.
Should they find your ecommerce brand in their search for apparel or gifts, your platform needs to stand tall when it comes to the customer service, a seamless website without any inconsistences and giving him enough reason to stay be it due to the limited timed offers or bonuses like free shipping or both.