Many people love to shop but they don't like to stand in a long queue and wait for hours to make the payment. And for that, they prioritize to do online shopping. Similar to other industries, grocery businesses are also embracing new ways to enhance customer engagement and revenue. If you are also thinking of setting up a grocery delivery business, it is the right time for you to do so. Amid the rising demands of on-demand mobile app development services, online businesses are capitalizing that continuously contributes to their growth while providing unparalleled convenience to their customers.
With emerging innovations, it's a great opportunity to start a grocery delivery business in 2023, when customers are becoming more engaged with online apps and want to shop from their homes comfortably.
Grocery delivery app development companies offering applications for businesses have flooded the market with tons of interesting and enticing mobile apps. They are making it easier for customers to book groceries with the help of mobile apps while providing several benefits to ventures.
As per the reports, the global online grocery delivery services market size is projected to upsurge by $652.45 billion between the years 2022 and 2027 at a CAGR of 19.43%. The grocery delivery market is supposed to increase by $652 billion making it one of the readiest opportunities currently for businesspersons to jump into.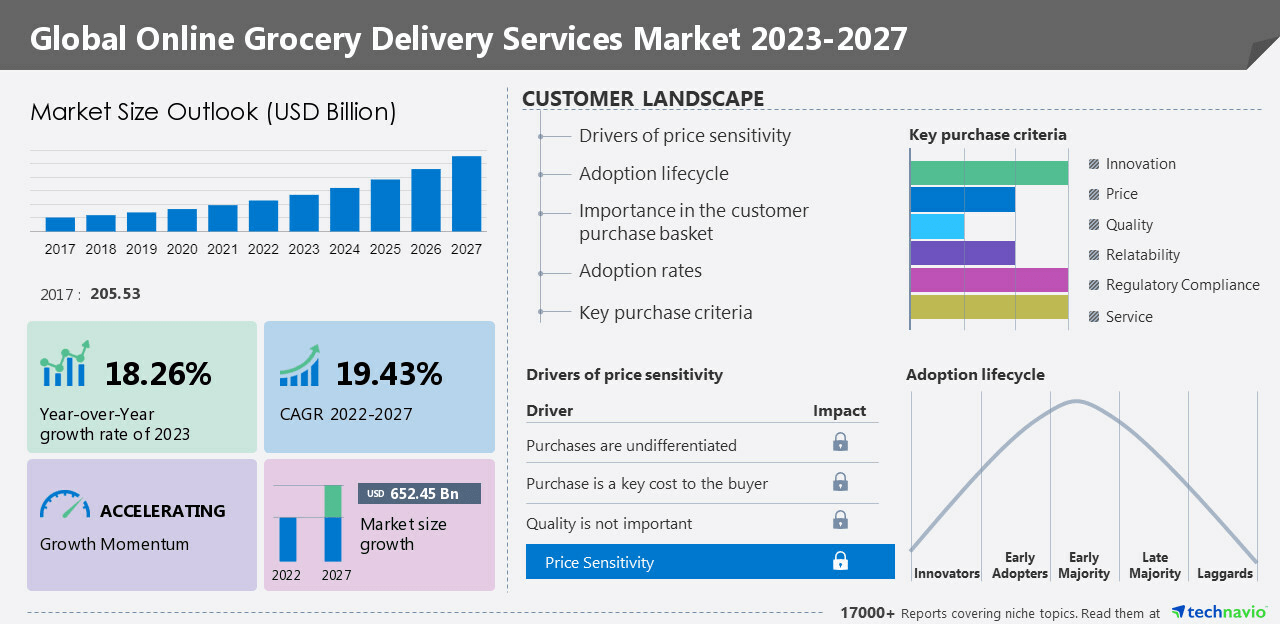 How to Start an Online Grocery Delivery Business?
Starting an online grocery delivery service can be a lucrative and satisfying endeavor. When launching an online grocery delivery business, keep the following things in mind:
Research the Target Market
In order to launch any business, identify the essence of the business you want to invest in while conducting research and implementing all initiatives thoroughly. Evaluate the market demand in the area for grocery delivery firms and identify your target market.
Prepare a business plan outlining your objectives, tactics, and financial estimates based on your research. Considerations on how you intend to sell your services and attract clients should also be included in your plan. Furthermore, you must research your competitors in order to gain insight into their business structures, price maneuvers, and customer service procedures.
With a wide range of business models, choosing a high-end quality delivery business is a must. You could operate single-handedly, collaborate with nearby stores and collect a commission for every order, or offer a subscription-based service.
Choose a business model that is relevant to your objectives and target market after evaluating the benefits and drawbacks of each.
Get a License and Register Your Business
After registering your business with the appropriate authorities, obtain all the necessary licenses and permits to operate it legally. A business license, tax identification number, and any necessary license may be involved.
Create a Website and Mobile App
Create an appealing and easy-to-operate portal that allows customers to easily browse products, place orders, and track shipping. You can hire an experienced mobile app development company that will handle all your business needs in order to make it more convenient for customers. 
To advertise your online grocery delivery service, create a marketing strategy. This could involve advertising, branding, marketing, social media marketing, and email marketing.
Offer Top-Notch Customer Services
To attract new clients and develop a loyal client base, offer great customer service. Inquiries and complaints from customers should be swiftly addressed, and products must be delivered at the scheduled time.
Aspects to Cover in Grocery Delivery App Development
Many points should be measured while developing an efficient grocery delivery app. The app should not only be loaded with all the essentials (groceries) but should also host additional features and an easy-to-navigate user-friendly interface. Though the additional features may vary depending on the size and the budget.
A leading on-demand app development company can help you with this by providing a full-fledged grocery app solution to grab the attention of millions. Here are the points to cover by your hired grocery app developers:
App developers should keep in mind that the grocery app should offer users a hassle-free and smooth navigation experience.
The users should be able to find the products from the search bar easily, and also the app should display suggestions by keeping track of the user's buying pattern.

There are numerous grocery delivery app features including automatically detecting the ingredients and adding the grocery items to the shopping cart. 
Impeccable Features of On-Demand Grocery App
In order to meet the needs of customers, build a grocery delivery app that gives an ultimate solution for a smooth run and accelerates your future growth. Here are some impeccable on-demand grocery app features that provide a seamless experience to its user.
Easy Registration
A business owner can enroll on the grocery delivery app board effectively but a consumer can just log in by filling in their basic details, including Name, Address, Email ID, and Phone Number, or log in via other social media accounts.
Browse Products
While using an on-demand grocery delivery app, users can just enter the item name into the search bar and can click on it to purchase or they can search it according to its category. This makes the hunt brisk and simple.
Payment Mode
With the assistance of the grocery app, users can pay to utilize a wide assortment of installment choices including E-wallet, Paytm, PayPal, and Google Play. 
Schedule Delivery
Customers who use the online grocery application can select a specific time of grocery item delivery as per their convenience and suitable time.
Re-Order
Grocery Delivery App order history makes reordering easy with a wide variety of options for customers.
Real-Time Order Tracking
With the assistance of GPS, users can follow the constantly updated status of their grocery order and can get notifications via SMS and Email.
Settings
Users have full control over the settings, in which they can change the name, address, arrangement mode, email, and so on.
Ratings and Feedback
On the Grocery Mobile App, users can leave feedback and reviews related to their shopping experience. It will help to improve other users' app experience.
While Considering This,
In 2023, it has become obligatory for businesses to do thoughtful preparation, research, and well execution before launching a grocery delivery app in order to become successful. Determining your target market, creating a thorough business strategy, developing a user-friendly website & mobile app, and so on are some of the essential aspects on which the success of your app depends. Alongside, you will be required to get the required permits and licenses, and forge connections with suppliers to pursue a successful and lucrative grocery business. 
Seeing the above statistics and grocery mobile apps' demand, 'Now' is the ideal time to launch your own App and take advantage of this trend as there is a rising market for convenient grocery delivery services.
You can also hire Android app developers to get proficient grocery mobile applications built using trending technologies.