Moving in itself is an extensive activity. When you get down to it, you begin to realize that moving isn't a single activity that takes a long time. It is a complex combination of many activities! That is when things begin to get blurry, and you need to put your head down.
As if all this isn't enough to make a worrywart out of someone, there is more. The additional pressure that your valuables like antiques, dishes, and paintings, arrive at the destination safely can be panic inducing! And you thought packing the regular household items, such as furniture and clothes is hard.
Don't let the moving blues get you down though. At least, not yet. Because we can help you…sort of! What follows is a plan that will allow the safe transfer of your valuables from your old abode to the new one. Shall we?
Start by making a list
Before you do anything else, start by deciding what you consider valuable and what not. For some people, it could be their crystal crockery. For others, valuables entail their framed family photographs. Once you have gathered all the valuables in one place, move on to the next step, i.e., create a list. Why you ask?
Say, you have hired the most capable movers. They pack everything in the van but have to make a stop in between the route to your destination. They stop at one of their storage spaces to load more stuff that belongs to the next client on the list. While doing that, they forget to reload one of your boxes back in the vehicle. It gets left behind, never to be seen again. How likely is that? Very!
The list you make will also be useful when making insurance claims for the stuff you lose during a move. If you have time, then take photographs of each item, and put them with the list. Any documents related to the valuables, such as letters of authentication or bills, will go with the list, as well.
Gather packing materials
After your inventory, you should gather the materials you will need to pack the items. This usually means:
Tissue Paper
Blank Newsprint
Bubble Wrap
Silver Cloth or other soft fabric
Stretch Wrap
Boxes – dish and mirror packs
Moving Blankets
Purchase insurance for your very valuable items
When moving valuable items, you should be prepared that anything can happen on the road. This means anything of financial worth can get lost or left behind. Consider insurance if you own valuable watches, rare books, small art pieces, collectors' items, or fine china sets. Moving coverage will keep your expensive and delicate possessions safe.
But like all kinds of insurance, you might need more than moving coverage. Read what full value protection is and if it applies in your case. It will protect your prized items when they aren't under your direct control.
How to pack different valuable items
Stuff in a Glass Frame
Flat screen TVs and wall art are also a part of this category. For your flat screen, you will need a special TV box. Your TV will stay snug inside the box if you can wrap it with a few sheets of bubble wrap. Do the same with any paintings that you own. But before you wrap them up, use masking tape to draw an 'X' along the flat surface of the glass. This will ensure that it doesn't break during the move.
Jewelry and electronics
Most jewelry comes in its own box. It usually has a protective foam lining that keeps the pieces safe. The same is true for any electronics you purchase. Use the original packaging whenever you are moving. Then seal the boxes and cases with tape.
Often though, we discard the original packaging. In that case, use bubble wrap for the electronics before packing them in a box. For your jewelry, arrange cardboard cards around the pieces and put the whole ensemble into sunglass cases.
Fragile valuables
You might be able to protect most of your valuables during a move. But some things are just too delicate, and you can't depend on bubble wrap to keep them intact. Any heirlooms would be part of this category. If you have a wine collection, it is both fragile and valuable. In that case, think if you want to hire a luxury moving company just to move those items. They may charge you an arm and a leg, so keep your list short!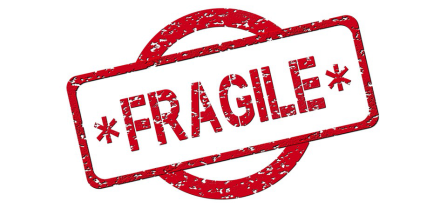 Even if you hire the most capable movers in the city, there is no guarantee that they will keep each item safe through every step of the way. Accidents can cause furniture to get scratched and antique crystal to shatter. You need to do your part and plan for all scenarios that might occur. Make lists, pack things well, get insurance, and move your fragile valuables separately for best results!