There had been women who would buy the luxury handbag son after its launch, and there are other ladies who tote around the doppelgangers so that they could at least mimic the silhouette of the high-end brand's bags. But, with the inception of customization, ladies don't need to worry about imitating or waiting for the product launch. The online women handbag design software enables your female customers to design their line of bags.
Let's see how Customized bags can help the fashion industry back on its feet?
Customization is Mandatory
The world of haute couture, where individual pieces of high-end fashion are crafted by hand from start to finish, has only become more accessible to middle-class customers. However, once primarily associated with haute couture, made-to-order now also refers to a whole new world of technologically dependent customization services. Products from shoes to luxury handbags to personalized items on clothing, all of which have made their way to people in recent years. The new trend of made-to-order gained a lot of attraction from buyers because most of them want to establish their uniqueness. A report published by Mckinsey states that Asia's millennials and Gen-Z consumers, customization is no longer a nice-to-have option but "an expectation."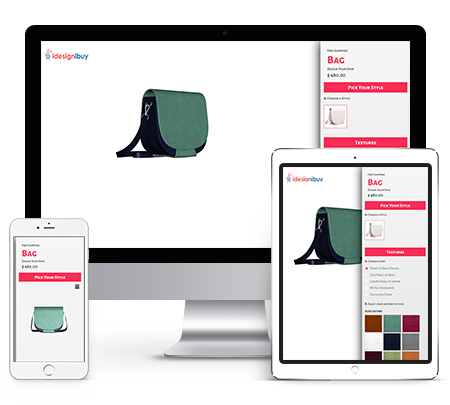 But as one's consumption power goes up, their expectations for the range of options graduate from light custom to full bespoke services or even customization beyond what brands name offer. While made-to-order has seen mixed results in global markets, but the market is again ready to function that to personalization and digital technology. From young consumers to high-net-worth-individuals, shoppers' increasing expectation presents an opportunity for brands to expand services and to adopt the made-to-order mindset for their future with the help of technology.
While the luxury world rolls out different levels of customization services, fashion tech entrepreneurs envision a world where the made-to-order functionality could be adopted to back end operations. Recently, ZHC, a YouTuber and artist, well-known for customizing luxury items with impressive artwork, which he then gifts to top internet personalities. ZHC's newest initiative saw him purchase ten bags from luxury fashion brand Louis Vuitton, to customize each one of them for a famous TikToker. Such an ambitious project requires equally finished artwork, and ZHC didn't disappoint, choosing a fantasy monster theme for the entire array of bags, wallets, and even a full-sized suitcase.
Better Supply Chain Management  
While fashion retailers usually discount part of the dead stock, the luxury industry frowns upon this system as it dilutes the luxurious brands' value and exclusivity. But the real issue arises when dead stock ends up in landfills or burnt. Made-to-order can also be the solution to the currently linear supply chain model, which isn't agile to the fast-changing demand. Therefore, the "analog supply chain" acts as a process that glues suppliers, production, distribution, and customers. It usually connected with emails, calls, and spreadsheets to pass information from one link to another.  The bag design software helps manufacturers and retailers to connect well with customers as it bridges the gap through customization.
During the time of pandemic and lockdown, the demand for made-to-order bags, mostly light customization, is sprouting on social media. Among the sea of brands' offerings their customization, some sellers offer to add a personal touch to people's luxury items with classic patterns, like Louis Vuitton's Monogram and Goyard Chevron.
And from the increasingly positive social reactions, consumers want customization services from luxury brands, and when they don't offer these services, they're exploring other routes to meet those needs. However, some brands are waking up to this and beginning to explore options more intently.
Conclusion
The recent outbreak of the pandemic made several leading brands to learn their lesson by adhering with the made-to-order services. Yet, some companies are still reluctant to show interest in the growing economy. The purse design software by iDesigniBuy offers customization solutions that will help the brands to understand and capitalize on the rising demands of high-net-worth-individuals to show their taste and personality.
Collaborate with us now.