Recreational marijuana has become a very big business and discovering the ideal payment processing solution for your needs as a dispensary is not always clearly defined. A cannabis payment processor standard has not technically emerged but credit card processing for cannabis products remains essential for any business to continue its longevity.
In this article we will go through some of the best types of merchant accounts for cannabis businesses as well as the ideal payment processor for the cannabis industry. If you have been seeking payment processing and banking solutions for your cannabis products, this can be considered your definitive guide for choosing the best payment processing solution for your dispensary or cannabis business.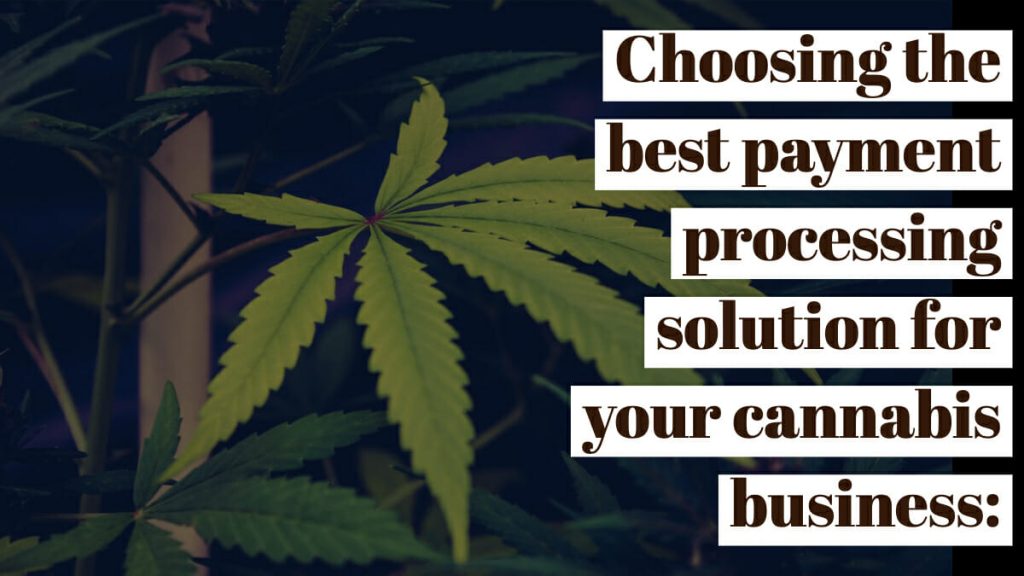 Here are some of the top tools for credit card processing and gateway tools that are currently available to these businesses:
Large banks may be difficult to work with
Because cannabis products are still considered illegal on a federal level there are a large number of major financial institutions that consider these accounts to be high risk. While a large bank may not sponsor the idea of a high-risk cannabinoid oil and hemp oil merchant account there are a number of smaller banks that are starting to open up their services and credit card processing for companies within this industry.
Federal regulatory bodies are often a little bit more intense with their scrutiny over cannabis-based businesses and the financial institutions that handle their payment processor. For larger banks that carried many investments, getting involved with a cannabis-based business could potentially put the company and their shareholders at risk. The benefits of offering credit card processing to a cannabis-based business may not be worth the risk to many of the larger banks.
What are the biggest issues with difficulty in working with larger banks is that you could potentially end up paying a higher service fee for your credit card processing. Rather than paying low service fees from a financial institution that can afford a smaller processing fee on every transaction, a cannabis-based business owner may be responsible for paying higher transfer fees in order to offer credit card processing on site.
The number of payment processing options is on the rise:
Solutions for payment processing in the cannabis industry are certainly on the rise. Cannabis companies are looking for financial partners that they can work with that are also willing to take on the risk. Although there are some strict banking laws, a number of payment processors are able to take on some of the risk so that credit card processing and debit card processing can take place.
Many businesses have had to work on a cash basis only and this can often result in the chance where a cannabis-based company is taking on extensive risk. By keeping so much cash on hand this can lead to a number of potential problems when it comes to the threat of robbery, embezzlement and more. Secure credit card transactions can often be a far better move for keeping a business secure and making a new business in the cannabis industry much more legitimate.
Many cannabis payment processors are offering variety in their packages :
For high risk merchants accounts for cannabis there are a number of potential payment offerings, but it isn't always easy to get access to options from a company. A number of merchants will only offer one type of high-risk payment processing. This can often lead to a cannabis business to stick with just one cannabis merchant account because of what's available to them.
Emerging financial institutions that are delivering payment processing services are offering more flexibility. By offering an e-commerce business model, high-risk processing and more, it is possible for a business to operate both online and in a brick-and-mortar building. Payment processors are also able to offer a series of transaction monitoring to prevent fraudulent activity and to offer improved security.
Going with a high risk merchant account doesn't necessarily mean that you should be stuck in one system and paying high premiums for it. I cannabis processing solution today can be well-designed while incorporating a number of security features. As well as offering variety these merchant accounts also need to be fully compliant with local and federal law especially if a cannabis-based business is planning on selling via ecommerce outside of the state.
It's important to expect set up fees, monthly fees and gateway fees :
There are a number of major financial institutions that will not charge for gateway fees or setup fees if you decide to go with their merchant account system. When choosing a high risk merchant account for cannabis it's likely that you will be responsible for paying three types of fees in order to handle the risk that the processor is placing on their company for acting as a merchant account for your business.
It's almost impossible to escape the idea of a provider that won't charge a fee on every transaction but with high risk merchant accounts you will be responsible for the setup cost and administration fees. Transaction fees are also traditionally higher than with some of the other large banks. Most adequate fees in high-risk processing center around a 6% flat fee +.30 cents for every transaction. Set of fees can range into a few hundred dollars and often the rental for the payment processing machine is covered under some of the transaction fees and the setup fees that you will pay as a business. Paying over 6% for a flat fee goes even beyond the idea of a high risk merchant account.
Reading your contract:
Transparency from your business as well as from your payment processor is a two-way street. When you are planning on opening a cannabis-based business you need to be reputable and seek a payment processor that is able to represent your company. Ask a payment processor what will occur if your company starts managing high-volume or if you continue to grow with your online audience. Making sure that you can have a business that can scale to your needs and that may offer you a discount as you continue to grow can be important.
As you continue to process more transactions through their gateway very important that a company is going to be upfront with all of their new fees and with the fees that they are taken off of your bill. A long-term partner will be able to provide you with updates regarding the logistics and fees that you'll be responsible for paying. Asking about monthly deals when you do above $10,000 in sales and more can be a great way that you can check into how your processing needs can change to match your scaling business.
Making sure that a payment processor can handle the increased volume from your company remains very important. Cannabis based businesses now represent billions of dollars in revenue across the United States and many of these companies scale very quickly.
Choosing a smaller partner may be wise for support:Because some of the larger financial institutions will not be available to you. Opting for a payment processor for the cannabis industry from a smaller company could be a better way that you could get access to a greater level of support.
Large banks often struggle to meet the needs of every payment processing customer that they have. Having a gateway from a small company and a processor that really values your business can help to make sure that you will have a solution that offers much more hands-on service. Switching your gateway doesn't have to be a pain and working with a processor that can handle your needs and treats you as a VIP can be a powerful tool.
Finding a company that's willing to offer 24 seven support, round-the-clock assistance and more can help you to overcome many of the issues with your payment processor. Some payment processing companies may even be willing to assist you with the setup of an e-commerce solution, building your online store or getting you set up with the payment processing gateway at your location.
These types of hands-on solutions you would typically pay more for from a major financial institution but a smaller company is more than willing to help with these tasks and more.
A company with legal experience is important:
A payment processor in the cannabis industry needs to be vigilant when it comes to changes in the law. Taking on the risk and enable to offer solutions for e-commerce means having a company that can tell you when it is legal to process credit card payments and for the types of cannabis products that you can process payments for.
By remaining transparent and working with a merchant account provider that has familiarity with financial law and cannabis reform is important. If you are ever processing payments which could be deemed illegal under current laws, it's possible that your payment processing could be shut down. Working with a company that is willing to outline the types of products that you can sell will help you to stay up and running without interruptions.
Keep some of these top ideas in mind while you are selecting a merchant account for cannabis products. Getting started in this industry does not have to be challenging, especially with the growing number of payment processors for cannabis that have become available.
Credit Card Transaction Types and High-Risk Approval:
Credit card processing can often include different types of transactions even beyond the idea of a common purchase exchange. If the customer is using their card to purchase an item or service from a business, it's likely that that business has introduced some form of credit card processing in order to handle the transaction.
You may not think of the idea these transactions happening seamlessly in the businesses that you visit every day but processors are often responsible for handling billions of transactions over the course of a single 24 hours. Credit card transaction types can vary and the way that a business can accept credit cards can often be different depending on the industry that they are in.
If you need to handle credit card transactions and you are in a high-risk industry such as the cannabis industry, it's important to understand what high-risk credit card processors could offer to you.
Some of the transactions that you might process in order to accept credit card payments can include.
Preauthorization:
High-risk merchant services may be able to offer preauthorization solutions for people who are creating accounts or for people that would like to purchase items as soon as new stock comes in. A pre-authorization is a solution that a credit card payment processor can handle before the funds in a transaction need to be transferred or captured.
A pre-authorization is very similar to a transaction only and is not processed in real-time. Approval codes are delivered and then a merchant will take the desired amount from a preauthorized or frozen amount in the account. This amount is reserved or frozen for around 7 to 10 days and the merchant will be able to capture the pre-approved funds as soon as they have access to the inventory.
This is a common transaction that occurs for rentals, hotels and even gas stations. Reauthorizing a certain amount that's available on the card and then charging the card, later on, can be a great way to secure future business as well as make sure that processing transactions can be easy for your customers.
Most of the top high risk merchants are generally able to freeze a portion of a transaction for seven days until the approval is met.
Capture:
A force or capture is considered to be the second step in a preauthorization. This is the time at which a credit card processing company will handle the process of capturing the funds from the preauthorization. High risk merchant services will often be able to handle the process of capture as long as the amount can be frozen and approved.
A capture is often completed within seven days but can be completed around 30 days after the initial preauthorization. For most high-risk accounts the window is around seven days for the capture transaction to be performed. There is no guarantee that the cardholder will have funds available after the 7 days and the preauthorization will no longer be valid or frozen on the credit account at that time.
Standard purchase:
When looking at a high risk credit card processing merchant account, the basic transaction that you should be able to handle is the process of a standard purchase. The standard purchase is otherwise called a sale and this is a transaction type where the business will accept payment from their customer and the merchant processes the credit card sale for that payment.
With this type of authorize each in a credit card processor will gather information stored on the card with the total amount of sale that is handled by the processor. The processor will send the transaction information to the card network and then the issuing credit card bank or financial institution will issue the funds through an approval code to the merchant processor. Once the approval code is delivered the processor receives the funds and eventually reimburses the business minus their transaction fees. All of these processes take place in a matter of a few seconds and it's often one of the most direct ways to handle card processing for any type of business. With tap pay and other tools that a high risk merchant account can provide, it is possible for the customer to be charged for the transaction in just a few seconds and for the pending funds to be delivered to the business and this time too.
Refund:
Chargebacks are something that can occur within a business. Understanding how to avoid chargebacks can often rely heavily on a business to keep up with their customer service and to focus in on the product quality. Many high risk merchant services do not appreciate ongoing refunds and chargebacks as this can often lead to extra transaction fees and lost revenue.
Refunds are often performed after a business is already received funds. In this way, the payment processor treats the refund like a negative purchase. Rather than giving the business credit for the transaction that they've processed, the refund will go through as a negative amount. This can make sure that the business is charged for the refund amount from the issuing statement on their next processed credit. They can often take up to 10 business days for a refund to go through with a payment processor. When the refund is applied it's possible that a business could see a difference in the total amount that they receive in their next settled balance from a merchant account.
Void:
Void processes are often used in merchant accounts to cancel a previously authorized transaction. If there was an incorrect amount entered on a purchase, the transaction can be canceled within a certain amount of time. Void transactions are delivered in real-time across the network and it will cancel the transaction and the approval code on the card. This ensures that the customer is not charged and that the business does not receive any additional funds from the credit card processor.
Voiding a transaction can be very important from a business perspective. The best high-risk merchant accounts will include some form of voiding as this can prevent ongoing transaction fees if mistakes are made at the point-of-sale system. Even a small incorrect amount can be voided within a few minutes and not be charged an additional transaction fee.
Voids are also particularly important to preventing ongoing refunds which can carry heavy fees from a high-risk merchant service. Voids often occur when the batch has not been settled and before a refund process would take place and this can come at 0 faults between the business and the merchant account.
Verify processes:
A verify process from a payment perspective is a zero dollar transaction that is often processed before other payments take place between a business and customer. Verification often works as a way to tokenize a credit card and verify that it has an available credit balance for the future. Verification can not only improve security for a business but it can help to make sure that when the time does come to charge that credit card, all of the applicable information is in place and valid.
Verification will not only check to make sure that there are funds available on the card but it can check the validity of the credit card number, that the credit card has current security in place, that the card is not expired and more. As the cardholder is not charged any of their available balance for the verification process, is very unlikely that they would object to it before preauthorization or payment. Most high-risk merchant accounts for credit card processing are able to offer some type of verification and this can be especially helpful in managing larger business sales.
Credit card to bitcoin:
There are a number of payment processors today that can also handle new transactions using cryptocurrency. A high-risk credit card processor that can accept bitcoin payments or offer the chance to offer refunds in bitcoins can offer customers improved anonymous transactions. As crypto and see has been a popular payment method for cannabis products and for those that value the utmost security in their offshore merchant processing, having a merchant account that offers bitcoin for payments can be crucial. Supporting an audience that would prefer to pay in Bitcoin can help with offering more flexibility. high-risk merchant account with Bitcoin can help you to appeal to a larger audience with your business.
If you are considering credit card processing for your high-risk company it's very important you understand some of these basic transaction types and the types of services that you can have available to you from your merchant account.