INTRODUCTION OF SOLID WASTE MANAGEMENT:
Solid waste includes solid or semi-solid waste like Commercial waste, Institutional waste, Residential waste, Sanitary waste, Hotel waste, Agricultural waste, Bio-medical waste, E-waste, Sewage Waste, Radioactive waste. Solid waste management is becoming a big problem in today's world where there is no landfill to dump this waste and no implementation to segregate waste. In India recycling of waste is quite low as compared to foreign countries there are no proper recycling industries in India. There are 7500 plastic recyclers in India (registered & unregistered), this recycling plant is not enough the number should increase and people need to take initiative on starting a business in solid waste management as it has more opportunity in making money and people might get employment as well.
MANAGEMENT OF SOLID WASTE:
In the Urban local bodies (ULBs) in India, solid waste management (SMW) is a major problem where urbanization, industrialization, and economic growth have increased. It is very challenging for Municipal Solid Waste (MSW) to collect and manage the waste as the population is growing rapidly. SMW systems in India have steadily declined despite significant development in social, economic, and environmental areas. In extracting waste, the informal sector has a key role, with approximately 90% of residual waste currently dumped rather than properly landfilled.
There is an urgent need to transition to a more sustainable SWM, and new management systems and facilities for waste management are required. Present SWM systems are inefficient, and the effect of waste on public health, the climate, and the economy are negative. The Ministry of Environment and Forests (MOEF) has implemented the Waste Management and Handling Laws in India.
REGULATION FOR PREVENTION OF SOLID WASTE MANAGEMENT:
The Union Ministry of Environment, Forests and Climate Change (MOEF&CC) recently notified the new Solid Waste Management Rules (SWM), 2016. These will replace the Municipal Solid Wastes (Management and Handling) Rules, 2000, which have been in place for the past 16 years. According to Prakash Javedkar, the Union minister of state environment, Forests, and climate changes, 62 million tons of waste are currently produced annually in the country, of which 5.6 million tons are plastic waste, 0.17 million tons are biomedical waste, 7.90 million tons of hazardous waste are generated annually and 15 lakh tons are e-waste where only 75-80 percent of the municipal waste gets collected and only 22-28 percent of this waste is processed and treated.
The new rule has mandated the source of segregation of waste where the waste will get segregate in three different streams Biodegradable waste, Dry waste (Plastic, Paper, Metal, Wood, etc.), and domestic waste ( diapers, napkins, mosquito repellants, cleaning agent, etc.) before handing it over collector. The hotel, event organizer, restaurant are directly responsible for managing waste with their local bodies they have to ensure segregation of waste should be properly handled by the collector or agency. It would also require all hotels and restaurants to segregate biodegradable waste and set up a recycling system to ensure that such food waste is used for composting/biomethanation purposes, recyclable material either to authorized waste-pickers and recyclers or to the urban local body.
The manufacturers or brand owners of sanitary napkins are responsible for awareness for proper disposal of such waste by the generator and shall provide a pouch or wrapper for disposal of each napkin or diapers along with the packet of their sanitary products.
The rules mandate that all resident welfare and market associations and gated communities with an area of above 5,000 sq. m will have to segregate waste at source into material like plastic, tin, glass, paper and others and hand over recyclable material either to the authorized body.
As per the new rules, the landfill site shall be 100 meters away from a river, 200 meters from a pond, 500, 200 meters away from highways, habitations, public parks, and water supply wells, and 20 km away from airports/airbase. Emission standards are completely amended and include parameters for dioxins, furans, reduced limits for particulate matters from 150 to 100 and now 50. Also, the compost standards have been amended to align with Fertilizer Control Order.
How Solid Waste Management is implemented by other Countries:
Can we imagine a city in India without waste? Arguably, no. Rather our cities are drowning in their own wastes. It is a big challenge now to collect, segregate and manage our waste in cities and towns. But there are cities across the world, including in India that have become completely waste-free. They did so by adopting the 'zero waste model'. This model is all about significantly reducing waste, eventually completely eliminating it.
How Taguig in the Philippines became clean
This is a unique model of solid waste management in solid waste recycling plant setup— frugal and generating wealth from waste. And it is successfully being implemented.
The first among them is Taguig in the Philippines, which became clean mainly by segregating waste at the source and diverting it.
A few years back, the city, a barangay or community of metropolitan Manila, was known for its dumpsite, a vacant plot, where heaps of mixed waste from its households as well as those in its affluent neighbors landed.
Perhaps the best example of how Taguig's transformation took place is one of its own barangays, Fort Bonifacio. The youngest barangay in Taguig, Fort Bonifacio had a population of about 11,739 according to the 2015 Census. It produces about 0.32 kilogram per capita per day of waste.
In 2009, Fort Bonifacio officials were facing challenges on managing its waste. They had limited resources and no clue from where to start the process of managing waste.
In order to address the increasing issue of solid waste, the city officials approached Mother Earth Foundation (MEF), a Filipino non-profit, for assistance.
In 2011, under the guidance of MEF, Fort Bonifacio officials visited barangays with the best RA 9003 (legislation in the Philippines on SWM) practices such as Barangay Bagumbuhay in Quezon City; Teresa in Rizal; and Puerto Princesa in Palawan.
They then proceeded with a self-assessment and baseline survey, visiting each of Fort Bonifacio's eight zones to scope out problem areas where waste accumulated.
The MEF trained barangay officials and project staff on waste analysis and characterization study (WACS) and ecological solid waste management (ESWM). It followed this by conducting an intensive information education communication (IEC) campaign and finally setting up a materials recovery facility (MRF).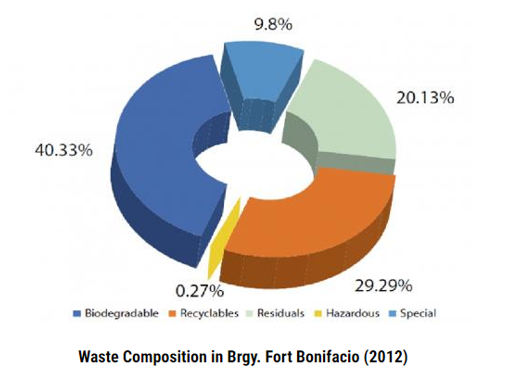 Vani Murthy, Bengaluru-based zero-waste Influencer:
Vani Murthy from Bengaluru has become an influencer of compost tips and zero waste hacks such as bio- enzymes and zero-waste recipes. In 2007 an acquaintance told her that if one tonner of paper waste could be collected and given for recycling, about 17 trees would be saved.
Vani Murthy has become a zero-waste influencer with hundred thousand followers where many households have to adapt this and practice it in their personal lives.
The process for making composite at home is very simple, to make a composite you will need five things Microbes, Container, Biodegradable waste (vegetable peels, leftover food, etc.), and led with holes. With these few things you be able to make your own compost and you will also recycle your daily waste.
Steps to make compost:
Take the container it can be a plastic container or mud container
Put dry leaves at the bottom of the container
Mixed your waste and microbes along with dry leaves, do it every day, and repeat the process
Cover the mixture with more leaves.
And over it with hole led where oxygen and carbon dioxide can pass. an keep it in a dry place for 45 days and you will get your final compost at home.
Therefore in India, if we all adopt this our 90% of the waste can get into black soil which we used to purchase from outside.