Are you running a food delivery business? Is that work in a way that you expect? If not, you should read this blog! This is for you to enhance your food delivery business with the food ordering system that let in the profits you expect. 
Or are you an entrepreneur keenly probing to launch a business? You can also get benefits from this. You'll learn how to start a delivery business and how it works. So you can start it with everything needed for a better outcome. 
So, without extending the introduction, let's directly swoop into the core of the blog!  
The first thing you have to do is to develop an online ordering system: 
Do you hear about the online ordering system? If you don't, great! You are on the right page. Let's know about it!
What is an online ordering system?
Online ordering system connects restaurants and eaters virtually. Eaters can order food from their favorite restaurants to dine in their homes. Restaurants prepare the food to the order that eaters make through this system. To deliver them, delivery partners will be connected to this system. Once the food is prepared, the delivery request will be sent to them. 
Right from the eater's request to the delivery partners supplying food to the doorstep, this software takes care of. 
What are food delivery software's benefits?
The food delivery software i.e. online ordering system, plays a crucial role in the food delivery business. Let's discuss how it benefits its key players (restaurants, eaters, and delivery partners):
For restaurants: 
Restaurants can produce the exact food eaters ordered through the software. They don't have to apologize to eaters for inaccurate food deliveries. 

They can expand their business to new customers as the software itself act as their brand. It lures millions of eaters on the go to make food orders. 

They can provide eaters with personalized food choices. This helps them to sell every dish they produce.  

Decision-making with data is possible. So they can create a business that can absorb the opportunities in the future.   
For eaters:    
Convenience! It's the biggest part that pleases eaters to use food delivery software. 

They don't have to enter the kitchen if they enter the order in the software. With that, they can open doors to try and taste a variety of cuisines. 

They receive food at their doorstep right from their favorite restaurant.  

Ultimately, the need for cooking or traveling to restaurants is diminished. 
For delivery partners:
No job loss could happen to delivery partners when the demand for them is high at their restaurant. 

With the in-built map feature in the software, they can deliver food items to the right location. 

Time is crucial for them. The software's map helps them show fewer traffic routes. With that, they can deliver food in its right condition. 

They earn better income with the increasing eater's food delivery demand. 
These are how the food delivery app benefits its beneficiaries. Are you ready to develop one for you? That sounds so positive. Start your food delivery app development right today. 
But before that, do you know how the software works for business? That's not a problem here. Because that is briefed right below this part. So don't roam anywhere without taking a glance at them 😄 
How does the restaurant delivery software work?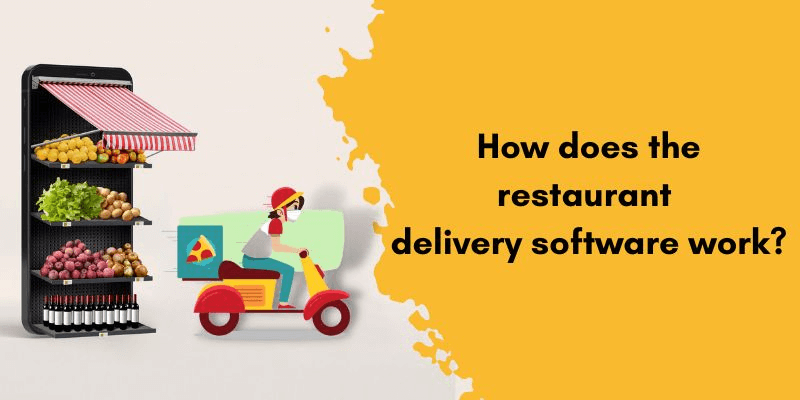 The working model of the restaurant delivery software can be understood easily. The step-by-step process starting right from eaters entering the app to getting delivered the parcel is seamless. We can start analyzing the seamless process at this phase of this article.
The working process is discussed here point by point. So you can clearly understand how it processes the inputs given by users. 
Eaters enter the app by signing up with their social media accounts. 

The app asks some questions to personalize the service for eaters. 

Once the process ends, eaters will find the dishes with photographs the restaurant produces. 

They can scroll the screen to view dishes the restaurant delivers right now. 

Choosing the dishes, eaters can place the order just by clicking the 'order' button that appears at the bottom of the food's photo

Once ordered, the request will be sent to the restaurant. They view and start preparing it.

Restaurants will tap the 'ready to pick' button after they pack the food appropriately. 

The ready-to-pick will send requests to nearby delivery partners. They accept and pick up the order from the restaurant for supplying it.

Delivery partners start their job by following the route that displays in the app lively.

Notification will be sent to eaters when the delivery partner arrives at the doorstep.

Eaters enjoy the food by rating the experience they got from using the service.    
Does this working model sound challenging to you? I'm sure it's not. Because its prime purpose is to offer convenience to its users. So its working model is convenient and understandable too. This is not only no-frills but also saves plenty of time when people think of food.    
Do you know how this working model is made simple? It's purely because of the features that the software incorporates into it. Want to know about them? Scroll below. Your desire for it will be satisfied 😊
Features that make your food delivery business candid:
One tap to 'order':
If eater's found a food craving, they can order it instantly just by clicking the 'order' button. Their craving will be intimated to the restaurant. They instantly start their job to quench the eater's food desire. 
Endless food scroll:
Eaters who love viewing food can use this food delivery app to view numerous food items. It serves them with food pics that make them crave. Eventually, they end up ordering one from the list. This will help them try new eatables instead of having a view of them. 
Queue-free payments:
Eaters waiting in queue to pay for their delight are old school. They can pay for it virtually using food delivery software when ordering food from it. They have multiple options for payments. No obstacle will defend them from paying for the service.
Limitless listing:   
Restaurants have to add pages to their menu if they list new food items. But they don't have to if they equip restaurant management software for their business. They can list or unlist any count of items on their menu.  
Live progress updates:
Eaters get live progress updates on their orders. So they can patiently wait for it until it reaches their doorstep. Restaurants get live updates on the food that is being taken by delivery partners. They can check whether the food is delivered on time. Delivery partners get updates regarding the food preparation that is about to be delivered by them. 
These are some features that the restaurant delivery software posses. These features make the food delivery process simple, easy, and effective. 
Conclusion: 
I hope the article has served you the purpose you have visited it for. Dear entrepreneurs, starting a delivery business is more profitable in today's scenario. But you have to prepare several business plans before kicking it off to find value and profits from your venture. 
And for business people, try online food ordering systems for your delivery business. It will bring impact and help you stay popular in this industry. 
For both of you, I recommend starting food delivery app development right today. Because, over time, it will grow into something that you wouldn't think of. Approach the food delivery app development and convey your dream to them. They will help you achieve evolution in this dominating digital world!   
Most frequently asked questions regarding the food ordering system
Why should I consider developing a food ordering system?
In today's fast-paced digital era, you can reap several benefits by developing a food ordering system. Advantages go up like increased efficiency, convenience in ordering food, improved order accuracy, enhanced customer satisfaction, and potential cost savings for the business. These factors ultimately pave the way for augmenting income.
Can the food ordering system handle different types of restaurants or cuisines?
Yes, the rugged food ordering system can manage various types of restaurants such as fast food, fine dining, cafes, and more. It also provides the convenience to accommodate different menus, pricing structures, and cuisines to offer wider food choices for eaters.
How can I ensure the scalability of the food ordering system?
To ensure scalability, consider using scalable infrastructure, for example, cloud-based hosting services. Furtherly, design the system to handle increased user loads and high order volumes. You can achieve that by optimizing the system's performance and operating efficient database management techniques.