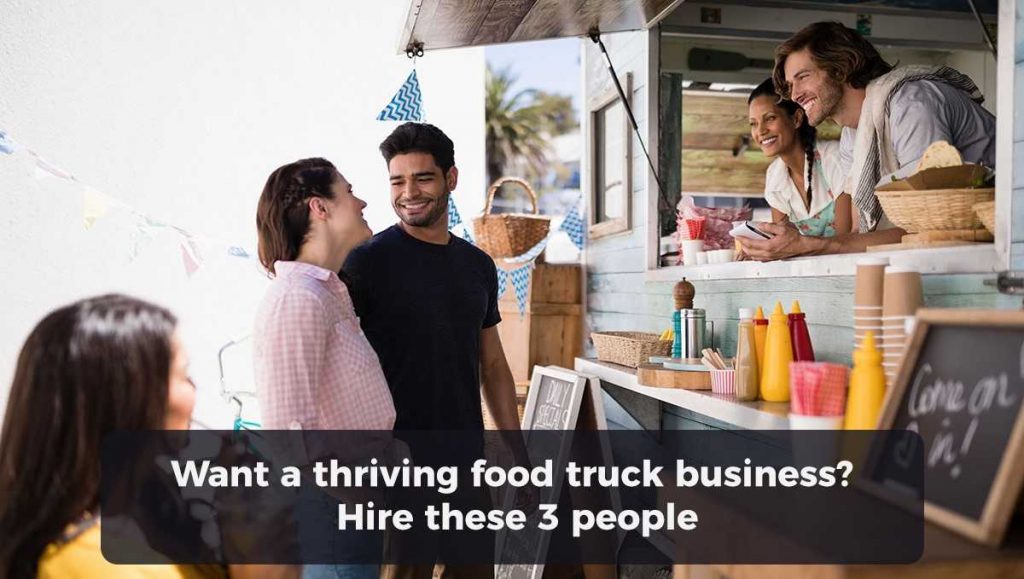 Having a business means you need specific jobs filled by people to accomplish all that is needed to become a success. The food industry, more specifically the food truck and concession food trailer industry, are no different. When comparing your food truck business to a brick and mortar restaurant, you see right away that size is really the only difference. Otherwise, you need similar roles filled to run smoothly and get your customers what they want – your best quality food.
In a normal restaurant, roles are separated into three parts: front of house, back of house and management. The roles in each area are different. The "front of house" takes care of the customers directly. They are hosts/hostesses, servers, bus persons, etc. Anyone directly in contact with the customer in part of the 'front of house' staff. The "back of house" is comprised of your chefs, cooks, dishwashers and anyone working to produce the food. Management takes care of the staff and marketing. They handle any issues that arise during the course of the service (either with staff or with customers), manage staff work schedules, takes care of hiring and firing staff and manage marketing the restaurant itself (or delegates it).
Since your average food truck or concession trailer can hold any where from two to six people, you must consolidate these roles. Staff will need to be able to multitask and work together, helping to drive your business' success.
If you focus on three main roles for your food truck and concession trailer's staff (keeping the restaurant model in mind), you will have a foundation for real success.
These roles are:
Chef & Cook
This person will create the menu, prep most of the food ahead of time and cook on demand as orders come in. They will, also, buy the food supplies and equipment for the truck. They should be involved in hiring staff since they'll be working closely with them.
Window Attendant
The Window Attendant is the face of customer service. They not only take the orders and manages the payments, but they, also, handle drink orders, getting the food out to the right customers and responding to customer questions.
Driver & Marketing Person
If you are lucky enough to have room for a third person, we'd recommend a driver and an onsite marketing person. This person will not only get you to the location, but they will be the one to hand out samples, let passersby know of any specials and help deliver food if you set out tables and chairs. They are available to post live videos and posts on your social media accounts and text subscribers of your location and specials. They can visit local area businesses to announce your presence nearby. This person is the mouthpiece of your business.
Multi-tasking
Consolidating the staff needs of a brick and mortar restaurant into a smaller mobile venue means the staff will wear many hats. Your Chef/Cook works as a manager of the staffing schedule, and handling customer or staff conflict while working his or her own duties. The Window Attendant and the Driver & Marketing Person help with set-up and food prep. They can both work with the Chef/Cook with cleaning. Having the right team working together really does make the dream work. Your focus for main roles should be delivering quality food, giving high customer service, and letting everyone know where you are and when.
Concession Nation has proudly built food trucks and concession trailers for new businesses and corporations, hotels, resorts, casinos, military bases, NFL and college football teams, universities, churches, non-profit organizations, franchises and existing restaurants. They are a food truck industry leader and use their blog to share insight on the concession trailer and food truck industry and customer success stories. They've been featured on ABC, NBC, CNN, the Food Network, and the Cooking Channel. If you're researching to start your own mobile food truck or concession trailer business, call Concession Nation at (888) 390-4479.