Jaguar announced to celebrate its 50 years with XJ50 V6 Supercharged aluminium engines
It has been announced that Jaguar is turning 50 next year and to celebrate its 50 years in the UK, Jaguar has announced to present their loyal customers and market a new model of the XJ series. The all new Jaguar XJ50 would be introduced in 2019. The all new XJ50 would be equipped with the all new power unit developed and produced by the Jaguar Land Rover engine manufacturing facility. The all new V6 Jaguar engine would be an all-aluminium supercharged unit. The new engine would come with direct injection fuel delivery system, variable valve timing and indeed, forced induction.

Jaguar XJ50 3.0 Litre V6 Engine
The all new Jaguar XJ50 V6 engine would be a 3.0 litre supercharged unit, promises to crank out more than 340hp of power and a hefty torque of not less than 450Nm. The new supercharged engine would not be specifically introduced in Jaguar XJ50 models but it would also be offered in XJ R-Sport, XJL Portfolio and XJ50 all trims including rear and all-wheel drive versions. The new V6 aluminium engine has been developed to offer linear power and an utmost nature of free revving, the Jaguar and Land Rover engines manufacturing, and the development team has designed and manufactured the engine for a melodious sound track. The research and development department has spent extensive time on the soundtrack adjustment and finally, they get a well-tuned intake and exhaust sound system.
The flagship engine in the XJ model line-up is still the 5.0 litre supercharged V8 version and it produces an extensive power of 575hp and 700Nm of torque. It leads the XJR575 flagship model for extreme performance. This model makes 0 to 62 miles per hour in just 4.4 seconds and has a top speed of 170 miles per hour. The same engine comes in different power outputs and the next best thing is the 470hp version of the 5.0 litre V8 engine which develops a hefty torque of 575Nm.
All the powertrains introduced in the all new XJ series for 2019 versions featuring the most modern ZF eight speed automatic transmissions. Every transmission has been designed to the tailored standards of Jaguar and it provides an excellent balance between performance and control over the road. The shift command and vehicle dynamic power transfer system has been introduced on the vehicle to enhance the comfort level. The 8HP transmissions are offered in two dynamic variations on the XJ series. The most familiar 8HP70 has joined a newly introduced 8HP45 transmissions.
How Special an XJ 50 V6 is?
The all new XJ50 4-door RWD version comes with a V6 petrol engine and equipped with an automatic transmission, the new model has a unique colour scheme to opt from where a Yulong White Metallic is most favourite with truffle leather interior. It is offered with a full manufacturer warranty which is another special thing.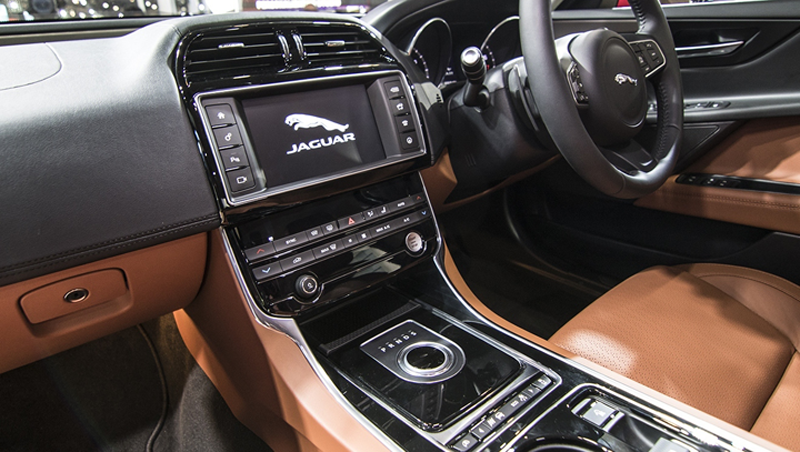 The dual zone climate control system and cruise control with power steering have been offered as standard. Power mirrors, leather steering, power seat adjustments, seat position memory, dual zone air conditioning, home Link infotainment system, and rear defoggers are all offered as standard features. Apart from these major features, there is an exclusive list of features and gadgets which are offered as standard on the new XJ50 models. When it comes to the safety features, it has a full package of 360 degree airbags, tyre air pressure monitor, and vanity mirrors, all come as standard. The all new Jaguar XJ50 would be introduced next year.