With marketing constantly evolving in the age of technology, it's crucial to ensure that your construction company reaches your target audience. Consider posting your work on a social media platform to advertise yourself to potential customers. Finding the best social media for construction allows you to showcase your work and get customers familiarized with your brand. You can also read this in-depth article of 11 construction marketing strategies that works in 2022.
Contact Industri at (212) 634-9383 to learn more about why social media for construction matters.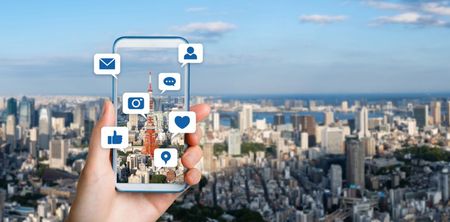 Facebook
Facebook is the largest social media platform, so a presence on the app is essential for a successful marketing strategy. Most businesses create a Facebook profile when building their main website and update both regularly. 
Because of its billions of members, Facebook is excellent for receiving community-oriented feedback. Most of your customers already have profiles and may post good reviews if your work is satisfactory. Not only do rave reviews increase your online presence, but they advertise to your customers' friends and families.
LinkedIn
Creating a LinkedIn account is an excellent way to demonstrate your professionalism by connecting with like-minded construction companies. You'll have the opportunity to share your business input, both fiscally and creatively. When potential customers see that you take your company seriously, they will too. 
Additionally, you may connect with other niche experts like electricians, millworkers, plumbers, smart home technicians, and pavers. These new connections can lead to collaboration on real-life projects, resulting in a profitable partnership. 
TikTok
TikTok is so much more than a hip app for millenials and Gen Z. The short video content allows creators to provide abundant information in little time, making it digestible for consumers. This gives construction companies an edge, as videos like renovations and new builds can showcase the entire process in less than minute.
Construction videos tend to score well with TikTok's algorithms. Viewers find the transformational before and after videos satisfying and deeply informative. TikTok will expand your customer base to encompass all ages. 
Instagram
As a sister company to Facebook, Instagram is the second largest social media platform. Instagram allows creators to share photos, videos, and reels. You may also cross-share information from Facebook and TikTok onto your Instagram to make your content reach multiple social media accounts. 
Companies that have a Facebook group typically also have an Instagram. So, to ensure you're getting the most out of social media for construction, an Instagram is a worthwhile addition to your online presence.
Pinterest
While Pinterest isn't necessary, it is a nice touch for inspiring potential customers. You can use the boards to capture an aesthetic for your construction or express your unique vision. For example, if your construction company specializes in different types of architecture, you can showcase that through Pinterest.
Pinterest also allows sharing pictures and videos. Creating a Pinterest board is a great way to get the attention of high-end clientele and make a blog post highly visible.
Contact Industri
Establishing social media for construction provides significant opportunities for potential clients and ample advertising. To see how you can improve your online presence, contact INDUSTRI at (212) 634-9383 today!