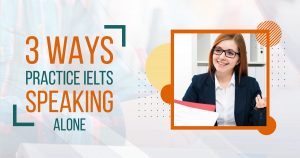 Following ways will definitely enhance your speaking skills, but the factors like and shyness and hesitation can only be eliminated if you practice with a speaking partner or join some English speaking institute in Jalandhar.
Requirement: You must be aware of the structure of the IELTS speaking module.
It is segregated in three parts. Part 1 comprises of questions from your day to day life like your family, friends, your daily schedule, etc. Part II consists of a cue card in which there will be a topic for you and you will be given 1 minute to jot down your points and you have to speak on that topic for 2 minutes. In Part III there will be random questions to discuss issues in Part II. The complete speaking module may take 11-14 minutes to assess your use of spoken English.
Take these three easy steps to prepare for IELTS speaking module all alone.
1.Make a list of all IELTS speaking topics with questions. Practice answering these questions. It is good to record your answers. Listen to your recordings and analyze your shortcomings. Again answer these questions and record. Repeat these steps until you are satisfied with your answers and move on to other questions. In this way, you can see your progress.
Mark those questions which you find difficult to answer. Divide those questions to the number of days for preparation so that the minimum number of questions you will have to review each day.
2.If you want to practice the cue card round, then randomly select any topic online or by some book. Gather points to speak in one minute and try to speak on those point for at least three minutes. After speaking, arise question on that topic yourself and answer your question. You must be fluent, clear and loud. You must practice reading the editorial page of the newspaper, magazine or any book loudly and correctly. Do not forget to record your voice so that you can rework on the area of lacking. This will enhance your speaking abilities and skills.
3.Practice not to answer any of the questions in one word. Make your answers of at least two sentences. Your answers must be grammatically correct. If incidentally, you commit a mistake then do not panic, just cover your mistake calmly.
Practicing the above-mentioned points will really maximize a higher score in the speaking section.
All the best!