If you are married or ever been to an Indian wedding, you would understand that Weddings are the holy grail of Indian celebrations. More than just two souls deciding to live together for the rest of their life, it is a festive occasion for the entire family, relatives, and friends. Regarded as one of the complex events to manage, there are millions of things to be taken care of to execute a wedding.
With time, weddings have also evolved in the way it happens. Being a sub-continent, the customs and rituals vary between groups but there are some common trends that have raised during over the years which is common in almost every wedding.
While these trends are also bound to change, we are predicting the ones that will stay in 2019 for sure. If you are someone who is getting married in 2019, Congratulations to you! This is our pre-wedding gift. Read along and ensure you don't miss out on these trends.
Going Green
The whole worlds are calling for action to prevent climate change and global warming and if you can organize 1500 people gathering without generating any inorganic waste, WOW! Wedding couples today are taking the eco-friendly steps seriously and try to outwit the waste generated in every way possible.
From gift bags, cutlery, floral designs etc. people like going green wherever possible. The recent video of a wedding in Bangalore going completely green has sparked more fumes around the country for millennial couples to plan out a similar wedding.
Minimal Designs in decor
Gone are those days where you decorate the house, the street and the entire way to the street for the wedding. With the urban life making lives more compact, minimal designs are slowly on the rise.
Green lawns, simple furniture, minimal floral works are finding their way as the new wedding decor trends.
Not just that, minimalism is also making a mark in Bridal Mehandi designs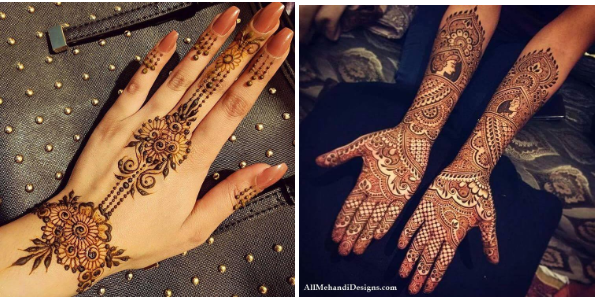 Trivia – not anymore
Five years ago when we spot a Magic show for kids in a wedding hall, we termed it trivia. Today, any such additions are not trivia anymore. It has turned out to be the duty of the organizing family to have arrangements to keep their guests engaged.
Photobooths, Music Bands, Food trucks, Mehendi etc. will soon make the primary checklist of every wedding planner.
Us, We and Serenity
Not everyone is a fan of big gatherings. When introverts get married, they want their wedding to be minimalistic. Intimate weddings are getting popular today where just the close ones in the family and friends are invited to the wedding.
Instead of making it an extravaganza, couples love to find serenity in keeping it calm and quiet. Remember the wedding of MS Dhoni? Only the closest of kith and kin were invited and the wedding took place within the house. With 50 guests and 10 dishes, the skipper paved the way for a new trend that continues.
Upping the gear – Destination, Photoshoots, and Dance Floor
Not everyone loves to keep things cozy and calm. For many, it is still a dream affair and it deserves the fab factor. Three things we jot here will find their next gear in 2019.
Dream Destination
Destination Weddings have not been hugely popular in India. But they will gather pace soon. With intimate weddings getting more popular, Destination weddings will soon be a thing to look into. Beach weddings, Riverside weddings etc. get ready for them.
Photoshoots
Pre-wedding and Post wedding photo shoots are almost a part of today's wedding ceremony. We have even started seeing trailers and mini clips posted on YouTube before and after weddings. With drones getting more popular Photo Shoots will hit a wider market.
Dance Floor
You cannot spell Party without Dance! They are inseparable. Hiring DJs to fire the floor is a trend most people wanna grow.
Wedding Registries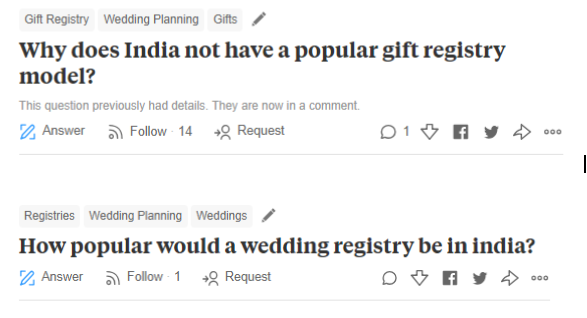 Back in 2015, 2016 it was common to find such questions in Quora and other forums. Wedding gifts earlier in the days were mostly the clocks, the statues and the diner sets which we were mostly re-gifted.
Wedding registries have helped couples to plan for their gifts in advance and create better memories with the gifts they get.
Keeping it Unique – Lehengas and Invitations
How far would you go to look different? This question is more apt for the women who attend the wedding than the men. Getting those Lehengas out of the rack is not enough today. Custom designs and unique styles are the order of the day.
Brides and Bridesmaids wanna look different. They want to make a mark with the photo they share on their social profile and their attire is where it all starts.
Speaking of being unique, it is normal to try and be unique right from the first touch point. Invitations!
Take any celeb wedding that happened recently. Be it Isha or Vatrushka, their wedding invites won a column too. Caricatures, Gulbondas, Handwritten notes, Wedding websites – they all help you create that uniqueness on the first touch point of your wedding.
As mentioned earlier, Indian weddings are grand galas. As much as fun it brings to the attendees, it brings the same complexity to the wedding planners. The thumb rule is you cannot satisfy each one of your guests. But you can surely make a mark in their mind by following any of these trends.
If you have any other creative wedding idea in mind hit straight to the comment box! We are eager to hear.