Most of the girls have queries regarding how to style up for plus size clothing. Choosing the right attire means choosing the right clothes and you must try a few dresses to choose the final one. Identifying the shape and size plays a huge role in choosing the right big ladies clothes. The most common plus-size shapes are hourglass, apple, pear, and rectangle. To make your shopping experience easier and less strenuous, few tips have been mentioned below.
Different Body Types and Ways to Dress Up:
While choosing big ladies clothes, one has to consider the body type as well as the colour complexion. To choose a plus size outfit also means that one has to consider the colour complexion as well as the shape of the body. Below mentioned are different body types and the clothes she should be buying.
1. Apple Shape Body Type
An apple-shaped body type can also be referred to as oval or diamond shapes. The characteristics of this body type consist of- big chest, slender legs, and most of the fat are concentrated on the belly and hips. Usually, most of the weight concentration lies in the upper part of the body.
Style Goal – For an oval-shaped body, you must highlight your waistline. This is because most of the fat concentration is in the upper section of the body.  The shape is also characterized by a broad chest and shoulders. A flared dress, pencil skirt or skinny jeans can suit you and you can choose such dresses in dark shades. Keep this in mind when you shop for big ladies clothes.
What to Buy – The best outfits that suit an Apple shaped body are- skinny jeans, deep V-necks, jackets, strapless outfits, wrap outfits, A-line outfits, hip-length jacket and printed bottoms. This body type has slim legs and therefore short pants can really make you look good!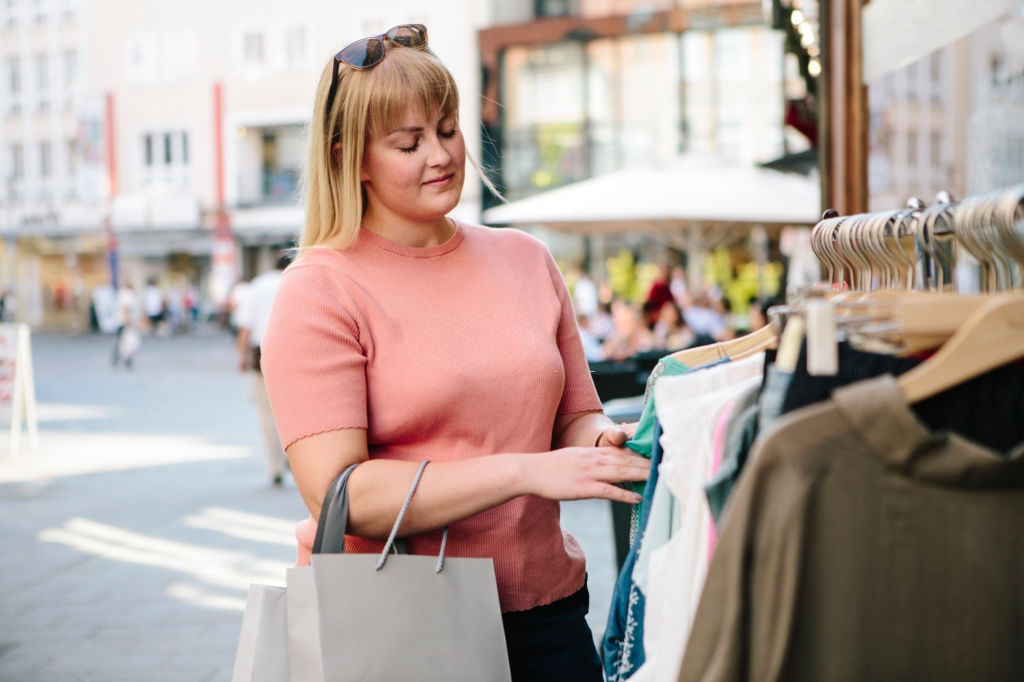 2. Pear-Shaped Body Type
This body type is characterized by narrow shoulders, thick legs, thick thighs, broad hips and thinks waistline. It is one of the most common body shapes among women. Sometimes pear shape looks like a bordering hourglass. Girls with this type of body shape can choose different outfits, and you can choose some customized dresses to show off the intricate parts of your body.
Style Goal – It is important to balance out both the section of the body parts i.e. the lower and the upper part. Girls having this body shape find it difficult to choose the right big ladies clothes especially the bottoms. It becomes a bit tricky task to choose the bottoms because the waist is small and the hips are broad.
What to Buy – Are you finding it difficult to buy the best big ladies clothes for you? The outfits that suit a pear-shaped body type are- long jackets, boot cut jeans, long shirts, formals, printed tops, high waist pant, blazer, belts, etc. All these outfits are perfect to flaunt your slim waist.
3. Hourglass Body Shape
An hourglass shape is considered as the best body shape among the plus size girls. The characteristics of such a body type consist of – defined waist, broad chest and curved full bottom. Most of the plus-size models have an hourglass body shape.
Style Goals – This shape is quite similar to the apple-shaped body because of the broad chest. For this, one needs to look for big ladies clothes that have a proper cut and fittings.
What to Buy – This body shape needs to buy high waist jeans, high waist pants, structured tops etc. The best styles consist of peplum, pencil skirts, and classic silhouettes.
No matter whatever is your body shape, make sure that the cut and the fittings are perfect. The clothes have to be nicely tailored to flaunt your shape in the right way.