Planning what to wear for the upcoming cocktail party? Confused on which evening dress to choose? Cocktail dresses are a dress that is worn for semi-formal occasions like wedding receptions, work parties or cocktail parties. Cocktail dresses have become an important part of women's fashion. There are many reasons that can be attributed to their growing popularity- they are comfortable, they are easy to carry and it exudes feminity as no other dress can.
When it comes to choosing that perfect dress to flaunt at the cocktail dinner it could be a little tricky. Your cocktail dress needs to highlight your best features and balances your body proportions. Choosing the right cocktail dress needs a bit of focus and knowledge about what suits your body type.
Here is our guide to help you choose cocktail dresses that will help you jazz up your figure and assist you in attaining that diva look at your party.
Body Type and Perfect Fit
As said, the dress should be able to enhance your features. So, pick a dress that would accentuate your curves and at the same time hide your flaws. For this purpose, you need to know your body type whether it is pear-shaped, diamond shape, inverted triangle shaped or hourglass shaped. You will be able to find a wide variety of dresses suited for your body type. Explore them and check which fits perfectly for you.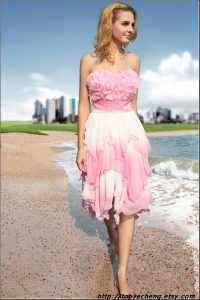 Image Source- Pinterest
If you want to show off your sleek and slender legs, then opt for short dresses like butterfly cocktail dress or sexy lace cocktail dress. If you wish to keep your well-toned arms and shoulders bare, then go for an off-shoulder dress or a one-shouldered dress.
Detail
What sets a cocktail dress apart from a regular dress is its intricate detailing.  So while choosing a cocktail dress, look for some unique designs elements. It could be some prints, embellishments, sequins or lacework.
The detailing doesn't always have to be with the designs but it could also be included in colour.  For a fancy party, you could choose some bright coloured style such as a fuchsia cocktail dress. Whereas, pale pink evening gowns would look good for a wedding reception.
Keep it Classic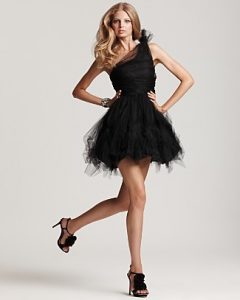 Image Source- Pinterest
The classic cocktail dresses are the first and best choice for anyone. Try to get the quintessential little black dress and a white dress. Another must have a sexy lace cocktail dress. A Skyfall black dress would look elegant on a formal gathering.
Accessories
For a cocktail party, don't heavy laden yourself with jewellery. Choose accessories that would go perfectly with your stunning cocktail dress. Opt for accessories such as cocktail rings, fine necklaces and earrings. It is advised to keep the jewellery minimal.
Footwear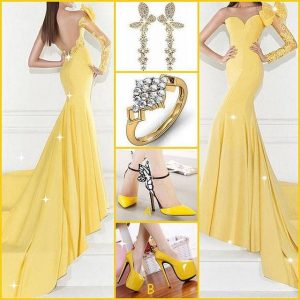 Image Source- Pinterest
Since most of the cocktail dresses are of knee-length, your legs and shoes could drag a lot of attention. Wear the right pair of shoes with your cocktail dress to give a complete look. Stilletos, nude pumps, strappy black shoes are a perfect match for most cocktail outfits.