Marriages are a fusion of happiness and sorrow; it's an auspicious bond that binds two souls and two families together. If you are a soon to be bride whose D-day is just a few months away, you might be thinking of ways to look your best on your special day.
The first thing to make a bride look outstanding is bridal lehengas. No matter what accessories you wear or how good your makeup is, a beautiful bridal lehenga is a must to looking perfect on your big day.
One way to get your hands on an awesome looking lehenga is to get designer lehengas. They cost in lacs and look superb. However, if you have always been a picky lady who is concerned about every little detail then customizing your lehenga might be a better idea for you. Customization will give you exactly what you dreamt of, and it will as well save a lot of money.
Here are some ideas that you can employ to render your gorgeous lehenga with a Unique touch; –
Customize your Blouse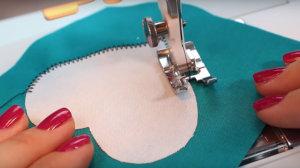 No doubt, your lehenga, its style, flare & design takes most of the limelight, but cholis are essential too. If you select a super plain choli with a round neck and a half sleeve blouse, your entire bridal outfit can look shabby.
Go creative and trendy with your blouse design. You can choose to go backless, adorn mesh or let multiple designer panels embellish the flip side of your blouse. Select something out of the box, that brings out your personality and makes you look unique.
Personalize your Lehenga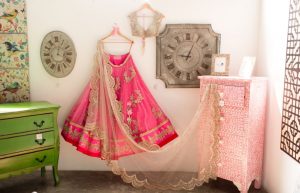 Weddings are conventional and have a stereotypical air to them. Why not set in a new style trend? How about you add a personal touch to your bridal lehenga? You can add your and your partner's initials, add your anniversary date or wedding date on the hem of your lehenga.
There are multiple ways to add a personal touch, Don't stick to one idea, delve into the depth of your creativity and find out something awesome that works for you.
Latkans Add Charm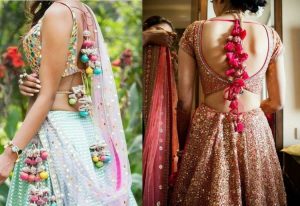 Latkans have a definite feminine touch to them. They render any outfit more beautiful by adding grace to it. You can add latkans to the drawstring of your lehenga to add another dimension.
You can also add latkans on to the back-strings of your blouse or on the sleeves. These danglers are available in an array of designs. There are metal one, fabric ones, plain pompoms, laced ones, tassel-style and ones that are made of mesh and laces.
Experiment with the Lehenga Hem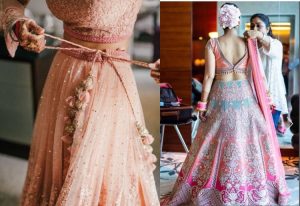 Hems of a bridal lehenga draw the maximum attention. It is not obligatory that you follow suit and wear a zari hemmed flared A-line lehenga as your mother and grandmother did.
Experiment with different hem styles. You can opt for a mesmerizing lotus hemmed lehenga or a beauteous mermaid hemmed lehenga. You can as well go completely out of the box and add ruffles and layers to your wedding attire.
Laces and Borders Render Beauty to the Wedding Outfit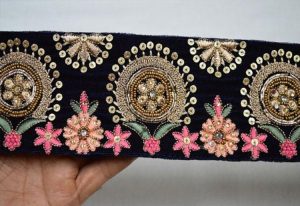 Borders add a distinctive beauty to a lehenga. Invest in a gorgeous looking border when you go shopping for your lehenga material. You can have zari work, embroidery, mirror designs and even self-detailed laces as a border to your lehenga.
Do not forget to specify your tailor on the way you want it stitched. Inform him of other details too if you want them to be included.
Behind Every Wedding there is a Story, Get it Etched on your Lehenga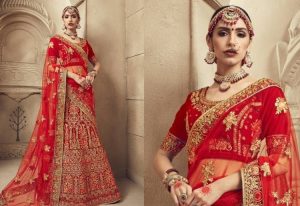 yes, you are reading it right. You can get your love story printed on some specks of your bridal lehenga. It is a very innovative idea and a very ingenious one. You might as well get some love notes or poems written on your lehenga.
If you opt for this superbly innovative idea, you would have a bridal attire which is the perfect fusion of art, love, and beauty. What else does a bride want?
Ruffles, Feathers & Fringes Give a Dramatic Edge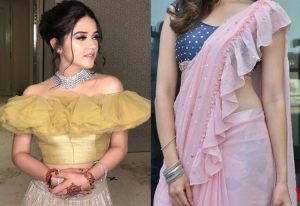 No bride in the history of brides wants to look plain and simple on her wedding day. She wants all the beauty in the world to adorn her for that single day at least.
To make this wish come true, you can add some ruffles to your blouse and blouse-sleeves, they are edgy and look very graceful.
Large colorful feathers, when added to a bridal lehenga can look spellbinding. They look ethereal and lend glamour to the dress. Add these embellishments to your bridal ensemble to look glamorous.
Glittery Look Glamorous on D-Day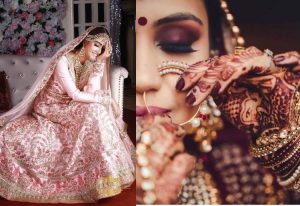 Dull and matte finish seldom look nice on a bridal lehenga. A lehenga that is meant for an ethnic wedding must have some sheen to it.
Add some sequins, stones and other embellishments to appear gorgeous. These additions shall be in perfect tandem with your wedding jewelry.  On your D-day, leave the dullness behind and embrace the warmth of marriage clad in a dazzling attire.
Customize the Sleeves of your Blouse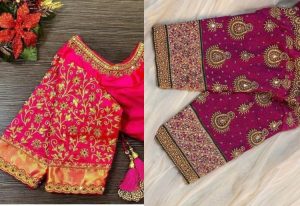 The most common sight is a half-sleeve blouse in red that hardly adds any aesthetic value to the entire ensemble. If you are selective with everything, don't let the sleeves of your blouse be controlled by the conventional normativity.
The in-trend sleeve styles are mesh sleeves with stone-work, sleeveless with a boat-neck neckline, cape sleeve blouse and the tapering glass sleeves of an elbow length. The sleeves of your blouse can make a significant difference, so choose them with care.
Embroideries and other Works Look Great On Lehenga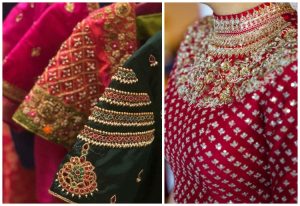 You can design your own lehenga or get some embroidery designs done on your lehenga that you really like. You can get 3D thread works done on your lehenga to make it look stunning. Other embellishments such as mirror work and sequins, when teamed up with embroidery looks fantastic too.
If you are soon to tie the know, consider these above mentioned amazing ideas to look fabulous, and most importantly, look You!