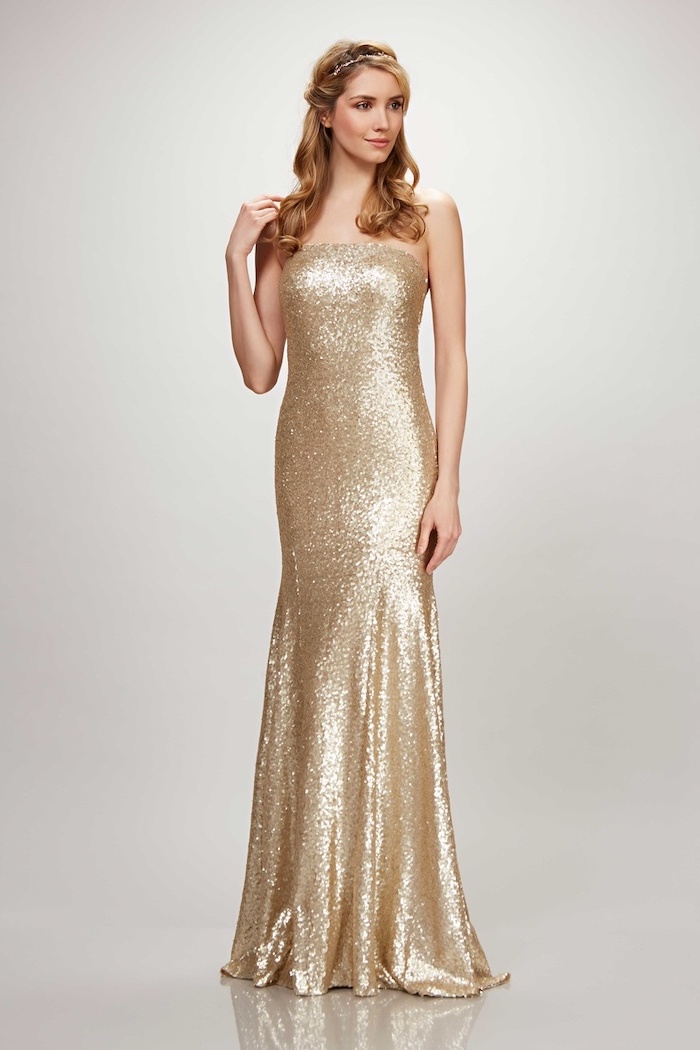 When you see the gold color, you see love, magic, and compassion. The shade has a way to let you know it is powerful and indomitable. Now, would you prefer to stir the bridesmaid fashion scene with a power dress? We know you would absolutely love to, and that's why we have come up with two looks on gold bridesmaid dresses you cannot resist. Of course, if the bride is onboard with long gold gowns, there is nothing stopping you.
Coming back to our topic, gold dresses are easy to please. What we mean is that you need to be careful before dressing up. Gold does not match with every primary color in the book. Only a handful of colors can create the ideal contrast.
Instead of scratching your head, check out these looks with gold dresses now.
Look #1: Make it Radiant
Not every color looks as gorgeous as gold. That's why you will look stunning if gold remains the one and only color. Confused much? Let us break it down for you. If you had to style your outfit, you would try to create contrasts, right? Gold being a glamorous shade is not exactly easy to match with other monochromatic colors. You can keep everything – from jewelry to shoes – gold.
Start with a pair of dazzling gold earrings that will complement the sparkle in your dress. Show off a little bit of cleavage, so keep the neck pieces out of sight. Draw everyone's attention to little accessories like a bracelet and small purse in gold. In the end, a pair of heels in the same shade will be just perfect.
Look #2: Keep it Playful
The combination of gold and red hits off pretty good and everyone does not go for it either. It is a unique combo that you would love to give a try at your bestie's wedding. Imagine flaunting a sparkly gold bridesmaid dress and carrying a red purse. Go with the same color of shoes; choose a pair of red pumps. To complete the look, paint your lips red. The beautiful contrast will not only bring out your fashionista but you will also turn up the heat on the dance floor.
Let your hair down and follow the messy style. A messy bun may turn out to be a good idea if it's hot. For other accessories, leave the jewelry at home. Gold pairing with red is already dramatic enough. In case you are going for a sweetheart neckline and the neck looks too empty, a sleek chain will do a good job.
As you can see, bridesmaids can have some fun with dress shopping! Since the day is approaching fast, you may feel confused about where to shop. Sposadresses has come up with a sexy collection of rose gold, gold, and burgundy bridesmaid dresses that you would hate to miss. Check out now!