1st time owners of high-risk businesses will find the action of applying for a high-risk merchant account intimidating. Their biggest fear being that the application will be declined.
Since merchant account providers are trying to avoid having a high element of risk, they will need to determine and avoid these before undertaking to take a chance on a high- risk merchant. They do this by evaluating the business itself against other information provided by the applicants.
What constitutes a high- risk business to merchant processors? This is determined by a number of factors, namely: companies with high chargeback rates (reversal of funds to clients), low credit facilities, or companies with reputational risks (e.g. bankruptcies).
Often, applications are declined because some companies take the wrong approach when applying for approval. By knowing how to avoid complications, the application process for a merchant account can be less time consuming and stressful.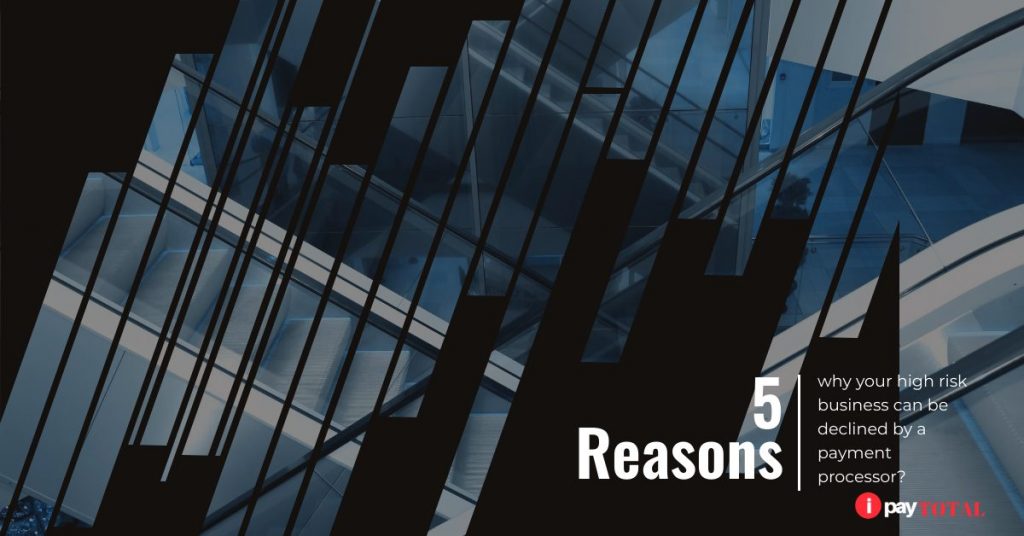 These are the top 5 reasons for merchant account declines:
HONESTY IS THE BEST POLICY:
Every piece of information about your past credit history should be divulged; including any unfortunate lapses of payment in the past. Remember, this must include any lapses in your personal credit history. Even though these do look bad, they will look even worse if they are left out intentionally. Everyone's credit history is available to all lending institutions at all times for the purpose of checking.
If you have someone who will sign surety for your high-risk gateway accounts, ensure that they themselves have a good credit history. Merchant processors often require that the person signing has a major position, title or partial ownership within the company if it is registered as a corporation or LLC.
If another bank has terminated a high-risk merchant account with you, your name will appear on the TMF Match List. This is the "blacklist" that merchant processors use to determine which people pose a high credit risk. Any outstanding fees or bills to a previous provider should be paid otherwise; there is no chance that the current application will be approved.
High-risk account service providers are wary of issues which may entail merchant fraud. If there is even a hint of such conduct, the application will most likely be denied.
PAY OVERDUE TAXES:
If you have a tax lien against a property, you will immediately be considered a high-risk candidate and the application will not proceed. The only option available is to resolve the liens before staring the merchant account application.
EXTREME CASES:
Some types of business are considered to be extremely high-risk and some banking institutions have a prohibited business list. These types of businesses, due to their nature, usually have higher processing fee charges to help cover the risk undertaken by the merchant account processor. If the account application is denied, there are other options that can be explored, from institutions which specialize in extreme cases and are called merchant accounts for high-risk industries.
If a business needs something other than an ordinary business license –online gambling sites and online pharmacies for example- they will need to provide this licensing in order to qualify for a high-risk merchant account.
EVALUATE YOUR NEEDS :
If you are just starting out, you might not know exactly what to request from your merchant account provider. High-risk credit facilities provided by the credit provider are based on expected volumes based on their past interactions with other clients. If you ask for more than what they consider to be the "norm" for your type of business, your application will most likely be denied.
A merchant broker would be the best person to get advice from in this situation. They will be able to determine the exact needs of the startup and will find the best high-risk institution that will offer the best benefits for your type of business.
If you own an already established company then base the processing amount on realistic expectations, taken from recent volumes and growth forecasts for the next two quarters. This will provide the merchant account processor with the realistic figures.
DO YOUR HOMEWORK BEFORE CHOOSING:
If your application is not accepted, the reason might not lie with your credibility or paperwork. Some merchant account providers may not be keen to provide credit to some types of businesses. Some steer clear of certain products, others do not want the risks that come with startups and many do not tell you this from the start.
Ask around before deciding on which providers to take your applications to. Your chances of being approved will be much higher if you go directly to the credit institution best suited to your needs and you will not have wasted precious time.
Many high-risk credit providers have an excellent reputation, but that does not mean that the service provided is necessarily the best for your company. Do research online and ask other businessmen about the creditors you are interested in. Read through their policies and requirements carefully and only submit your application if you meet their criteria.
Make sure that high-risk merchant account provider will meet all the needs of your business. The global nature of most entities today requires that they have i-pay payment gateways, high-risk online payment processing, and high-risk international payment gateways.
TIME-SAVING ADVICE
If your merchant account application was declined, make sure to find out the reasons, making it easier to ensure that you restore some issues when reapplying. Be optimistic and see this as an opportunity to seek other options which will better serve the interests and needs of your enterprise.
Before filling in an application make sure that you have provided all of the correct paperwork demanded by the account provider. These include:
up-to-date monthly statements of your company volumes,
chargebacks
decline rates
If you have had previous issues with any processor then you will need to take some time and effort to resolve them. High-risk merchant solutions will help you avoid unpleasant situations and keep your account in good standing. They will expect you to:
Respond to customer request promptly
Ensure that your customers can contact you as needed
Never exceed your normal requested volumes
APPLY NOW
Like any other type of application process (loans, job, university), it is best to proceed with a well thought out plan. Prepare by doing the correct research before deciding on which high-risk provider to apply at.
Once you have established what documentation is needed, take the time to ensure that you have it all and that there are no issues that have not been cleared. Finally, remember to upfront and you will most likely be successful in what you have set out to achieve.