Recreational marijuana has become a very big business and discovering the ideal payment processing solution for your needs as a dispensary is not always clearly defined. A cannabis payment processor standard has not technically emerged but credit card processing for cannabis products remains essential for any business to continue its longevity.
In this article we will go through some of the best types of merchant accounts for cannabis businesses as well as the ideal payment processor for the cannabis industry. If you have been seeking payment processing and banking solutions for your cannabis products, this can be considered your definitive guide for choosing the best payment processing solution for your dispensary or cannabis business.
Here are some of the top tools for credit card processing and gateway tools that are currently available to these businesses:
Large banks may be difficult to work with
Because cannabis products are still considered illegal on a federal level there are a large number of major financial institutions that consider these accounts to be high risk. While a large bank may not sponsor the idea of a high risk cannabinoid oil and hemp oil merchant account there are a number of smaller banks that are starting to open up their services and credit card processing for companies within this industry.
Federal regulatory bodies are often a little bit more intense with their scrutiny over cannabis-based businesses and the financial institutions that handle their payment processor. For larger banks that carried many investments, getting involved with a cannabis-based business could potentially put the company and their shareholders at risk. The benefits of offering credit card processing to a cannabis-based business may not be worth the risk to many of the larger banks.
What are the biggest issues with difficulty in working with larger banks is that you could potentially end up paying a higher service fee for your credit card processing. Rather than paying low service fees from a financial institution that can afford a smaller processing fee on every transaction, a cannabis-based business owner may be responsible for paying higher transfer fees in order to offer credit card processing on site.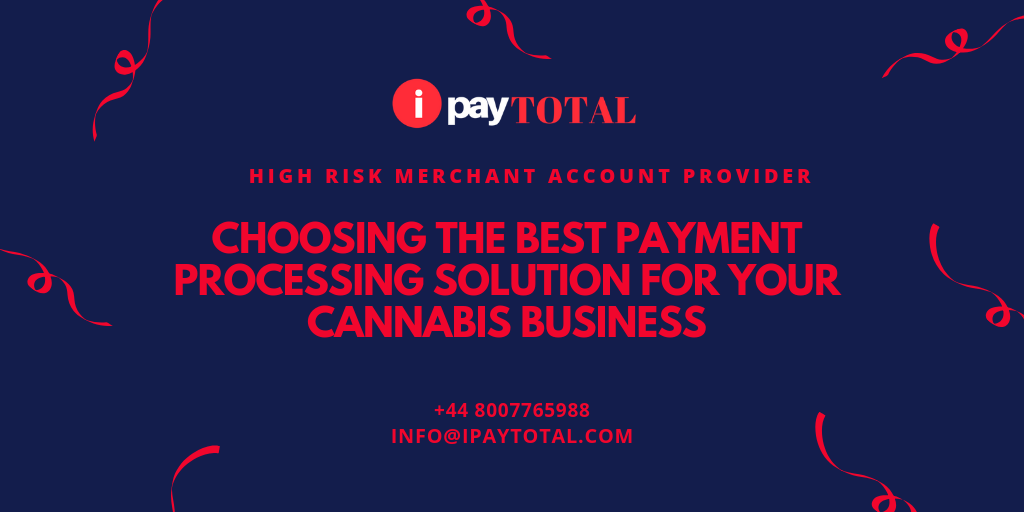 The number of payment processing options is on the rise
Solutions for payment processing in the cannabis industry are certainly on the rise. Cannabis companies are looking for financial partners that they can work with that are also willing to take on the risk. Although there are some strict banking laws, a number of payment processors are able to take on some of the risk so that credit card processing and debit card processing can take place.
Many businesses have had to work on a cash basis only and this can often result in the chance where a cannabis-based company is taking on extensive risk. By keeping so much cash on hand this can lead to a number of potential problems when it comes to the threat of robbery, embezzlement and more. Secure credit card transactions can often be a far better move for keeping a business secure and making a new business in the cannabis industry much more legitimate.
Many cannabis payment processors are offering variety in their packages
For high risk merchants accounts for cannabis there are a number of potential payment offerings, but it isn't always easy to get access to options from a company. A number of merchants will only offer one type of high-risk payment processing. Ahis can often lead to a cannabis business to stick with just one cannabis merchant account because of what's available to them.
Emerging financial institutions that are delivering payment processing services are offering more flexibility. By offering an e-commerce business model, high-risk processing and more, it is possible for a business to operate both online and in a brick-and-mortar building. Payment processors are also able to offer a series of transaction monitoring to prevent fraudulent activity and to offer improved security.
Going with a high risk merchant account doesn't necessarily mean that you should be stuck in one system and paying high premiums for it. I cannabis processing solution today can be well-designed while incorporating a number of security features. As well as offering variety these merchant accounts also need to be fully compliant with local and federal law especially if a cannabis-based business is planning on selling via ecommerce outside of the state.
It's important to expect set up fees, monthly fees and gateway fees
There are a number of major financial institutions that will not charge for gateway fees or setup fees if you decide to go with their merchant account system. When choosing a high risk merchant account for cannabis it's likely that you will be responsible for paying three types of fees in order to handle the risk that the processor is placing on their company for acting as a merchant account for your business.
It's almost impossible to escape the idea of a provider that won't charge a fee on every transaction but with high risk merchant accounts you will be responsible for the setup cost and administration fees. Transaction fees are also traditionally higher than with some of the other large banks. Most adequate fees in high-risk processing center around a 6% flat fee +.30 cents for every transaction. Set of fees can range into a few hundred dollars and often the rental for the payment processing machine is covered under some of the transaction fees and the setup fees that you will pay as a business. Paying over 6% for a flat fee goes even beyond the idea of a high risk merchant account.
Reading your contract
Transparency from your business as well as from your payment processor is a two-way street. When you are planning on opening a cannabis-based business you need to be reputable and seek a payment processor that is able to represent your company. Ask a payment processor what will occur if your company starts managing high-volume or if you continue to grow with your online audience. Making sure that you can have a business that can scale to your needs and that may offer you a discount as you continue to grow can be important.
As you continue to process more transactions through their gateway very important that a company is going to be upfront with all of their new fees and with the fees that they are taken off of your bill. A long-term partner will be able to provide you with updates regarding the logistics and fees that you'll be responsible for paying. Asking about monthly deals when you do above $10,000 in sales and more can be a great way that you can check into how your processing needs can change to match your scaling business.