The use of the internet has evolved. From searching for information, people can now shop online. Instead of going to malls or nearby stores, individuals use their mobiles, computers and other gadgets to make a purchase.
Online shopping reduces the hassles of the traditional purchase. It is also budget-friendly, time-saving and convenient. Despite the hectic schedules, people can minimize the burden while achieving optimal comfort.
However, online fraud has been a big concern for business owners and consumers out there. So, how to lessen the risks? Understanding payment fraud is a great start.
The most common is online spoofing or phishing. It is typically the process of accessing an individual's details thru fraudulent websites or emails. The information can include passwords, usernames, credit card numbers, bank account numbers, and more.
The most widely used strategy for phishing is to redirect a user to a website. They are usually asked to update their details. What they don't know is that they are tricked into revealing their information to an unreliable provider.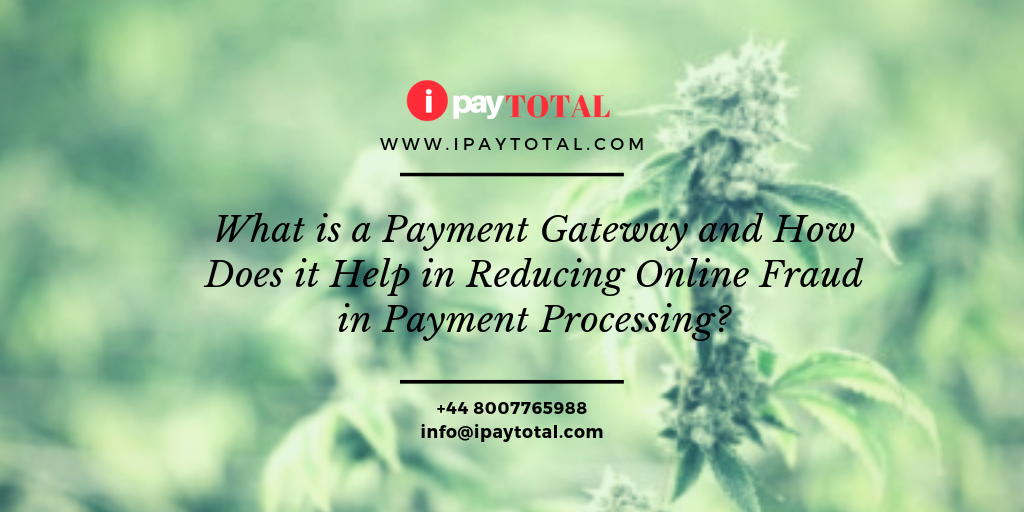 Phishing can occur via SMS, email, instant messaging, and other electronic means.
Another online fraud is data theft. Sometimes, dishonest partners and employees steal credit card data from a company and use it for fraud. That's why ecommerce sites and other online shops take stringent measures to avoid privacy breaches.
So now that you're certain about some online frauds in payment processing let's know the best option to reduce the risks. With the prevalent cases, there are many solutions to choose from. One of the most reliable choices is a payment gateway. But what does it mean? And how does it help in reducing online fraud in payment processing? Keep reading for further details!
What is a Payment Gateway?
A payment gateway has been popular for the past decades. Despite that, many people don't know much information about it. A payment gateway enables online shops to accept face-to-face sales, charging a client's credit or debit cards. It is invisible to your consumers and operates behind the scenes to process or validate a payment.
With the use of a tokenization and secure communication methods, a payment gateway communicates between your ecommerce website and your partnered bank. Then, the client's data are collected, verified and approved. After that, what's next? The payment is accepted, debiting a customer's account. This gives your customers a comfortable experience throughout the checkout.
When selecting payment gateways, choose the one that supports global processing networks. Not only does it allow you to guarantee uptime, but this also protects your daily revenues. Plus, you can minimize unnecessary processing expenses thru flexible and intelligent transaction routing.
How Does it Help in Reducing Online Fraud in Payment Processing?
A payment gateway is responsible for a variety of tasks. It particularly makes customer transactions safe and valid. For every checkout, a payment gateway does the other things quickly and seamlessly. Here are a few of them:
It receives any encrypted data from a web server. Then, it sends the information to your chosen bank's payment processor.
It forwards the transaction information to the card association. The bank also reviews and examines every authorization request. Plus, they have the power to approve or deny the application.
The payment processor receives the data and sends the request to a payment gateway. The latter relays the information to a web server. Then, it interprets the data, providing the right response to customers.
Let's say the order has been granted, your ecommerce site processes or fills it right away. The best examples can include providing a download link for the software and alerting staff that a product must be packaged or prepared for delivery.
The process can be long and stressful. But the truth is that it happens in a few seconds. The efficiency and speed associated with the right payment gateway give your clients the confidence with the safety and security of completing a transaction.
What to Look for in a Payment Gateway?
Every ecommerce site, online store or business needs an excellent way to secure payments. However, with many choices over the internet, it's an overwhelming decision for startup owners and other seasoned companies. Not only do you need to consider the technical problems of setting up a payment gateway, but you will also have to think about the convenience for your target market. Most importantly, your option's security should not be overlooked.
Why is a Payment Gateway Important?
As a merchant service, a payment gateway is utilized as a third party to authorize all credit card transactions. As you collect a client's credit card details, you will send it to your chosen gateway. Then, it will forward the data to a bank and credit card company.
The credit card service provider will relay back a response, informing ecommerce sites whether or not the credit is available. Then, the transaction will go thru with the peace of mind.
More than that, a payment gateway has other proactive features, and these can include fraud detection. For those online shops that have lost a big sum of money because of fraud, a payment gateway is an excellent option you can ever have.
Main Considerations to Weigh in Mind
There are lots of payment gateways to choose from. Before you make a big decision, take your time and pay attention to the following pointers:
Classic or Modern
Do you prefer a modern payment gateway setup or a classic one? Whatever the case may be, decide what you want.
A classic payment gateway requires you to apply for a merchant account. A modern payment gateway, on the other hand, allows you to get the most out of their services without one. It is more convenient to set up. But you need to prepare your pocket.
Compatibility
While there are various payment gateways, only a few options are simpler to integrate. Although most companies strive to provide excellent compatibility, issues still arise. So, select a compatible and perfect solution.
Invest now in a quality and effective payment gateway!