If you're in the food business, you know that food product label design is essential to your branding strategy. It can help to convey the quality and ingredients of your products to consumers and can also help to differentiate your brand from your competitors.
Companies that are serious about food product labeling need to do their homework. Food product labeling is one of the most important steps a business can take to ensure that safe and healthy products are sold to consumers. With so much at stake, companies must choose the right food product label design agency. So whether you're looking to create a unique and memorable brand identity or want to improve the clarity of your labels, read on to learn a list of tips for designing labels that will make your food products stand out from the crowd.
How can a good label design enhance your food brand identity?
A good label design can help to enhance your food brand identity and create a more favorable impression with consumers. It is essential to think about the overall look of your product, from the label itself to the packaging. What type of graphics do you want? Should it be simple or elaborate? Will you need text or just images? How will you lay out all the information on the labels?
Food product label design should be stylish, elegant, and eye-catching while also being simple to read. Also, the labels should display accurate nutritional information in a user-friendly manner. They should also reflect the theme of your food product or service engagingly.
 Additionally, consider how you will position your food within retailer shelves and menus. Generally speaking, a tasteful blend of minimalistic and creative extravagance should work well when designing labels for any food product- even those that don't require high visibility like yogurts or juices! Is fashionably designed branding necessary for perishables such as meat and dairy products, where presentation may not be as important?"
Now, it's time to consider the following steps before designing your food product label, which increases customer engagement by promoting trustworthiness and credibility for yourself and your product!
Steps to take before designing your food product label
Consider your label-making strategy carefully and methodically if you want it to stand out on the shelf.
It would be best to comprehend your brand, audience, and product category's competitive environment before you even think about the design itself. All tactical design conclusions should be made within the context of these three components.
– Establish your brand and craft your narrative
How you distinguish your product from your rivals in the eyes of the buyer will depend on your brand and its story. Look for the one unique selling point that only your business can make. Maybe you give a portion of your earnings to a good cause.
Whatever it is, you need to build your brand and develop your narrative utilizing content and subtly revealing visual signals clearly on your packaging. If your brand's core message is that it is a genuine, family-owned business, then perhaps a muted, straightforward design that prominently features the biography of your founder would be appropriate. Your packaging should look natural and environmentally friendly if your business story involves contributing a portion of your profits to a wildlife charity.
– Examine the competitor in your product sector
Look down the aisle where your goods will reside. What style do the labels on the competing products in your category have? What common design elements bind this product category together?
Making your label distinctive while remaining similar to the competition is key to getting buyers to recognize your product.
– Recognize your audience
Understanding your audience can help you more effectively cater the message and aesthetic of your label to their wants and preferences. A snack for youngsters, for instance, will have a very different label than a snack for well-to-do women with upscale preferences.
Numerous resources are available that break down packaging preferences based on age, gender, and income. It describes customer reactions across various demographics to the packaging of many food items.
Important tips for designing inventive food labels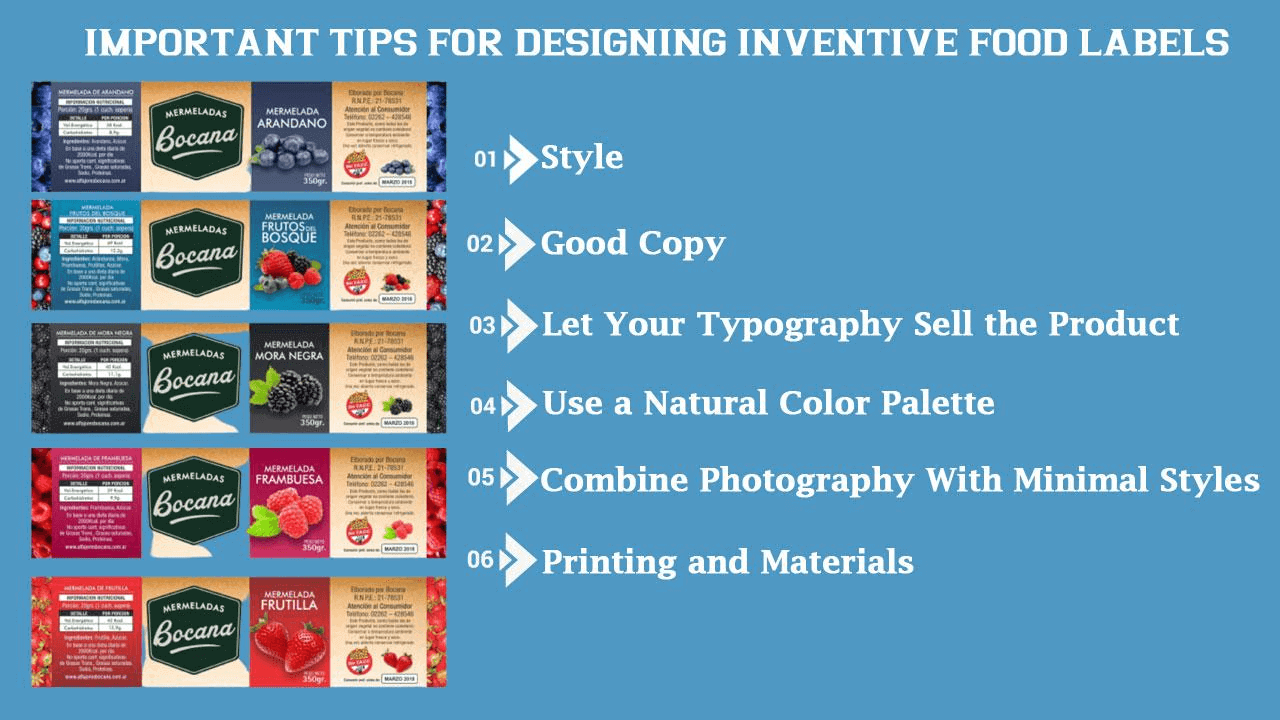 When designing a label for a food or beverage product, there are six essential tips to follow; read on to get the perfect label design:
– Style
Colors, fonts, images and illustrations are all part of your product's brand appeal and should all be considered appropriately. This helps in enticing the right audience to your product and gives it more chances to be picked up and bought.
– Good copy
There's no minimizing what a good copy can do to help sell a product. It can be fine art to explain what a product is in a compelling, creative and attractive way in very few words. Quite often, the space for copy on a product label is limited, so it's essential to be efficient with the word count.
– Let Your Typography Sell the Product
Typography is such a transformative part of graphic design—choose a classic serif and make an aspirational outcome, or go for a pared-back sans serif instead, and you're launching a product that's suddenly cool and trendy.
– Use a Natural Color Palette
Nature-inspired, tonal colors have a calming effect and tap into the general trend for commercial products that are more ecologically and ethically conscious. 
You can still offer your packaging label design a sense of healthiness even if your products aren't entirely organic or don't come straight from the farmer's market by using a light color scheme.
– Combine Photography With Minimal Styles
Trends in product packaging design come and go, but the kind of graphics that feel appropriate is a constant. 
The most often used graphic medium at the time appeared to be simple typographic designs or illustrative images.
Consider choosing black-and-white photos if you want to maintain the imagery on your packaging looking sleek and contemporary. 
When combined with a vibrant font, this can seem fashionable and eye-catching.
– Printing and materials
There are many options for printing your labels and how this affects how your product is perceived. Not all labels have to be glossy; you may want to achieve a more understated look and feel, and an uncoated paper with a rougher feel may suit the product and its target audience more.
Conclusion:
As it is clear now, Food product labels can be an essential part of your product branding strategy, and DesignerPeople can help you create appealing, legible, and easy-to-use labels. Our designer team has experience in various food industry settings, and we are experts in creating labels that meet the exact needs of your business.