"We want to keep a myriad of plants, but without having to care for them" is what we typically hear from our customers. It is, by all means, every person's desire, and Luwasa indoor plant hire is here to blend your dreams into reality. What you think about, we bring about! We proffer office plant hire and plant maintenance services throughout Melbourne and its surrounding areas. We deliver you the best customer-centric services and provide you with well-trained experts to properly water, prune, feed, clean and dust your Office Plants for hire. So you can unclasp and take a back seat while we create and maintain magic in your office for your career to blossom in.
We offer you an extensive range of plants under Office Plants for Hire, so you can bring in nature into your office and experience its benefits. It helps filter the toxins and gives us cleaner and more breathable air. Clean air reduces stress and improves focus. It gives your workspace the warmth and vivaciousness it deserves. We try to provide you with the best possible setting for your office to keep you at calm in this top-down, hierarchical organization.
We understand and constantly preach how even a single plant can change an entire room. A room without plants seems unlived in and uncared for- even the humblest bunch of multi planted Yucca lights up a table or a corner far more effectively than a 100-watt bulb. It brings so much life and colour, especially to a drab space or an empty corner. We assure you even a single plant will radically change the interior of your premises and will make it more gratifying to the mind and the eyes.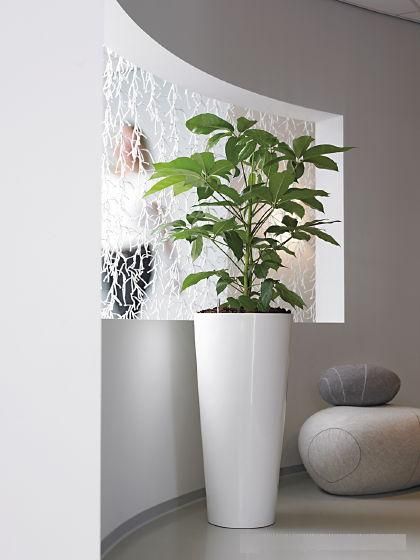 Plantscaping that we provide is not just limited to the act of bringing plants indoors, but the beginning of a whole new experience. We have trained our technicians about the strategic placement and selection of plant species within an architectural project to highlight and enhance the aspects of spatial design. Depending on your space and interiors we decide plant's structure and form. We can come up with different spatial phenomena and profuse effects can be generated.
Still not sure which plant you want or how many you need? We can help you out with design consultations and interior plantscaping. We try to understand your vibe and curate plants and planters which compliments your aesthetics. We study your furniture and artwork in the room and come up with the best conceivable options. We believe Yucca Elephantipes "Yucca Head" look best in a Fiberglass Partition Trough that contrasts in texture with their colour and delicate form. It gives just the right amount of hard-edge luxury. We have a whole bunch of other substantial and stimulating tips stored for you.
Need a nice cube planter or a pot for your plant? How about one in fibreglass? Maybe some concrete pots for the entrance? Urn pots of white colour are the most versatile and practical solution for landscaping of private, administrative and office interiors. We provide you with all these options and many more to choose from. You can see what tickles your fancy and unleash your inner artist.
A simple striking branch of Strelitzia Nicolai "Birds of Paradise" in a clear glass vase, becomes a part of a larger arrangement of objects, makes its own pattern against the wall. Who can not appreciate and enjoy such aesthetics? People with a taste for art will relish the idea, prospect and thought of it.
We aim to provide you with our finest products and services through Office Plants For Hire and plant maintenance services that help hoist your workspace mood so that you can give of your best to find a place in the sun in this competitive world.