Hair extensions are the most luxurious retail or salon services that help to find the best extensions for you and give you an ethereal look. Women use it because it makes them look five years younger than their actual age. However, finding the best suit for your hair type can be a problem. With the advancement in technology, many types of extensions are available for different types of hair.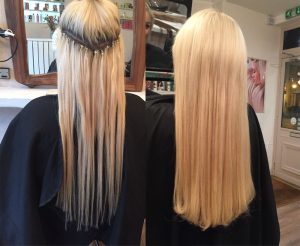 Following are the types of hair extensions:
Strand by strand
Fusion & Pre-Bonded Extensions
Weft Extensions
Micro-link Extensions
Wigs & Hair Pieces
Sew-in or braided extensions
Below you will find the information about different types of extensions:
Strand by strand
The method of strand by strand utilizes approximately 40 strands of the hair. These stands link together at one end with the help of keratin/glue bond or polyurethane. Strand by strand extensions links to small sections or pieces of the wearer's hair by using cold fusion (copper cylinders and pliers) or a warm glue with the heat gun. These are often termed as keratin bond or a flat tip or nail tip or nanorings.
These strands attach to the roots by using a heating element. A professional will place the section of strands between the U-tip and glued with a hot extension tool that helps to melt the keratin glue to roll it into the selected section. These strands are attached close to the roots providing a little space for movements. For high volume, approximately 100-150 strands are used while the length can use 40 strands. The number of the strands depending on the length, amount and volume of the wearer's own hair and the look they desire.
Fusion & Pre-Bonded Extensions
Fusion extensions (also known as bonding or pre-bonded) fuse to the natural hair using different adhesives such as glue. This is a method in which small sections of the hair pull through a lock/cylinder/bead and clamped shut with a couple of pliers. Good brands always use copper cylinders layered with silicon to protect the quality of the natural hair and protect them from breakage. Since these are single strands, the extensions move quite naturally. There is no need for heat or glue for application.
These are reusable and any section of extension that may slide off can be fixed in a short time period by a professional.
Weft Extensions
A weft extension is a bundle of hair attached at one end. There are three types of weft available
1-Hand-tied
2-Machine made
3-Injection molded
They also vary in size from 1" to 6" but are available in different lengths. They are applied to the wearer's hair as panels in a row rather than single strands. You can apply these using clip glues or tapes.
Micro-link Hair Extensions
Micro-link extensions also called micro loop or micro bead hair extensions. They attach to the small section of the natural hair by attaching tiny wefts of extensions with a small silicone. After this, a special tool attaches the bead to the hair and tightened to fix it in place. Though there is no need to use glue or heat, if not applied correctly by an experienced person, these extensions can cause damage to the original hair. An unprofessional might tighten the bead too much causing pulling and pressure at the roots. Also, if you don't remove them properly, the original hair can break or pull out. This process usually takes 2 – 4 hours to apply properly.
Wigs & Hair Pieces
Wigs and hairpieces come in many forms and they attach to the original hair topically. These wigs are designed to cover the head entirely and also called "a head covering" for this reason.  These also include pieces of wigs called "netting" or "lace fronts" –– these are the process for manufacturing hair extensions. These are meant to cover the entire head and serve as a replacement for your own hair. These are used for many reasons such as balding, hair loss, or simply to renew your look.
Sew-in or braided extensions
Weave or sew in extensions apply to the hair in the form of a braid. First, you need to make a natural hair braid with cornrows, and then use a needle to weave or sew these extensions into the cornrow. These are most suitable for people with thicker hair because of the way they are sewed. The tight application process can put a strain on the scalp or may feel uncomfortable and heavy. That is why these don't work with light or thin hair.
It is a very difficult and technical application, and it needs an experienced hairdresser to sew the extensions. They also come in wig forms that are sewn into a braid the same way. However, these extensions come as a single piece as opposed to separate wefts.
There are many hair extensions brands in the market. However, a customer only pays attention to a brand that has a professional and classic look. For that reason, you can havecustom hair extension packaging boxes made up of quality material to present your hair extensions in a more attractive and enticing way. These boxes not only protect the inside product, but the perfect printing and designing add to the brand value and set the brand as an icon in the market.