With so much digital exposure, it's much likely to have eye power at an early stage in life. Considering if you're a college-goer or someone getting married, you want to get rid of your glasses for the time being and that's when the thought of contact lenses come to your mind. Before you buy contact lenses online, it's likely to have several thoughts going in your head. What are the pros and cons, how to take care of the lenses, is it really worth it, will I be able to wear contact lenses easily, what are the types of contact lenses and so on?
Let's have a brief comparison between Silicone Hydrogel vs Traditional Hydrogel for better understanding:
Silicone Hydrogel vs Traditional Hydrogel Contact Lenses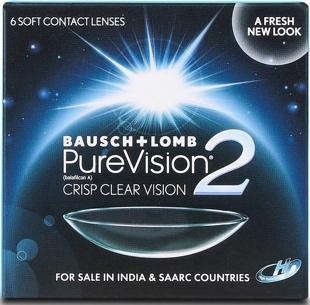 Silicone Hydrogel
Silicone hydrogel is an innovative type of eye contact lenses that is more permeable than traditional hydrogel lenses as it eases out the flow of oxygen to the cornea. The concept behind this type is to allow more oxygen flow even when the volume of water is low. This type is made up of hydrogel and silicone. Modern-day silicone hydrogel contact lenses have greater oxygen transmissibility, which is said to lessen the possibility of hypoxia2. This is the reason why one can wear these eye contact lenses for an extended duration. One thing to note about this type is that the wettability is low so the chances of debris collection are higher.
If you're looking for coloured contact lenses, you'll get options under silicone hydrogel type. Example of Silicone hydrogel lenses: Pure Vision 2 by Bausch & Lomb
Pros
Greater oxygen absorbency
Reducing the risk of hypoxia2
Extended usage is comfortable
Cons
Not very comfortable for sensitive eyes
Chances of debris collection are higher
Silicone intolerant people cannot wear them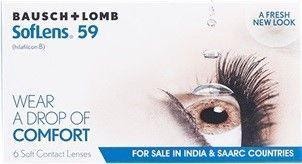 Traditional Hydrogel
Traditional hydrogel lenses consist of 'hydrogels', which are a type of plastic with water contents. They're almost like a gel. These lenses are very sleek and bendy and adapt perfectly to the eye's surface. These lenses are the reason why wearing contact lenses became common, thanks to the comfort and ease they provide.
People with dry and sensitive eyes go for these eye contact lenses and the hydrogel material is compatible with the human eye. Since this lens type is water-based, the evaporation of water after a few hours is possible, making the lenses slightly uncomfortable.
Example of traditional hydrogel lenses: Softlens 59 by Bausch & Lomb
Pros
High level of comfort
Great durability
Compatible with the human eye
Suitable for sensitive eyes
Cons
Oxygen absorbency is lower
Not comfortable for a longer duration
Lesser elasticity than silicone hydrogel
One thing to keep in mind before you buy contact lenses online is consulting your doctor for eye examination and the right kind of contact lenses for your eyes. You also find coloured contact lenses which people usually prefer for weddings as they bring out a different look.
Whatever might be your pick, go for a trusted website from where you can buy contact lenses. So, whether you're looking for coloured contact lenses or regular eye contact lenses, YourSpex provides a wide range of options to choose from.