Have you ever wondered why sleeping during pregnancy is a challenge?
Well, we have you covered…
You may find that it's hard to sleep when you're pregnant due to leg cramps, the constant need to pee, or just because you can't get comfortable. Early in your pregnancy, you can sleep in almost any position that you want. However, as your belly grows, you will soon realize that it's no longer safe to sleep on your stomach and sleeping on your back is just plain uncomfortable. Side-sleeping is the only choice that you have.
Once you reach the point where sleeping becomes increasingly difficult, you may wonder whether it's worth buying a pregnancy pillow or not. You may have seen those advertisements that show pregnant women snoozing peacefully with the help of a maternity pillow. "Is it mandatory for me to buy a pregnancy pillow ?" you may ask yourself.
There's no right or wrong answer to that. It just depends on your preference. Some women prefer to buy a pregnancy pillow (also called a maternity pillow). This is a special kind of pillow that is designed with the unique shape of the pregnant woman in mind.
While pregnant it is especially important to look after your bodies needs and requirements. Not only is this important for you specifically but also for the young one you are carrying during this important time period. Being pregnant as any mother will you restricts your bodies ability to move and operate the way you usually would, this is especially true during slumber time. Fortunately, there are a range of best pregnancy body pillows on the market that cater for pregnant women providing the mother and child the comfort they need as well as eliminating any dangers associated with position of sleep.
Types of maternity pillows available
If you browse online and in your local stores you will find a variety of maternity pillows that address a number of many issues that pregnant woman suffer from during sleep. One of the most common type of pillow is the memory foam variation of pillow. These pillows mould to the contour of the individuals body eliminating pains caused by conventional pillows on pressure points. As well as memory foam pillows you can also purchase foam and latex variations which compliment each other well. Using a combination of these different types of pillow ensures you as well as your bearing child is comfortable.
Choose your own fabric for your maternity pillows
As with any type of pillow you also have a wide array of fabrics to enclose your maternity pillow. Pillow covers can come in materials such as cotton, silk, polyester and many more fabrics as well as many colours and patterns. If you are one who has a keen interest in matching bedroom décor then the variety in choices will surely surprise you.
The importance of a maternity pillow
During the months of pregnancy it is important you do all you can to make you and your bearing child as comfortable as possible. It can be a stressful time for the family as a whole, especially for you. Look into purchasing a maternity pillow to provide you with comfortable rest which plenty is needed during those 9 months.
Appropriate tips to consider while buying maternity pillows:
Determine the areas that give you too much stress. Every pregnant woman suffers from different stress and discomforts. A pregnancy pillow can lessen all the discomforts and pain. It can alleviate the pressure on hip and it provides back support.Find the necessary pillow that can ease the stress you are feeling.
Choose a maternity pillow that will fit you. There are many varieties of a pregnancy body pillow that are available. There are full body pillows that can fit your whole body. There are also small pillows which are useful in relieving pains such as back and neck pain. Simple wedges are also available to support your belly and bean-shaped pillows are used to wrap your mid-section.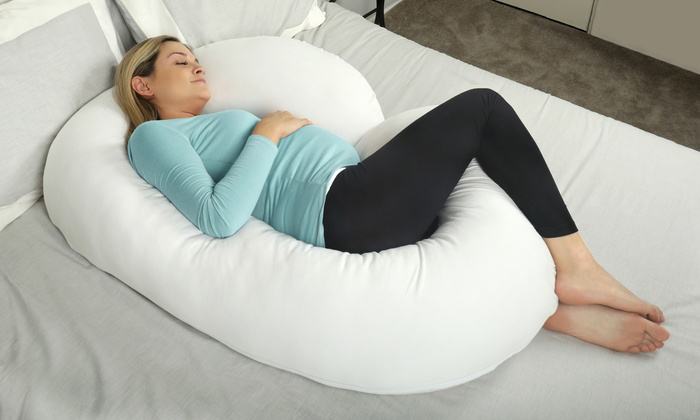 Seek for guidance or advice. You may ask your parents, however, it is better to ask some friends or someone you know who had been pregnant. The experience of your parents is different from that of your friends due to the development of maternity accessories.The information that you will get can be a helpful guide but do not be sure that it will also apply to you. There is a chance that your problem is different from the problem that they had experienced.
If you had already selected a pillow, it is best to try it. Do not just touch it but you should hold it close to your body. You will feel the great difference if you will do that.Do not be shy on trying the pillow. Most stores allow their costumers to try their products. Take your time and try several pillows so that you can see which will suit you best. You must be careful in choosing one since you will use it for the rest of your pregnancy period.
Try to sleep with a new position. If you are a back sleeper, take your time to become a side sleeper. You must not rush; you should do it slowly. Use the pillow since it can help you adjust more easily.The function of your maternity pillow does not end the moment you gave birth to your child. You can also use it while you are taking care of your baby.
How To Use A Maternity Pillow Efficiently
To get the best out of these pillows it is very important that you understand what you need them for. While doctors will tell you that you should always try to sleep on your left side to let blood flow through your vena cava and aorta (blood vessels) properly, your body weight especially that of your belly, may be a factor that might hamper your sleep. Under such circumstances, the best pillows to go for would be the ones that will provide your legs, knees and back enough firm support.
These should be able to regain their shape once the pressure is withdrawn, and at the same time should not be too hard or lumpy. Instead, they should be soft and yet very supportive. Sometimes using these pillow cushions to support your belly can also show you great comfort and better sleep.
However there are a few factors that you need to consider. You must be very careful when selecting the maternity pillow. Check the size of the pillow and determine whether it would be good for you. If it is oversized, it might actually turn out to be an added reason for your discomfort. Smaller size can also cause it to become totally ineffective.
Author Bio
Katy Hill has worked with great doctors who have experience in dealing with the problems of pregnant ladies.