It is difficult to imagine a house without light, a washing machine, an oven, or even such a basic issue as heating. Most buildings simply need electricity to provide access to these utilities or devices. 
There are endless things to consider when renovating a home. How about planning to upgrade the electrical system? 
The required electrical services for your home should therefore be one of the first steps after buying things for your renovation project so that you can use electricity comfortably from the very beginning and not risk the need to modernize the installation later.
At this stage, you can also easily find a licensed, local The Electrical Contractor to fix, install and take care of all the renovation needed when planning electrical wiring in your home.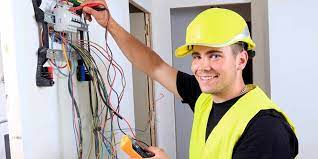 Here are some of the projects you can start with:
1. Lighting Systems
There is no doubt that compact fluorescent and low-consumption bulbs save energy. A bulb like this saves more than half the electricity consumed by typical incandescent bulbs. 
You will be surprised to know that a light bulb can consume over a tenth of a household's energy budget. However, the cost of lighting the rooms in your home will be significantly reduced once you install compact fluorescent bulbs. 
You can also find advanced lighting technology in the market with modern designs, reducing the amount of time when lit and not in use and this helps to reduce energy consumption.
As a final energy-saving option, LED bulbs are another option, although these bulbs may be costlier upfront.
2. Heating and Cooling Systems
One year after installation, a single-family home is likely to reduce its heating and cooling bills by 15% to 35%, or an estimated $150 to $400. You will notice that savings will increase with cold weather.
Additionally, you have the option of installing smaller, less expensive HVAC systems whenever you decide to upgrade. This allows you to keep a constant temperature in your home suited to your needs. Just before leaving home, for example, you might turn on the air conditioner or heating.
Tip: You can save on heating and cooling costs if you use a programmable or smart thermostat.
3. Kitchen Electrical Setup
Kitchens are particularly dependent on kitchen appliances such as coffee machines, kettles, toasters, blenders, juicers, etc. You can measure how many connections you need for a new kitchen if you have a plan. But be careful in the kitchen. Several installation zones need to be observed.
Important: You should provide separate connections for the electric stove, dishwasher, microwave, and refrigerator. They require their circuits because they are large electrical appliances.
If you are unsure about setting up, then coordinate with an experienced electrical contractor nearby to carry out the installation for you.
4. Power points and Sockets
TV plugs should be hidden behind TVs for kids' safety. In the same way, wall plugs should be placed on baseboards instead of on the wall to prevent them from falling.
Maintain a fire extinguisher and blanket near your home to be prepared in case of a fire. Install smoke alarms to spot fires quickly. Keep a check on socket housings; if they are defective, get them replaced.
Ensure the socket is installed correctly, safely, and without any gaps. Otherwise, grease, dust, and soot can accumulate inside the socket hole, or moisture can penetrate.
5. Switchboard upgrade or maintenance
Switchboard upgradation is essential when it comes to electrical installation. 
Ensure that you maintain the switchboard; it runs correctly and is performing well, as well as the rest of the electrical installation.
If you are not skilled enough or afraid of performing maintenance on the switchboard, then seek an appointment with the best electrical service provider nearby because this work is complex and can be handled by a professional electrician.
6.  Security, Alarms, and CCTV
In recent years, the number of burglaries has steadily increased, making it more and more necessary to invest in a security system.
To ensure the security of your homes and commercial properties today, you must install a security system.
Whether it is a simple camera, alarm system, or an advanced device, you can trust electrical contractors to carry out the installation without any hassle.
7. Data and Communications System
Intercom installation is crucial for those who want to manage and control visits to their home.
Replace the traditional doorbell with an intercom if you want to limit the access and entry of visitors to your house.
You can also interconnect your devices with voice commands to your smart home device that can trigger automated home events.
For instance, you can say goodnight to your smart home device, which will cause it to dim the lights, lower the thermostat and turn off the TV. 
Aren't these touchless command devices a cool thing for your home?
8. Rewiring new and renovated areas
Opening the electricity connection, changing the connection size, and disconnecting the connection can all be done easily if you plan ahead.
For this purpose, you will need to hire an electrical designer, for he will determine the right fuse size, i.e., connection power.
This will solve the electrification and heating needs of your appliances. Electric fires and shocks will be avoidable if you maintain this setup.
9. Bathroom Electrical
Looking forward to revamping your bathroom's electrical fixtures? 
Then the first thing that gets noticed is the water heater that needs to be upgraded.
There is foam insulation inside every water heater. It is still possible for the tank body to leak heat. To counter this problem, you must invest in a low-cost water heater insulation blanket to keep the tank warm.
As a result of this, it will cost less to operate the appliance since the heating element consumes less electricity for the same amount of water.
Final words:
So now you reach a point with your outline where you think calling a local repairman to assist you with electrical services for your home is a need, then you are good to go. 
With the help of an expert in completing one part of the setup which could be complex in handling like the kitchen model. You can handle the smaller parts, like installing light bulbs and energy-saving appliances. 
You will see efficiency improvements and could save money in the long run.