A long time ago, Sunset Park neighborhood was the area filled with immigrants looking to work in various warehouses and distribution centers. But today, it's a wonderful and genuine part of Brooklyn offering something rare and hard to find in other highly urbanized parts. Starring from the top of the hill right down to the marvelous waterfront, it is one of the most beautiful neighborhoods in entire New York City. For most people who are thinking about moving to Sunset Park, Brooklyn, the affordability that stands the test of time would be one of the crucial elements to consider. Refusing to follow the commercial path many neighborhoods took, it remains one of the most attractive parts in Brooklyn for families in general.
Moving to Sunset Park neighborhood
Usually, you can describe it as a place with great schools, various playgrounds, and admirable part-vintage architecture with plenty of greenery. Include the extraordinary people and you will get what makes Sunset Park so special. Whether you are looking for an affordable place, or just wish to get away from over-hyped Manhattan noise, this can be the right place for you. It has to offer plenty of things, some quite different, quite gentle, and, as a matter of fact, quite rare. If you want to go further and step out of the shadows of never-ending urban development, Sunset Park is a place to be. Here is a couple of things that make moving to Sunset Park, Brooklyn the right move:
Affordable housing options
Appealing transportation options
Exceptional diversity
High-quality schools
Vibrant food offer
There is an Industry City
A great park called… Sunset Park
Affordable housing options in Sunset Park
For the most part, Sunset Park is a residential area that offers a sense of historic, old-school Brooklyn vibe. It's completely opposite from the concrete and glass combination of buildings you will find on the streets of Manhattan. The houses and trees that spread in a straight line in front of you will make you enjoy by just wondering around. Quite fortunately, it's not just the look that makes it alluring. Generally speaking, almost everything is more affordable in Sunset Park if you compare it to Manhattan. All apartments, condos, co-ops, and services are cheaper than in other places. For those who bring a lot of possessions in, you can get clean storage at a reasonable price. With a balanced mixture of single-family and multi-family setups, it's one of the best neighborhoods for families and retirees.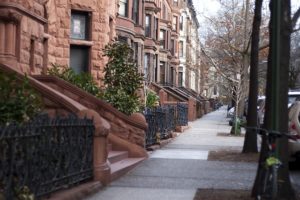 Transportation options are appealing
The distinctive commercial avenues are crossed with peaceful residential streets, which makes the neighborhood welcoming and predictable in the best way. As such, the walkability and accessibility to transportation options become one of the best qualities of Sunset Park. It's possible to get almost anywhere in NYC in less than an hour. For example, you can get to Grand Central in about 30 minutes whether you choose your car or a train. It takes about 30-40 minutes to Wall Street and a half to a full hour to Jersey City. The best part, you will arrive in Downtown Brooklyn faster with your bike than in your car. Overall, if you are planning to move you don't need a car at all.
Diversity is what makes it unique
As one of the most diverse neighborhoods in Brooklyn, Sunset Park is quite a charming place to live. The vibrant mixtures of Latin American culture, Chinese culture, and other ethnicities are outstanding. As a melting pot of various eateries and cultural businesses, Sunset Park is growing into a creative mini-metropolis. Offering a vast array of products from all parts of the world. Not to mention that it has its own Chinatown. According to many, more pleasant to walk through and explore.
Numerous public and private schools
A plethora of schools coupled with low crime rates and plentiful transportation options are making Sunset Park a very desirable place for families. Undoubtedly, their public records on state exams show a fairly high score compared to the rest of the city. Especially in English and math tests.
It's a paradise for food lovers
In general, it would be impossible to list every fine place one could visit in Sunset Park. Truly, there are just too many quality eateries out there. You can get tacos and tostadas in local simple places, or you can order baked goods, meat, and various Caribbean food in Industry City. Maybe you prefer chips, fruits, and cereals from one of the Chinese stores, or grilled beef meatballs and sausages from one of the more casual Turkish cafes. Let's no skip the famous Li-Lac Chocolate factory where you can learn various things about the chocolate. There is simply something for everyone's taste.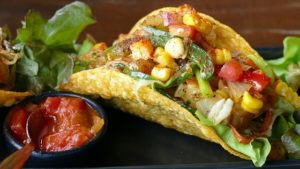 Industry City is a special place
Industry City is one of the most exceptional places you can visit in Sunset Park. Once the vastly abandoned ex-industrial area is completely transformed into dining, shopping, and creative center. Today, it is home to many art studios, workshops, and an amazing food hall. Actually, you can find anything from yoga classes to art exhibits in here. And if you have kids, Rock and Roll Playhouse is simply an unavoidable location.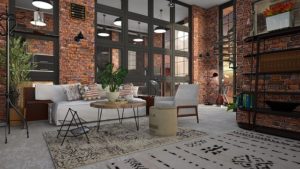 Sunset Park, the park
For a reason, many people confuse the park with the neighborhood because of the name. And the actual park is "the green place where you get the best views". For everyone looking to enjoy the open space, have a picnic, or play with their kids, this is a perfect place. Whether it is summer or winter, you can always find something to attend to. From the accessible pool to the indoor recreation center, you will never miss the action. And obviously, everyone already knows that this park offers some of the best panoramic views to Manhattan. Also, including the Statue of Liberty, and other New York City's points of interest.
Final words on moving to Sunset Park
Moving to Sunset Park offers you the unique opportunity to live in NYC without having to sacrifice almost anything. It's a rare opportunity to feel how it once was. And actually, be surrounded by people who honestly care about their neighbors. In the end, this friendly spirit, among other things, is making it one of the best places to raise kids.