Honeycomb blinds, also known as cellular blinds, are unique window treatments that are not only modern and popular but also save energy. Before exploring ways to clean honeycomb blinds, let me briefly explain what they are.
Made of honeycomb folded materials, these blinds, also known as cellular or accordion blinds, have compartments similar to the honeycomb of a bee colony. They consist of cellular compartments that really retain air.
Layered cell compartments (one, two and three-layer cells) retain air, which makes it an insulator that keeps the room cool in summer and warm in winter. This translates into savings on your home's energy bills.
The more cells are layered, the blinder they are energy efficient.
Honeycomb blinds are very popular because they are versatile since you can use them in any interior space of your home: kitchen, bathrooms, bedrooms and living room, where they can be combined with treatments. Soft window to create a dramatic effect.
All you need is a little creativity or a little online browsing to help stimulate your imagination. They are distinguished by a clean and tidy style, they are designed to raise and lower a window like an accordion.
How to clean honeycomb blinds
Besides being a beautiful improvement of the windows, the great quality of these blinds is that they are quite easy to maintain. In addition to the fact that they do not get dirty easily and do not stain as quickly as soft window coverings, honeycomb blinds should be cleaned and sprinkled occasionally.
If you have a busy lifestyle and therefore prefer an easy-to-maintain window treatment, cellular blinds are your best option. However, although they generally remove stains and dirt for longer than others, it is a good idea to clean them from time to time to keep them clean and tidy.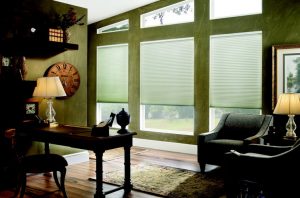 In addition, if you keep your windows open very often, it will be necessary to dust them occasionally. They are easy to clean if you can spend about an hour, twice a year, at work.
Maintenance requires some or all of the following, depending on your objectives…
Dust or cleaning:
Folding step (to reach the top of the blinds)
Warm water
Very soft brush
Hand brush for a vacuum cleaner (or hairdryer Yes!)
Feather brush
A very mild detergent
Starting from the top and passing through the layered cells while descending gradually, carefully sprinkle the honeycomb blinds up and down with the feather brush. If a lot of dust has accumulated on the blinds, use the suction brush, but be sure to use it gently.
Place the blinds gently in the water. Leave the water to cover them. With a soft brush, clean the honeycomb blinds on one side, turn them over and form the second side. Empty the water and rinse the blinds. Dry outdoors; when they are dry, hang them up.