Small kitchens, as cute as they are, are not without its drawbacks. Every homeowner who owns one knows how a limited kitchen space can affect one's kitchen tasks.
Most homeowners need more storage space for kitchen supplies while some need more elbow space on their counters to move easier. Others simply want to make their kitchens look less crowded to clear their minds and have a better mood while cooking.
Whichever you are of the three, these ten space saving ideas will help you make the most out of your small kitchen:
Go for kitchen cabinets that reach the ceiling
Just when you think that you've got no space left, you might've just forgotten to look up. See that gap between your kitchen cabinets and ceiling? You can still store so much in there!
Opting for ceiling-high kitchen cabinets won't only provide extra space for your kitchenware, it will also make your kitchen look bigger by creating a towering effect.
However, if your ceiling is too high, it's best to avoid storing fragile items high up above because you might drop and break it. Take note that you'll need to use stairs when getting your supplies too, so be extra careful when doing so.
Install toe kick drawers
If a while ago, you needed to look up, now, you need to look below your kitchen cabinets. That narrow gap between your kitchen cabinets and the floor can make room for thin kitchenware like baking pans, cookie sheets, and trays or emergency supplies like candles and flashlights through installing toe kick drawers.
Installing toe kick drawer will not require you to use any especial equipment at all, but that is if you plan to purchase an additional drawer or two to fit in the toe kick area your cabinet. If you plan to build the drawers by yourself, you might need to use additional equipment such as circular saw and hammer, though you will be able to save a few more bucks and customize the drawer according to your preference.
Reuse your empty glass containers
Are you wondering why your pantry is so crammed, leaving little to no space for your newly bought groceries? If you are, have you checked if the packaging of your goods is still full?
Perhaps they're already half-empty, but their boxes are still consuming the same amount of space. So, why not repack them into smaller glass containers instead?
It won't only help you save space for your new groceries. It will also keep your ingredients fresh and easier to find when you need them because you can easily see through those jars.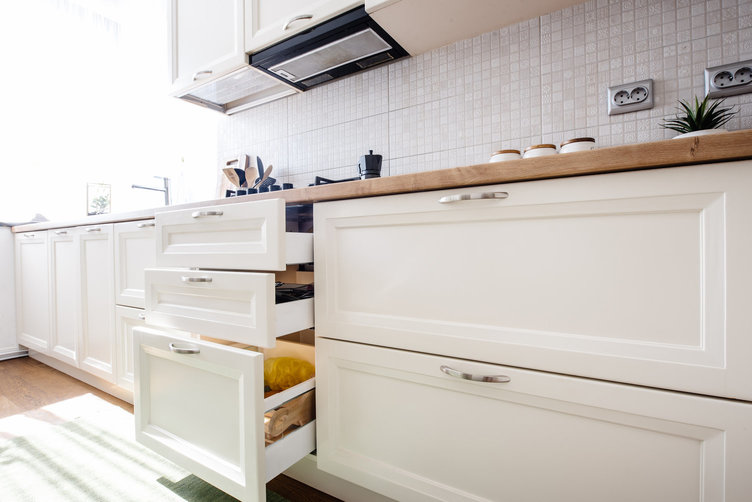 Use cabinet and drawer organizers
Aside from your pantry supplies, you might also be having trouble fitting your kitchen utensils, dishes, and cookware into your cupboards.
The easy solution to your problem is to sort like items together using cabinet and drawer organizers like built-in cabinet plate racks and utensil drawer inserts.
Aside from helping you maximize your cupboard space; these cabinet and drawer organizers will also make your kitchen orderly and easy on the eyes.
Use the back of your cabinet door
Another storage hack that you can use for your kitchen utensils is hanging them at the back of your kitchen cabinet doors.
This task is very simple, you can even DIY (Do-It-Yourself). You can secure screw hooks onto your cabinet door or hang a pegboard onto it, insert s-shaped hooks into the holes of the pegboard, and there you have it- an instant utensil holder and space saver!
Store under your sink
Cleaning supplies are a must-have in any kitchen that's why they should be kept handy. However, they should be stored far from your cooking ingredients and utensils because they can affect the taste and smell of your food. So, if the space under your sink is still empty, it's the best place for them to be.
Store above your windows
If you have a window in your kitchen, you can install an open shelf above it for extra storage space. Aside from providing more room for storage, open shelves also allow you to put your kitchenware on display. Just make sure that they're properly arranged.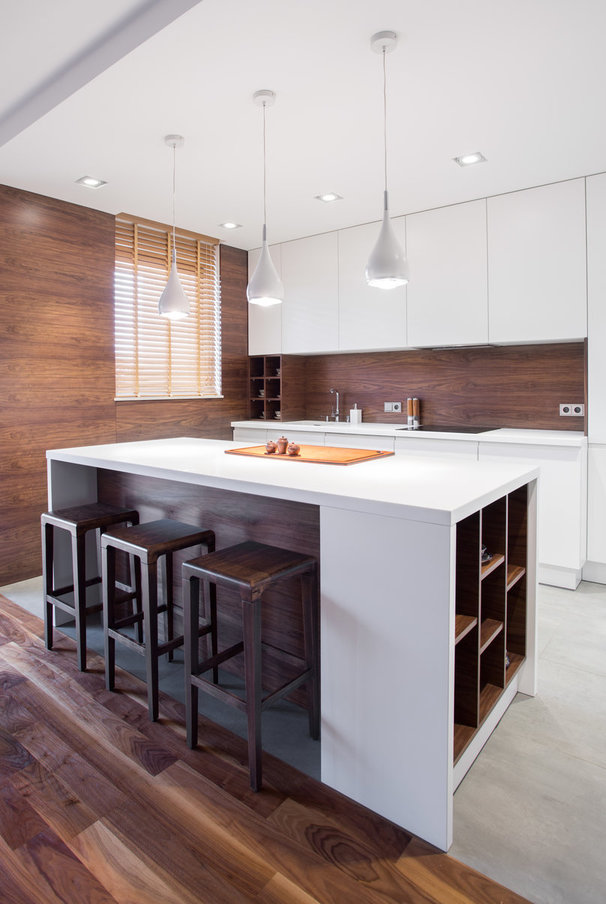 Opt for a small, multipurpose kitchen island
Kitchen islands are popular among homeowners because they can be used as a worktable, dining area (along with some bar stools), and a storage area simultaneously. Imagine all the space that installing one can save you!
Although your kitchen has limited space, you can still opt for a kitchen island. Just have it measured according to your kitchen layout, leaving enough space for the walkway so that it'll be easy for you to move around your kitchen triangle.
Make use of your empty kitchen corner
If you have an empty corner in your kitchen, you can transform it into a comfy and laidback dining area through banquet seating.
You can simply place a corner sofa set and dining table on the corner, along with some chairs for the opposite space.
Another option that you can try is a corner drawer or cupboard that can store way more than an average one because of the inward space it can occupy.
For best results, have it customized. Although stock corner drawers and cupboards are available off the shelf, they have generic measurements.
On the other hand, customized ones are measured accurately, according to the size of the empty corner in your kitchen that's why they'll fit it perfectly. Plus, you can request for corner cupboards that go with a half-moon lazy Susan that unfolds outward when you open the cabinet door, for easy access and better storage for your kitchenware.
Declutter your kitchen
Last but not least, declutter your kitchen. Empty out those kitchen cabinets, sort through items, and decide what needs to be tossed to the trash can, recycled, or donated.
Chances are you'll find kitchen tools and equipment that are either outdated or no longer work. Give it a go, and you'll be surprised to find out how much space will be available afterward.
These space saving ideas only prove even the smallest kitchen can be maximized to accommodate one's needs and never runs out of possibilities if you know just where to look for it.