Every business owner struggles to keep their working environment efficient, and law firms are not excluded from this phenomenon. They have so many things on their plate, from being a manager, administrator, HR to maintaining follow-ups with clients- a lawyer has to manage everything. However, to keep a pace with every aspect of the business and changing technology, law firms have to develop effective strategies to streamline their law office management practices and survive in this competitive market.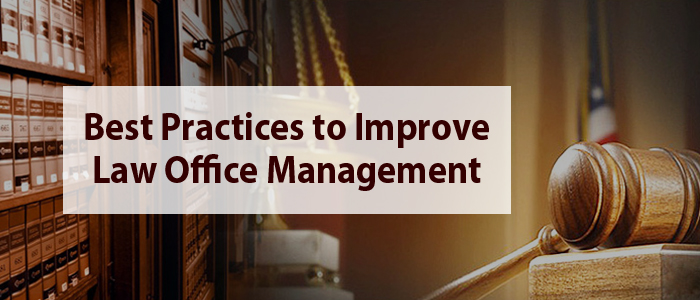 You might have heard the adage by Abraham Lincoln that "Time is the lawyer's sock in trade." If lawyers can manage their time well with every task, it is possible to streamline the processes.
Below I have outlined some smart tips for lawyers that may prove to be useful. Let's have a look:
1. Client management
Today customer is king in every sector, and legal is no exception in this regards. And these days' consumers look for better services that can meet their complete requirements. However, it is essential to control your client before they control lawyers. Allowing the client to control workloads and deadlines subjectively eliminates the option of time management.
Solution – Make sure that you promptly respond to client queries and in case if you were unavailable to answer the calls try to call them back so that your clients feel valued. Maintaining this behavior will help you with positive reviews from clients and will help in enhancing the overall reputation of your firm. Follow these steps to gain control:
Set rational expectations
Manage the phone calls
Discourage unexpected visitors
Let off troublesome clients
2. Case Management
Sadly, the workflow in every law firms is very bumpy. For example, in litigation practice, lawyers are usually surrounded with chunks of documents that need to be reviewed and stored accurately. However, during peak seasons managing fragments becomes impossible as document management is a time-consuming process and requires expertise to recognize each clause appropriately.
Solution –Embracing a project management software or document management is an ideal option. It will ultimately reduce the overall burden of your employees and allow them to stay focused on core aspects like handling cases, drafting motions, etc. Keep the following elements in mind:
Use case management software/project management software.
Make your general practice more efficient.
Stay focused on core legal aspects and keep your staff happy.
3. Firm management
Without a mission every business useless because you don't have a goal to accomplish so how you can think of success? If you have a law firm without any mission statement, working in excess billable hours will not make you a pro as you are working unnecessarily not including any aim. How will you administer your office staff members if they are unaware of the goal?
Solution – Most of the lawyers hate it, but strategic planning is quite important for your law firms. Strategic planning will help you to understand your goals and distinguish between your setbacks and accomplishments. Follow these simple tips for law firm management:
Form a mission statement.
Estimate billing statement.
Consider administrative support.
Take help from the external firm.
This connects me to the next point…
4. Seek help for your law firm
Many law firms don't prefer to take external support as they try to manage everything themselves. Managing so many things solely will help you save money, but you may end up making costlier mistakes that will lead you to pay beyond expectations. If you don't have the right skills or time to manage back-office tasks of your law firms, you will not proficiently serve your clients as per their expectations.
Solution – It is rightly said, "Do what you do best, and outsource the rest." Well, in today's active market this slogan has become popular in every sector. Legal firms can delegate their non-core activities to Legal Process Outsourcing (LPO) companies such as document management and review, legal research and writing, law office management, etc., and can enjoy the following benefits:
Reduced operational cost
Time zone advantage
Access to latest software and expert team
Secure data
5. Technology management
The practice of law includes numerous aspects like documents reviews, storage, management, etc. There are endless papers in law firms and managing thousands of paper results in inaccuracy, errors, inadequate storage of materials, etc. Outdated business models in law firms are also the cause of poor office management.
Solution – Integrating your law firm management process with new technologies is an ideal choice. There are so many software options available in the market these days for every operation of the law firm such as FindLaw, Clio, etc., these are legal research tools. MyCases, AbacusNext, etc., are law office management tools. You can opt for document management software as well, like AbacusLaw, Logikchull, etc., for streamlining the billing procedure for your law firm you can integrate with ZolaSuite, SmokeBall, etc.
Conclusion:
Being a lawyer, it is your prime responsibility to keep your law firm environment at its best. This will help you serve your customers well, and even employees will love to join your firm. However, don't overwhelm yourself with numerous tasks. Take some time, follow these tips and plan strategies at every step.