Just like fashion and beauty trends, photography and videography trends change with time. Everyone wants their photos and videos to be more amazing and stunning with new trends of the photo shoot. All of us know that photos are special memories for everyone whether it is wedding photography or some other special occasion photo shoot.
The photographer is the most essential person for shooting the ideal photos. He should know the have the knowledge of modern trends of photography and the poses to capture the unique photos.
If you decided your wedding in 2020, here is the list of modern photography trends, check out and incorporate in your wedding day.
Table of Contents
Modern Trends In Photography and Videography
Relaxed and Natural Shoots
More than one shooter
Drone photography
First look images
Documentary Style
360 Photography
Conclusion
Modern Trends In Photography and Videography
1. Relaxed and Natural Shoots
Wedding ceremonies themselves are getting more relaxed, less formal and more casual, the way celebration is going, capturing their moments in the same way.
Photographers try to capture real-time emotions and actions instead of focusing on staged and preconceived shots. Try to use natural light and shade in their pictures, as well as different lenses for different aspects of the shoot.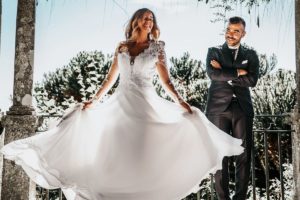 2. More than one shooter
Always keep one or more photographers with yourself to capture all the moments. Instead of one photographer, couples often prefer two or more shooters to assure all of the moments are captured in their wedding album. This is particularly true for pre-wedding prep, when both the bridal party and the groomsmen have their photographer in their midst, working to memorialize all the details of their moments together before the ceremony.
More than one shooter at the reception enables the photographer to capture all their movements throughout the night.
3. Drone photography
The drones are becoming more convenient and advanced, wedding photographer are using them in their photography to shoot the aerial shots.
They are especially beneficial for destination weddings and wedding videography, supporting the photographer to shoot the scenery that cannot be captured by a normal camera. While this may be an expensive option, but you can capture very unique images from the air.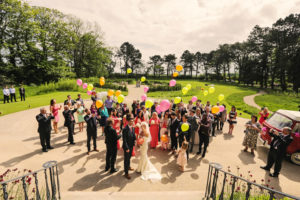 4. First look images
First looks have become very famous, this popular wedding photo shoot has been trending for a long time and is still going influential.
Instead of waiting for their stroll down the aisle, brides prefer to have a private reveal of their wedding look to their grooms. This not only allows for more emotion, but it also lets the couple have a unique moment together alone as the groom sees her for the first time.
You can also add in first looks for your family and bridal party, where the photographer will capture their natural reactions and raw emotions for you to look back on for years to come.
5. Documentary Style
Wedding videography and photography has been a trend for years, but a documentary style of shooting weddings is a popular trend.
Wedding videographer and photographer aiming to let the wedding display naturally and at its own pace. All the time, their skilled eye points in on the more soulful and heartfelt moments of the day, without bringing much attention to themselves and what they are capturing.
6. 360° Photography
360° photography is going to be a famous photography trend. Whether for panoramic scene photography or real-time photography, there is huge potential.
This type of photography got a space in the present time, photographers are changing the way they shoot by rotating the camera 360° as it captures.
With advanced technology, this is a very easy thing to do. With specialized tools, you can set up the process on your smartphone and leave it to do its task.
Time-lapse photography is something that benefits from this process. With this setup, you can capture a 360° scene of a room, where the viewer can move around it as if they were there.
The specialization of 360° photography is you can create small globes, which, when done accurately, looks great.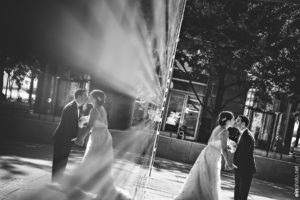 Conclusion
We hope that by the above-mentioned points you get to know about the modern trends in videography and photography. There are many trends and styles in the modern photo shoot, here we listed a few of them for you. If you are looking for a modern trend wedding photographer in Orchardleigh and videographer for your wedding and want to make your day more memorable, click here, it will be our pleasure to shoot your special day.
For more queries and suggestions, write us below in the comment section, we will be happy to hear from you.