Bhutani Cyberthum Noida Over the last many years, Delhi NCR has seen a massive transformation in every sphere. The impact of globalisation has influenced the national capital region to expand in length and breadth to meet the growing demand for office spaces for the global business community. We saw a consistent increase in the opening of offices across the world. Companies were motivated to set up offices in the country and region of their choice and business interests. The trend has also played a vital role in influencing companies to open their offices in the countries where either workforce is cheap or which has got vast marketplace to target.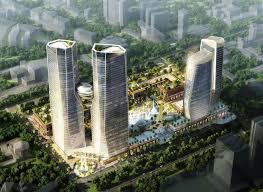 India is one of the most preferred business hubs for international companies, inviting them to open their offices at their convenience. Moreover, here the workforce is not only cheaper compared to other countries but also superior in quality and performance. The reason many big cities with world-class infrastructure in India has been appealing multinational companies to come and expand their business here. Noida too is one of the most developed cities in India that has earned the reputation of the finest places to work in the world. It has benefitted from the good impact of globalisation, and in the last two decades, it has become one of the few favourite Indian cities for both businesses and professionals.
Bhutani Cyberthum Noida in Sector 140 A of Noida is a 50-storey business hub that is grabbing the attention of every passer-by for its twin iconic towers.
Bhutani Cyberthum Noida – A Perfect Business Hub
Bhutani Cyberthum Noida is one of the most desirable business hubs in the Delhi NCR, demonstrating a gamut of world-class amenities. Lying by the Noida Expressway, Bhutani Cyberthum is an opulently designed business centre offering an interesting combination of luxury offices, high street shopping souks, eating joints with gourmet food and most elegant dining spaces.
The Bhutani Cyberthum spreads in an approximately 27-acre land and is 45 mins. from IGI Airport and 25 mins. from the upcoming Jewar International Airport, Noida.
Amenities
24 hours power backup
24 hours security
24 hours water supply
ATM, Banquet Hall, Cafeteria
CCTV, Wi-Fi, Intercom, Security
Clubhouse, Infinity pool, gymnasium
Covered parking, Lift
Terrace Garden
Fire Alarm System
Water harvesting
Sky Mall, Foodcourt, etc.