Summer is fast-approaching, and you're bracing yourself for higher electricity bills. However, is an air conditioner the only way to stay cool during summer months? Little do most homeowners know, a cool flooring is one of the sustainable ways in helping lower down the electric bills and enjoying a cool home this summer.
Knowing The Science Behind Cool Flooring
There's a scientific explanation why some types of flooring will feel cooler than the others. It's because of the property called heat conductivity ‒ how the material conducts heat. For example, if your foot touches a flooring surface, the natural heat coming from your body tend to transfer to the surface of the material at a rate that's equivalent to its conductivity. Meaning, the higher the rate of conductivity, the faster it will transfer the heat coming from your body. Thus, it feels cooler when stepped on.
For example, if you want to enjoy cool flooring on your home, you need to avoid using a carpet. It's mostly made non-conductive materials, making it harder for heat to pass through. When you try to walk on it, it's virtually impossible to remove the heat quickly from your feet, unlike a tile can.
Solid materials, such as tiles, are better at removing heat from your sole. As a result, the floor will feel cooler when touched.
It's crucial to note that this process can only work if your feet are generally warmer than the surface you're touching. If a tiled floor is more heated than your own feet, it will transfer heat to your body quickly. That's why you will feel even warmer.
Tiles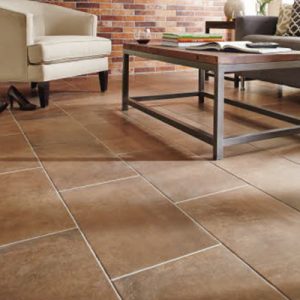 A tile can be one of the best flooring options in your home. It's relatively cool and easy to clean with a mop. Sealing its sides with gout makes it easier to clean the dirt that has accumulated as time pass by.
Tiles have plenty of patterns and colors a homeowner can easily choose from. Moreover, it can be made from different materials: ceramic, marble, natural stone, and porcelain.
Usually, natural stone and marble are more expensive and special cleaners should be used. They are organic, porous and can stain easily. Therefore, floorings of this type are recommended to be used in low traffic areas at home to prevent staining on the material.
Porcelain tiles and ceramics make great alternatives. They are less expensive than natural stone and marble, and have different designs and looks to choose from. These designs usually mimic stone, wood, and marble, making them great for any design theme.
Wood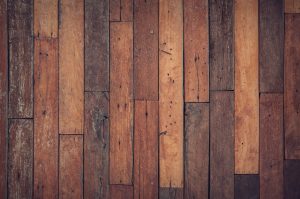 Wood is a type of material that almost doesn't hold heat. Although susceptible to sun damage and extreme humidity, it can be extremely durable. It's advisable to have it resealed every 4 to 5 years to ensure its longevity.
Laminate Flooring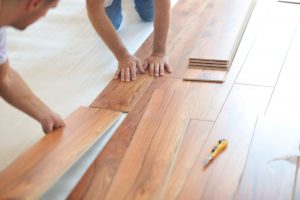 Laminate flooring works best for modern climates. If you're on a tight budget getting a laminate flooring will be the best option for you. A blend of vinyl and hardwood, it's budget friendly and aesthetically pleasing. Just like tiles, it comes off with different patterns and colors, and some can even mimic higher quality materials such as stone and wood.
Laminate flooring is efficient to clean and doesn't store heat as a carpet does. It can be used in areas where natural wood isn't used and is more durable than natural and engineered hardwood floors.
Polished Concrete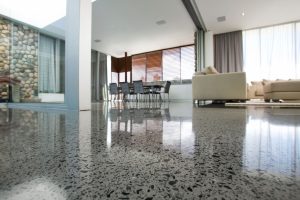 Another option is polished concrete. It efficiently reflects UV rays and is an excellent option for most climates. However, if the sun directly hits it, it tends to absorb the heat during the day and release heat at night.
Cork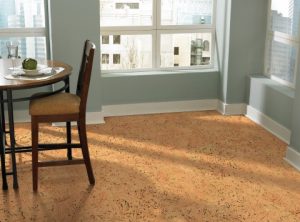 Cork is a hypoallergenic, organic flooring option that acts as an insulator. It can stay cool during summer and warm during winter months. Most of its qualities are like the wood flooring, but what's excellent about it is that it's not prone to insect infestation or fire. Upon installation, a moisture barrier membrane is put under the cork. It serves as a protection from moisture that might come under the floorboards.
Pavers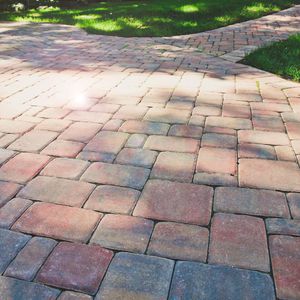 If you're spending a lot of time in the backyard or the patio during summer months, pavers are helpful in cooling outdoors. Shell stone pavers or coral pavers are one of the most effective flooring choices making it an ideal option for outdoor flooring. Also, concrete pavers are not holding as much heat as brick pavers. They're generally a lot cooler and can shed heat from the spaces between them.
In Summary
Turning the air conditioner on isn't the only way to maintain in a cool atmosphere around your home this summer. Even without spending a fortune on power bills, picking the right flooring materials installed in your home can make a difference in your overall comfort. These flooring options are easy to clean, can significantly improve your home's aesthetic appearance as well as provide much-needed cool air during the summer season that will keep you relaxed throughout.