Here for the perfect blog post structure guide??
Well, there is nothing like a perfect blog post structure. The more creative you could be, the more exciting your post will be. Here we are with the blog structure to control whether your blog will be read, shared, or ignored.
Table of Contents
Headline
It should be catchy. Always heard that. Right??
What they mean by catchy? Let's dive directly into it.
Your headline of the blog is the first impression towards the user. and we all know the first impression is? No not the last one in our case it should be a lasting one. Make your headline unique, useful and it can convey a sense of urgency.
Use the title tag to make your headline or title more effective it will create an impact on the search engine when it appears in the SERPs. A title always should be given a title tag to make it more effective and heavier that it can represent the importance of your blog.
Include numbers and questions when you are including number and questions you are creating a headline with a user experience. According to some research, the headlines having numbers or questions are having more chances to be clicked than the normal ones.
Hook
The purpose of the hook to pin the user throughout the blog. it's your responsibility to engage the user and cause readers to continue reading.
Take a look at perfect hook points:
Ask a worthwhile question.

Share an interesting or shocking fact or statistic.

Share a personal story.

Put the end first.

Start with a success story.

Content
As we talked it should be a lasting one. The main body of the content is responsible to hold the user for a longer time and also responsible for the blog to be shared.
After a catchy title when the user comes to the main body content is responsible to hold the users.
Here are some pro tips to make your content readable:
Should be unique and relatable.
It should answer the reader's questions.
Include photos, videos, podcasts, or quotes to increase its readability.
Use statistics to show the importance of a specific topic.
If you are using any outside data use from an authorized source.
"Always go an extra mile"
To make it more effective keep a habit to write the blog as you are talking to only a specific person or one group at a time. It helps to build an immediate connection to the user that you are talking to them through your words.
Check out our blogs related to content for better performance
Photo
"Photo preserve memories"
Starting from feature image to end image. An image can create a memory of your blog post with the user. Because visuals are remembered more than words.
Photos in the form of infographics, screenshots, illustrations, or memes. Yes, memes. It became most eye-catching nowadays people are more sort of finding the fun element which can connect to information.
Make sure that you stand out with your own photos, because the photos you will find on a search engine may be used in some other posts also user may get confused about seeing the same image in other posts.
Formatting
Formatting is the extra mile I have said to go for.
A well-formatted blog post shows the seriousness of the information you provided. Important points highlighted points, subheadings, bullets, and captions on images hold the users also if the user is in the mood of not reading.
Not everyone is here to read the blog post, some are for just overview or main points. Thus, provide them with what they want and they revisit your site. These create an impression on the user's mind that holds for the reminder.
Some of the key points that shouldn't be neglected.
Font face

Font size

Line spacing

Paragraph length

Sentence length
Yes, this all matters this is also called formatting these elements are also responsible to holds the user's attention.
Linking
"Let's sink in into Linking"
Does blog post structure include linking? Yes, it does.
Internal and external linking also increase your click-through ratio. Internal linking means linking your other web pages or blog in your post helps to improve the user experience. sending traffic to your old blog from your recent blog is a good strategy to go for. And external linking helps for search engine rankings. Some authorized and reputed blogs or data linking is good to increase your post visibility.
Where to link your post to:
Creditable websites

Related blogs

Deep researches or reports

Relatable statistics

Research works or videos
SEO
Your blog post should be optimized by users and search engines. Thus, it is necessary to do SEO of your post.
5 things you must take care of…
Use your primary keyword in the headline. The title should begin with the keyword.

Use synonyms keywords throughout your blog post.

Use your primary keyword in the first 100 words.

Use the keyword in the URL.

Use the keyword in the meta description.
Engagement
The engagement of users is important. Invite them to interact and encourage them to share feedback. Their feedbacks give you the idea, where to evolve and where to involve.
Engagement not just in the comments but there are also other proven tips to engage them in your blog post.
Include questions and ask readers to answers them.

Ask them to share their thoughts in the comment section and reply to every comment

Don't use critical techniques to make it easy to involve.

Summary
Like headlines, the summary is also a thing that increases the user experience satisfaction. Be exact for your conclusion or summary that they are enough for the user if they don't go through the blog.
Keep it short, most of the users are most likely to read a short and more informative summary. Thus, in the summary be exact on the point that users directly get your point
Its action time(CTA)
Your CTA should be as powerful as "BUY NOW"
Call to action must be related to the blog. Because it leads to the conversion of your targeted audience. Add or highlight those things that are useful to readers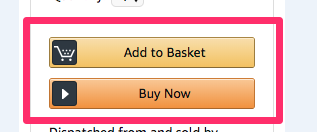 This is the most powerful CTA from amazon after delivering all the information they are interacting with users to encourage them to buy.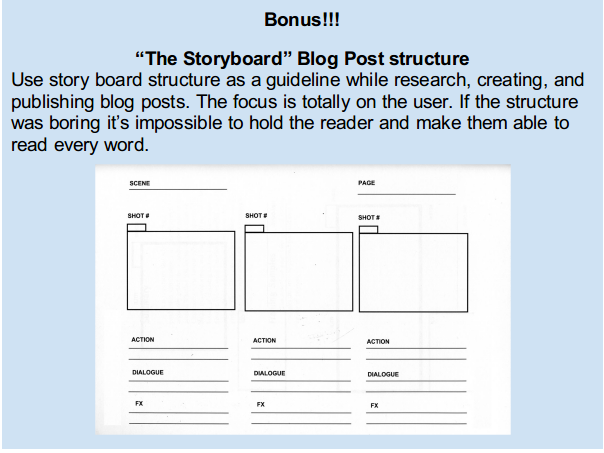 Here is the reference for storyboard blog post structure