For any e-commerce business, SEO is very crucial. This is because without SEO business will not be able to scale further and increase SERPs rankings and traffic to attract more customers. So in this post you will find listing of top most e-commerce SEO from India which are helping small and medium enterprises to increase their search engine visibility and their sales revenue.
1. Techpapa –
E-commerce SEO services of Techpapa includes website as well as delivery app. Some of its e-commerce clients are Kama Ayurveda, Biotique, Golumolu, FieldKing, Columbia, SatyaPaul, CarKing etc. Their team has handled businesses from all categories like beauty and cosmetics, fashion and lifestyle, healthcare, agriculture, education, real estate industry, art and entertainment, IT technology etc.
According to its client testimonials Techpapa is considered as one of the most promising e-commerce SEO service provider from Delhi NCR, India.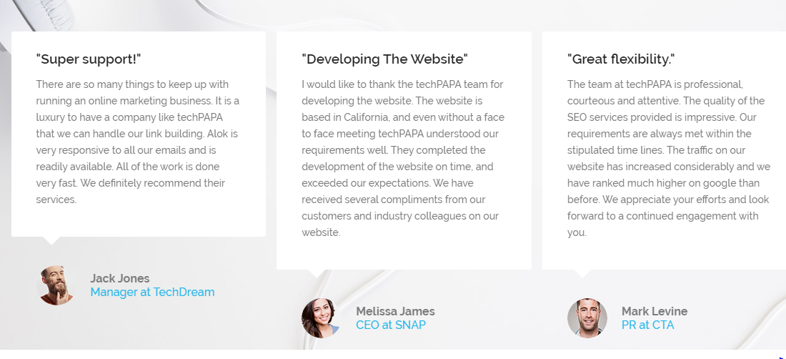 Some of the primary platforms on which it provides e-commerce SEO are Magento, Shopify, Woocommerce, Opencart, Oscommerce, BigCommerce, Drupal, Zencart etc.
Its e-commerce SEO strategy starts with keyword research, optimizing website according to websites and keywords along with on-page SEO, building quality backlinks and then at last monthly report generation.
In addition to this, the respective team uses right kinds of trusted SEO tools like Searchmetrics, Moz, ahrefs, SEMRush, Screamingfrog, Google Analytics etc.
Website: https://www.techpapa.in/
2. Jeewan Garg –
The primary reason for hiring this company is that it provided 99 percent customer satisfaction till now by delivering more than 500 projects to more than 250 clients successfully and this is how it builds reputation.
With over 8 years of experience along with its highly skilled and experienced SEO professionals, this company increased sales revenue of clients by more than 300 percent.
In addition to this, some of its SEO services includes high quality link building, e-commerce website audit and optimization, market analysis and keyword research, e-commerce content development and promotions by providing high quality content, analysis and monthly reporting of work performance to clients etc.
3. Arihant Webtech –
It is a leading SEO company from Delhi, India which has expertise in offering world class e-commerce services. Arihant Webtech has a team of experienced and well trained SEO professionals for whom handling large businesses is a child's play.
Some of its clients are Mandara Publishing, Apipasa, Personal Chef Nicolas etc., which are spread worldwide.
If you want to boost your e-commerce sites traffic, conversion rate and sales of revenue then Arihant Webtech can be a perfect choice for you.
Its e-commerce SEO strategy includes keywords research, competitor analysis as well as on page optimization. Last year, this company has profited many of its clients by increasing their ROI upto 100 percent.
4. Infidigit –
Being winner of multiple national as well as international awards, it is one of the most trusted e-commerce SEO consultant from top leading brands. Some of its clientele are Myntra, Manipal, HomeShop18, ICICI Prudential Life Insurance, Manipal Academy of Higher Education, Medlife, Zee5 etc.
Another reason to have a look at this company, is Kaushal Thakkar as founder and CEO of this company has over 15 years of rich experience in dealing one of the largest e-commerce portals and growing revenues on SERPs at affordable prices.
Moreover, Infidigit optimize and offers e-commerce SEO services to various platforms such as Magento, Shopify, BigCommerce, Volusion etc.
Its e-commerce SEO services includes optimizing online store as the first step, then creating backlinks for increasing traffic via off page optimization techniques, then detailed analysis of report and generating monthly report.
5. Aarav Infotech –
Provided 10x traffic along with 10x leads and still helping businesses to reach lakhs of audience without spending much amount of money.
With over 9 years of experience in dealing all kinds of business, probably more than 700 by attracting more than 1 crore of traffic and getting ranked keywords on top in SERPs this company became one of the most trusted company from India.
You can check the case study at their website to know more about this.
6. Web Dhoom –
This is one the best e-commerce SEO company from India. One of the primary reasons to hire Web Dhoom as e-commerce SEO service provider is that it always believes in delivering more than expected to its clients and this is the reason why this company has succeeded in providing 90 percent of client's satisfaction and earned each client with recommendations.
Webdhoom has a team of experts and professionals who put enough effort on businesses to rank on top of search engines at affordable prices. Not only this, the team of this company also accelerates in implementing SEO strategies to suit the multipurpose needs of each clients.
It has number of clients worldwide and has handled several projects in almost all categories including healthcare, education, fashion and lifestyle, beauty and cosmetics etc.
7. Black Marlin Technologies –
Black Marlin believes in satisfying customers by providing results more than expected at cost effective prices. Till now, this company has successfully delivered 300 plus projects.
In addition to this, it has team having over 5 years of experience in handling diverse sectors of businesses. Apart from these, the team of this company has increased rankings of various keywords in top 10 results.
SEO Live Portfolio –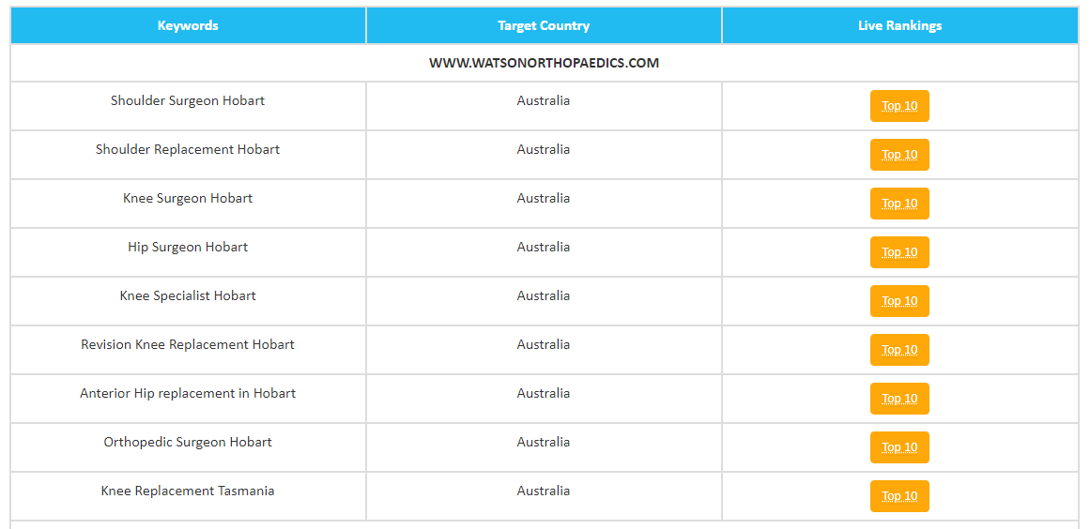 You can check for more projects here.
Client Testimonials –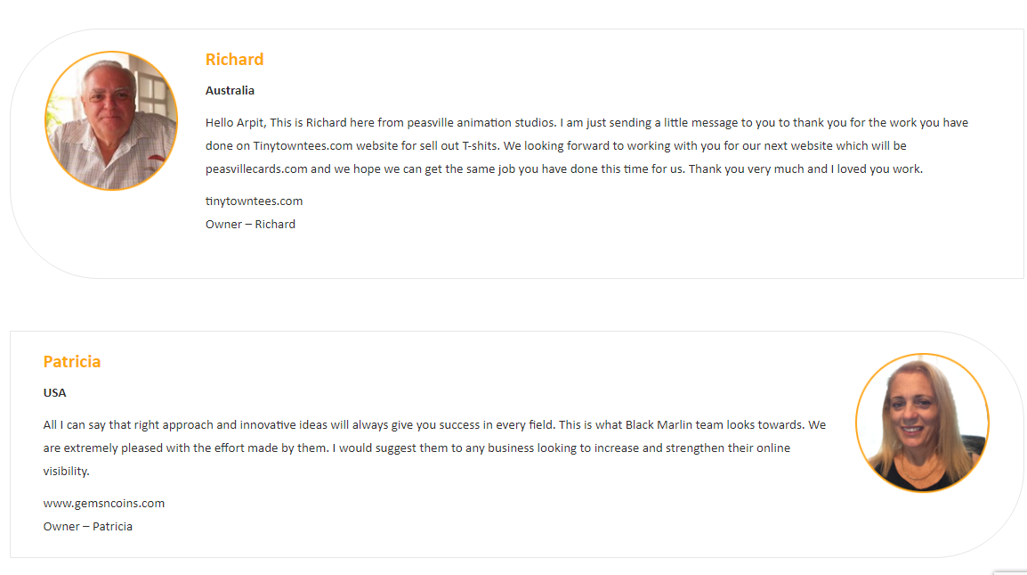 8. Radical Knights Private ltd –
Radical Knights Pvt ltd is one of the very fast growing e-commerce SEO in this industry. With continuous improvement, this company has toiled hard to made its mark in top 10 list.
The SEO team of this company is capable of improving ROI for any business by 75 to 100 percent.
This company has large number of reputed clients from India such as MakeWhale, Kotak, Tradebulls, turtlemint, ITM Group of Institutions etc. across the nation.
This company will help you in running SEO audit so as to analyze online presence, perform competitor analysis to create better strategies, offering  local SEO services which is a crucial factor for e-commerce SEO industry, building quality backlinks and the central part is creating quality content for search engine and users as well.
Client testimonials –

9. Edtech –
Delivering 98 percent of customer satisfaction, Edtech has been awarded as one of the trusted e-commerce SEO cum digital marketing company from India.
Edtech has created its legacy by serving premium and ROI based e-commerce SEO services to more than 350 clients.
Its e-commerce SEO services include e-commerce website design and development, e-commerce SEO audit and strategies, e-commerce content optimization as well as offsite promotions.
Some of its clients are –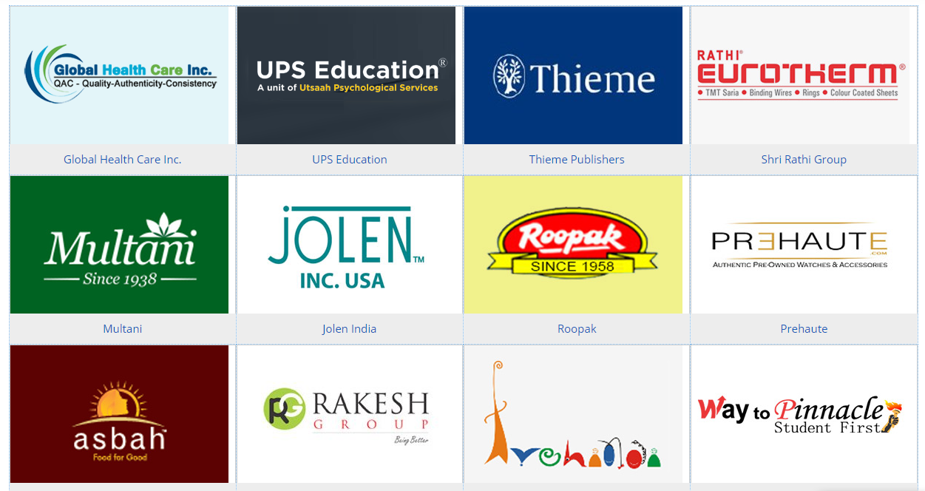 Moreover, another reason to hire e-commerce SEO specialist from Edtech –
Have professional, experienced in-house SEO team with Google Partner Certifications.
Detailed competition analysis
Meta tags optimization and development
Product source code optimization
Keep updating about on-going process from monthly report
Developing quality backlinks using content marketing