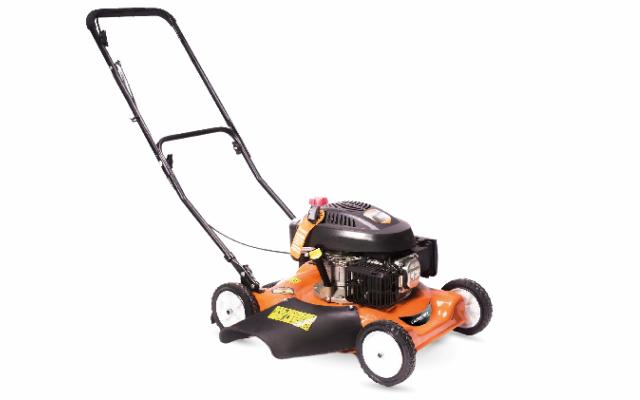 Cleaning and maintenance of the equipment must be carried out by a person trained for this purpose.
Make sure all nuts, screws and bolts are tight before each work shift.
Check frequently that the grass catcher is not worn or damaged.
Keep all safety devices, motor housing and air vents free of dirt and dust.
Replace worn or damaged parts.
For rotating machines, verify that only media is used.
replacement cutter of the correct type.
Clean the equipment with a clean cloth or low pressure compressed air Filter. Do not use detergents or solvents, they could damage the plastic parts of the appliance.
It is recommended that you clean the mower after each use.
Remove grass and dirt from the blade regularly.
Carefully examine the condition of the blade, if it is damaged or worn, replace it. Wear sturdy gloves for this task.
Use only the replacement blade indicated.
Recommendations for electric models
Before cleaning or maintaining the blades, you must turn off the engine, disconnect the plug from the mains and wait for the blades to stop rotating completely.
Make sure no water leaks into the device.
Recommendations for fuel models
Use the right fuel.
Use a funnel to avoid spillage when refueling.
Do not fill the fuel tank completely.
Change the oil after 25 working hours or every season. In dusty conditions, you may need to change the oil more frequently.
Don't over-refill the motor oil.
Make sure to collect all the used oil.
Replace the muffler if it is damaged.
If the carburetor needs repair, seek help from a professional.
Clean the air filter according to the instructions in the manual.
If the fuel tank must be drained, this must be done in the open air.
Tips for proper equipment storage
Always clean the cutter before putting it away.
Store the machine in a clean and dry environment.
Before storage, check that the grass collection bag is empty and dry.
Recommendations for fuel models
The fuel should not remain in the tank for more than a month.
Never store the lawn mower with fuel in its tank, in a place where the gases can come into contact with flames or sparks.
Wait for the engine to cool down before putting the equipment away.
To minimize the risk of fire, keep the engine, battery, fuel tank, and muffler in an area free of leaves, grass, and grease.
By following these recommendations, you will be able to provide the proper use, care and maintenance of your lawn mower parts, and extend its useful life.