It is February already, and Valentine's Day is around the corner. Have you bought a gift for your lover, significant other, or friends yet? You may mind a lot the kind of gift that your lover will appreciate because they are so many in the market. Different florists and retailers are selling unique flowers for both you and your valentine to enjoy the period of the loved ones. Valentine's flowers are the greatest of all, but the idea of gifting someone yet another red rose bouquet just like yours is boring. It would be excellent offering someone with a unique Valentine's Day bouquet.
To enhance your convenience in choosing the right Valentine's day gift, we have compiled with some special unique bouquet that you can gift to your loved ones.
Sunflower valentine arrangement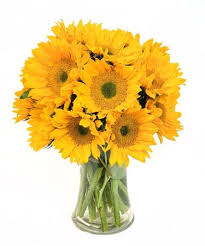 It is a unique bouquet that you can gift to your lover or particular person as a valentine gift. When you are looking for something different from the typical love flowers, a beautiful sunflower arrangement of flowers is the best choice you can make. It is designed without twisting or turning around the vinery as it is the custom. Being something new and unique, send this kind of gift to your lover's apartment, office, or home. These flowers will look suitable for their residences or office desks, and it truly a gift that they will appreciate.
 The floating orchards
Its sales always increase around the month of love because we all think it is a unique period to gift our loved ones across the globe. Markedly, no one tire of receiving these flowers they have an exquisite arrangement that makes them outstanding. Just a look at the floating orchids makes your mind calm, and you begin thinking of the spring period when the breeze is just right. From a practical point of view, these flowers offer your recipient with a beautiful centerpiece that can be reused.
White lily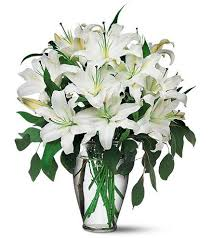 When it comes to matters of love, the red roses should not be the only way of expressing your inner feelings. The mixed white flower offers elegance and fills the whole place with freshness. Although the white flowers take the main spotlight, the carnations and others are also featured throughout valentines. It is a perfect bouquet that you should gift to your loved ones during this period of romance. It is the best gift when you want to send something pretty for a lady, especially your mother or grandmother.
Purple lily
It is a very romantic yet has calming effects that are temporal. Together with a beautifully etched lilac-colored vase and different petal flowers, it is a great unique arrangement of flowers that you can gift to a loved one.  The light purple color usually has something inspiring when it comes to flowers.
White daisy
The white daisy is an affordable yet special and unique bouquet that is used to surprise the loved ones. They are more cost-effective than red roses. The fresh white daisies have got a longer life span, which offers the bouquet with a full look even without adding anything extra like chocolates.
Maroon pink lily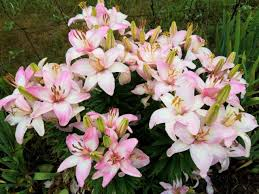 The combination of the maroon and the pink color is very creative and gives a very outstanding look to the recipient of the gift. For the pink flowers, they act as the eye-opener gift to give to our loved one during this valentine period.
White rose
Gifting a lover, a single white rose is not just a surprise, but it is exquisite. Never underestimate a single rose, especially if it comes along with a quote, poem, or a message when paired with other gifts; it offers a very romantic gesture. The implication of such a gift would be more powerful than a huge red roses flowers.
Red tulip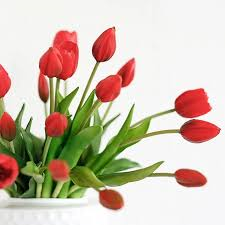 An arrangement of the red tulip with the dark red flowers is perfect for both men and women. It is giving an expression of love in all non-typical flower varieties. Since everyone believes that valentine is centered on the roses and the long stem red roses, it is essential to go for the unique options like there tulip. It is important to note that there are many colored tulips with different meanings but choosing the red option during valentines to express your loving sentiments.
Lavender daisy

It is purple, and lavender flowers arranged together that offers a blocking masterpiece. The bouquet is unique for your special person during the love season.  This is because it blooms, and the blue flowers calm your mind. It is a great floral adventure for your valentine. It can fit well to anyone who loves the colors blue and purple, has a stressing job or anyone who requires a relaxed mood. Before sending it to your loved one, it is essential to ensure that your loved ones deserve a chilling experience that is offered by the two cool colors.
Orange rose

Have you ever thought of the orange roses for Valentine's Day as a flower gift? It may be surprising to know that this arrangement is widespread across the year. If you aim at surprising someone, it is evident that this arrangement of the orange roses would be perfect. If you have a loved one who you think is expecting to get rose lowers, then the orange on should be the ideal deal. This is because the person is not anticipating the oranges ones. There are varying hues from which you select from like the coral, bright orange, or the burnt orange roses. All these are very unusual to the eyes of many people and unique due to the color. However, since they are also roses gifting them to a lover would be a surprise to your special someone. It is a very great valentine's bouquet to gift a man.
Calla lily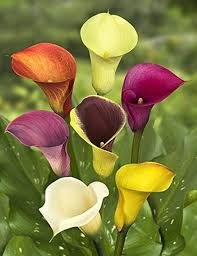 It is a unique, impressive bouquet. This flower arrangement depicts a round oversized bubble bowl that has several long stems of the modern call lilies. It has pretty floral but offers a strong look at them, which makes you maintain a soft curve. They are long-lasting and perfect in decorating large halls, events as well as impressing your loved ones.
Conclusion
Always try surprising your significant other with something unique, and they will never forget in their entire life. Once you decide to do it, do not forget to write them a note that they would keep after the bouquet is longtime expired to keep memories of what went down during that particular valentines celebration.