Summer is right around the corner, and that means you will try to spend a lot more time indoors and out of the sun. As the temperatures soar, so does your chances of heat stroke, sunburn, and dehydration, not to mention a host of ailments that arise from extreme weather conditions. Staying cool this summer is the key to staying healthy. While drinking plenty of water and staying out of direct sunlight certainly helps, nothing beats a cool, temperature-controlled room.
While air conditioners are a lot stronger than air coolers, they also consume a lot more energy, are significantly more expensive, and no matter how energy-efficient they are, are still not very good for the environment. Air coolers, on the other hand, are a great and greener option if you're shopping on a budget, especially if the room you intend to cool is not very large and is located in the sort of area that doesn't get unbearably hot.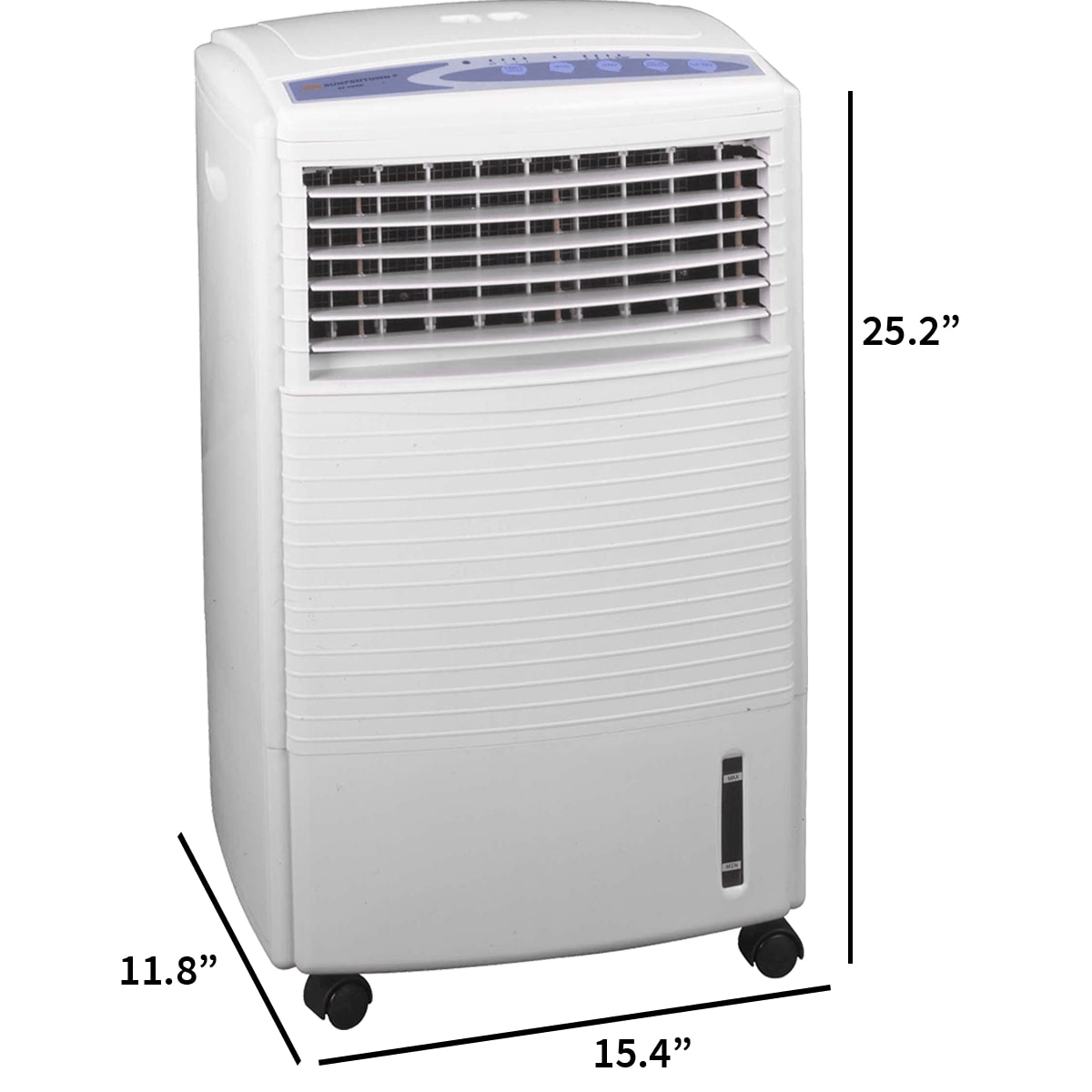 If you're wondering what sort of room cooling unit to purchase, consider what would work best for your unique requirements. While there's no wrong choice, it can seem like a daunting task to have to choose from among the variety that you have on offer.
So, to make this task easier here is a narrowed down list of India's top branded air coolers of 2019
Symphony Ice Cube 27, 27 Litres Room Cooler
This Symphony Air Cooler has made durability and efficiency it's a priority. The Dura-pump technology allows easy maintenance and resilience to everyday wear and tear, while the motor is especially energy-efficient. Its 27-litre tank capacity keeps the heat at bay for a lot longer, and the wheels let you relocate it as you need. This way, you don't need a separate unit for every room.
Voltas VB-P15MH, 15 Litres Personal Cooler
What's special about this Voltas Air Cooler is that it is fitted with distinctly powerful air flow, making it capable of cooling larger room of up to 130sq.ft. What's more, the sleek design of the machine allows it to blend into most room interiors, whether it's a bedroom, office space, or living room, without interfering with the existing aesthetic appeal. While this cooler doesn't have the largest tank capacity on the market, it's 15-litre capacity goes a long way thanks to its efficient mechanism. The unit also happens to be one of the sturdiest models on the market, minimizing breakdowns and servicing costs to a significant degree.
Bajaj PC2000 DLX 15L, 150W Room Cooler
This economically priced and artistically-designed air cooler from Bajaj is best known for its easy usability. Offering superior and uniform cooling in rooms of up to 200sq.ft. and 25ft of an air throw distance, this air cooler is a lot more robust and proficient than its size suggests. The multi-directional wheels allow for easy movement, so whether you're using it between multiple rooms in your house or carting it through an office building as and when required, the job is easily done. The inverter compatibility lets the cooler run even during power cuts, which is nothing short of a blessing during the summer months.
Hindware Snowcrest CP-161901HLA, Personal Air Cooler
This low-maintenance air cooler is fitted with a highly efficient honeycomb pad, which allows for minimal damage and easy servicing. The Ice Chamber technology cools the room a lot faster, while the High Air Delivery facilitates even cooling throughout the room. This Hindware Air Cooler is also fitted with a water level indicator that tells you when your cooler needs a refill. Another good feature is its Inverter Compatibility, which stands the test of most power cuts as well.
Havells Fresco Air Cooler
This Havells Air Cooler is energy efficient and also boasts a 24 litre-tank that lets you enjoy hours of optimum cooling. Further, the air cooler makes minimal noise which ensures you aren't disturbed by the functioning sounds of the machine. What's more, the cooler comes with 3-speed settings, so that you're cooling your room to your ideal temperature, no more, no less. It also has a cord-winding station and auto drain feature to make usage more convenient.
Finding the right air cooler is easy when you compare your needs to what each model has to offer. However, make sure you've read the reviews, compared and contrasted the specs of each model, and calculated the amount of energy your unit will consume in the long run.
Bottom Line: Above mentioned, all the air coolers are high in demand and always ensure that people get a good experience this summer and never feel exhausted or dehydrated this summer. As the demand for air coolers are rising day by day due to their pricing factor and electricity reduction, it has forced the companies to design and build upgraded and latest air coolers.
Author Bio:
About Michelle Joe: Michelle Joe is a blogger by choice. She loves to discover the world around her. She likes to share her discoveries, experiences, and express herself through her blogs. You can find her on twitter: @michellejoe524