Digital art is making a vast place and too many companies are introducing very well featured software. With the help of the best editing software, anyone can create a comic, graphic, illustration, and painting easily. Whether the user is a beginner or professional, anyone can create a masterpiece according to the imagination. To bring imagination into the real world you have to find excellent Digital Editing software. With the help of the best painting and editing software, you can create anything that you want with a fine quality feature. So, let's go through where to find the right digital painting software?
Check out the list o the below-mentioned editing software and choose one for creating a digital painting, comic character, illustration, etc.
List of Best Digital Painting Software
When you create a catchy image that it will help you to increase the number of your viewers. To create an excellent one is a big responsibility of the creator. OR to create a masterpiece master software is required. So with the help of the list of best digital painting software, you can create a mesmerizing image with beautiful effects.
The below mentioned are the good features and easy-to-manage software that you can use at a reasonable cost.
Abode PhotoShop
When you talk about editing the first name click in your mind is Photoshop. This one is the most popular painting and image editing software. With the help of this software, a beginner can easily editing images. Now it brings lots of creating features, brushes, shapes, etc to create a digital painting.
It is a bit costly as compared to the other brands. The software work in windows but it adds a complementary iOS App that is more powerful for the iPad.
With this, photo editing becomes more attractive.
With this, you can share data and access multiple assets because it is a part of Adobe Creative Cloud.
Clip Studio Paint
This one is the second recommendation. Because the software is designed to create a digital painting, illustration, comic character, etc. The collection of its brushes is very fine and gives you a fine touch in a single stroke. If you are looking for a traditional painting experience while doing a software painting then this one is the best choice.
It offers its services in two versions:- Pro & EX. The pro version is affordable. If you choose this then you can only manage a single page at a time and fewer features as compared to the EX. ButWith the help of the EX version, you can easily manage multiple pages simultaneously. It offers you an amazing combo of 3D art painting, illustration, etc.
Photoshop and Clip Studi paint is demanding software to create painting effectively. So I you want to buy a fine one between then first read Clip Studio Paint vs Photoshop.
Corel Painter:- Latest Version
Corel Painter's latest version is the best enhancement painting software. If you are familiar with the services of the above-mentioned two software then you can switch n this.
This one is the new version that helps you to create a masterpiece according to your want. With the help of this, you can easily use numerous colors, shapes, etc. The brush stroke is very smooth and available in various shapes.
In this, you can easily chooe the 12 artistic styles. The software is suited or a range of styles.  The software is suited to create photo art, fine art, manga, concept art, and illustration. In its brush collection, you will get more than 900 brushes options & various customization options.
What are the valuable techniques to get better at digital painting?
With the help of the growing software and innovation, digital art painting is not very much difficult. You can create multiple paintings or edit them easily. But, if you know about all the amazing techniques of digital painting then you can make it easier and better.
Techniques you should use while doing digital art
Use the default while and light color canvas
Use limited colors If you don't want to make your painting dizzy
Copy Colors from reality
To paint use a big brush
Get familiar with your software before using it
Learn the value of the colors
List of Free Digital Painting Software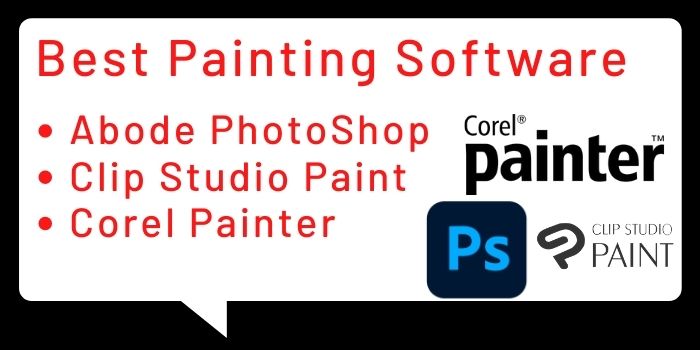 Many o the users are not able to afford high or low-value editing software. So or all those here comes god. The below-mentioned software is free of cost through which you can create a painting. Add the best software to your device to create a beautiful painting.
Krita:- Top quality drawing software free of cost
Artweaver Free:- Huge selection of brushes with realistic traditional media
Microsoft Paint 3D:- Kids-friendly software for making 3D Paintings
MY Paint:- A tool to master your skill of Digital Painting
Conclusion:- Best Digital Painting Software
In this post, you get familiar with the valuable and effective Digital painting software. The latest version of all the software is amazing. But, If you ask us which one is best then we will recommend you Clip Studio Paint. Because it provides you several amazing painting tools, features, etc. So, purchase the best one and start creating a master.