Software-defined storage solutions are much more than a marketing strategy. They offer a full suite of storage services featuring comprehensive data services & eliminate storage silos. As a result, it gives you better control over your resources while reducing your overall data center footprints & IT expenses.
Although, the term "software storage solution" is not new to the IT world. Started as a marketing gimmick, software storage solutions have advanced & re-defined storage management capabilities for businesses all across the globe. However, many businesses still don't realize why SDS solutions have been around and what is the impact they can cause.
If you're also one of those enterprise owners or IT professionals who aren't sure what a software storage solution exactly is then this article is a great guide for you.
You can find several definitions of software storage solutions all over the internet. Perhaps, multiple suggestions and ideas can add more ambiguity to your concepts instead of simplifying them.
So to simplify the concept of SDS solutions, let's probe into the most easily comprehensible definition of software-defined storage solution;
What Is a Software-Defined Storage (SDS) Solution?
Software-defined storage solutions or software storage solutions decouple the underlying storage hardware from the data services layers and automate storage management functions across multiple devices.
In this way, the individual arrays have more advanced data services and storage management functionality. SDS solutions run on commodity servers and elevate the value of your storage infrastructure by providing centralized data servers.
Although, there is no standard for a software storage solution. However, the Storage Networking Industry Association (SNIA) has made the concept of software storage solutions simpler i.e. "virtualized storage with a service management interface."
In a nutshell, SDS solutions provide a single interface from where you can manage the functionality of your storage pools with a few clicks. As it presents multiple storage pools as storage tiers to the application workloads.
It uses appropriate protocols to redefine the purpose of your storage devices provisioned with the SDS solution. Also, it offers fundamental value to your virtual storage infrastructure by providing additional data services i.e. automatic data tiering, encryption, dedupe, async/sync replication and ransomware protection.
The admirable factor about SDS solutions is that they add value to your IT infrastructure regardless of the underlying hardware's capabilities.
Now you may be thinking that why is there so much hype about the software-defined storage solution in the modern IT world?
Why Are SDS Solutions Essential For Modern Enterprises?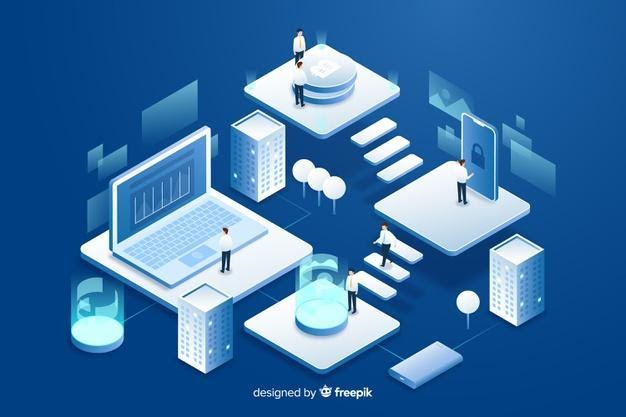 Successful businesses never undermine the value of "Data". As it assists them through informed decision-making & articulating goal-oriented business strategies. However, the explosive growth of data also increases the need for sufficient storage appliances.
Typically, in legacy data centers you have to buy more CPUs and memory resources to increase the storage capacity and computing power of your data center architect.
On the other hand, software-defined storage solutions offer the following benefits that meet the ongoing demand of your business growth in the long run in a cost-effective way.
1. Software Storage Solutions Offer Single Management Interface For Multiple Storages:
Think of a legacy data center that required the end-users to manage their multiple storage capacities from different resource management interfaces.
Software-defined storage solutions have resolved that problem by providing common management services and interfaces across a distributed storage infrastructure.
2. Software Storage Solutions Offer Greater Flexibility:
As we know that legacy data centers use a soiled approach and it only allows the end-users to scale up their resources in case of more storage needs.
On the other hand, software storage solutions offer a scale-out architecture that empowers the performance of your devices and increases the overall throughput as nodes are added to the overall storage network.
3. Software Storage Solutions Are Cost-effective:
The heart of any software storage solution is its ability to configure multiple storage capabilities at a central location.
As vendors like StoneFly, NetApp, DataCore & Veeam offer SDS solutions that help you provision NAS+SAN workloads to your virtualized infrastructure and configure cloud/ hybrid solutions to your software-defined storage.
These solutions also offer automatic data tiering services and policy-driven intelligence to your IT infrastructure. That helps you balance loads and distributing hot, warm and cold data across various tiers of virtualizing, on-premise and cloud storage systems.
At this point, it's pretty obvious that how SDS solutions help you build a large-scale storage network at the fraction of your IT expenses required to elevate legacy data centers.
Speaking of cost-effectiveness, how can I forget to mention that StoneFly SCVM (software concentrator virtual machine) is a remarkable SDS solution that comes up with data services like snapshot technology, worm & ransomware protection, deduplication, async/sync replication and military-grade data encryption and security services in a single package while other vendors charge for SDS solution and data services separately.