Blog Outline
I. Introduction 
A. Definition of Onboarding Software
B. Importance of Onboarding Software for Staffing Agencies
II. Benefits of Onboarding Software
A. Streamlined and Automated Processes
B. Enhanced Communication
C. Improved Compliance
III. Features of Onboarding Software
A. Customizable Forms and Documents
B. Automated Task Management
C. Integration with Other Systems
IV. Key Considerations When Choosing Onboarding Software
A. Security and Data Protection
B. User-Friendliness
C. Cost and ROI
V. Conclusion
A. Recap of Benefits and Features of Onboarding Software
B. Importance of Choosing the Right Onboarding Software
Why Onboarding Software for Staffing Agencies is Required
Onboarding is one of the first processes, which initially creates an image of a firm within the candidate's vision, but what if this image of any firm is poor at the very beginning, what if your hiring managers failed to explain about your firm? What if you lose a good candidate because of your late response? Scary isn't it?
In this article, we will see what is onboarding software? What is the importance of onboarding software for staffing agencies? Features and benefits of using onboarding software and in the end will be concluding the article with the most popular applicant tracking system for staffing agencies.
What is Onboarding Software?
Onboarding software is Staffing and recruiting software that helps candidates have a glimpse of the company prior to joining. The software also helps firms to do more streamlined and automated hiring. Onboarding software is necessary for staffing agencies to streamline the hiring process and create a better connection between managers and candidates.
The software is made to ease out the onboarding process, i.e introducing a new candidate to the company, workplace, and their roles. Onboarding is the first step, which helps the new candidates to fit into their working environment smoothly. This makes onboarding very crucial for any firm. Since onboarding is the initial step, this has to do with perfection and precision.
How do Staffing Agencies Work?
A staffing agency, also known as a recruitment agency works as a facilitator of employees to the companies. These agencies aid the companies to fulfil their employment requirements. But ever wondered how they are able to find suitable employees for your company? What software do staffing agencies use? Moreover, how are they able to do all the verification so quickly and accurately? Let us break this up for you. 
Investing in good onboarding software for staffing agencies, helps them to track and categorize the applications of various applicants. And amongst those applications, they are able to find suitable candidates for any firm. However, in this a good applicant tracking system is necessary. The onboarding software also helps in verifying each document of the candidates themselves without any manual interruption. And allow companies to keep a record of their candidates in a safe place.
Importance of Onboarding Software for Staffing Agencies
After knowing, what is the onboarding process and onboarding software? Now let us discuss what makes onboarding software important for any company and small businesses. 
1- Makes hiring more streamlined
Onboarding software makes hiring more streamlined and automated. This software also includes applicant tracking software for staffing agencies, which helps in improving their work and makes it quicker. 
2- Improves productivity
This software plays a significant role in improving the productivity of employees and allows them to focus on other different tasks. This software can take control of the hiring itself.
3- Cut the heavy documentation
The onboarding software for staffing agencies helps with documentation a lot. Documentation is very heavy and tricky work to do, and this software allows you to categorize and store all the documents in one place.
4- Improves efficiency of small businesses
Staffing software for small businesses allows them to pay attention to more important work and provides them with a space where they can be more productive in their work.
5- Use for staffing agencies
ATS for staffing companies is so beneficial, as there is no need for manual document verification, ATS sorts out the verification, and interview scheduling, and sends automated texts to the candidates. 
 Features of Onboarding Software for Staffing Agencies
After knowing the importance of onboarding software, let us see the features of ATS for staffing agencies and what makes it useful as a staffing software for small businesses. 
1- Customized forms and docs
Onboarding software has the ability to customize the forms and applications of several applicants. It gives us a more filtered-out application of the candidates. 
2- Automated task management
Onboarding software does more reliable automation of tasks and simplifies things for recruiting managers. It simplifies the tasks and duties of the HR department and allows them to focus on other strategic work. 
3- Integration with other systems
This software promotes the integration of the talent acquisition process with other systems and promotes a more streamlined way of working. ATS helps you to integrate other systems and duties.
Benefits of Using Onboarding Software for Staffing Agencies
Let us see the benefits one can expect after owning onboarding software, as a firm one has so many responsibilities now to ease out the tasks and the burden of hiring onboarding software work for the firm and provides these benefits.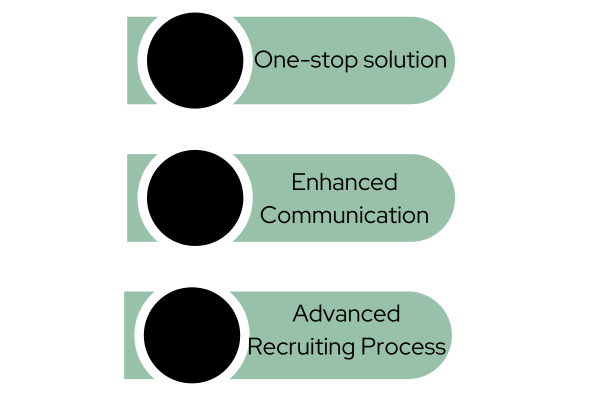 1- One-stop solution
No doubt, onboarding software provides a one-stop solution for all the recruiting responsibilities, from every document to interview, ATS allows you to track and manage everything in one place. 
2- Enhanced communication
As everything happens in one place, it is easy to communicate with managers and candidates, and the errors and scope for mistakes reduce as everything happens in one place.
3- Advanced recruiting process
One can consider onboarding software as an advanced way of recruiting, onboarding software for staffing agencies works as hiring software, which as compared to manual methods is very much advanced.
Key Considerations When Choosing Onboarding Software
Onboarding software helps to streamline hiring. For that, having good onboarding software is important. Let us see what are the key points one should consider when choosing onboarding software.
1- Security and Data Protection
Data for any company is very important and personal. During the onboarding, the processing company shares their sensitive information which needed to be secure and protected. While choosing onboarding software, one needs to make sure that their data is secure and protected.
2- User-friendliness
Onboarding software works in order to ease recruitment and not to make it more difficult. One should look for simple and easy-to-use software. Which has a user-friendly interface for both applicants and recruiters. The software should simplify the processes for the talent acquisition process.
3- Cost and ROI
Costs and return on investment are two significant points to be considered when choosing any ATS. Cost is the amount any company spends on purchasing or subscribing and further on maintaining. ROI is the benefit one gets from the software. While choosing the onboarding software one needs to evaluate both the cost and ROI.
         
Conclusion
Onboarding software is today an inevitable need of every firm and staffing agency. Whether to shred off the unnecessary documentation work or to ease out things for the talent acquisition process. Onboarding software for staffing agencies or companies plays a significant role and is essential for leaving a positive outlook of any firm to candidates. And for that choosing a good onboarding software is equally important.
Frequently asked questions
1. What is the primary purpose of an applicant tracking system?
The primary purpose of Applicant tracking software (ATS) is to streamline and automate the recruiting process. ATS simplifies everything with the help of their easy-to-use inbuilt dashboards and features like candidate management, job application management systems, detailed candidate and job information, and so on. 
2. How does ATS software help staffing agencies in the recruitment process?
Staffing agencies work as middlemen between firms and job-seeking candidates. To specify their work onboarding software for staffing agencies works like magic. It assists them in posting jobs, managing candidates, effectively, and helps to compare candidates.  
3. How do employers use Applicant Tracking System ATS?
Employers use ATS to improve and enhance their hiring decisions. Through ATS they can post job openings and review and select resumes. ATS allows them to store every candidate's documents in one place and in order. The applicant tracking system also helps the hiring manager communicate with the applicants.
4. Which ATS is considered to be the most popular?
Pitch N Hire is considered to be the most popular applicant tracking software. It is an AI-powered hiring software, which can be used by firms to make recruitment more effortless. It provides easy-to-use dashboards with job application trackers with drag-and-drop facilities to elevate your hiring choices. Additionally, provides services like background checks and permanent and contractual staffing. Lastly, it allows you to manage candidates and makes it easier to identify the top candidates.