The advancement of technology is triggering the development of the educational sector rapidly. Apart from hardcopy books, students are now becoming very much flexible in studying on laptop/ computers. The interactive studying methods are helping them to understand the subject in a more detailed way. Basically, this is a new way of learning through visual representation. 
Well, technically, there are certain devices that you can consider as the best student laptop. But each and every laptop has its own super feature that makes it unique from the rest. So, you have to choose a user-friendly laptop that has all the necessary features, to assist through every educational program.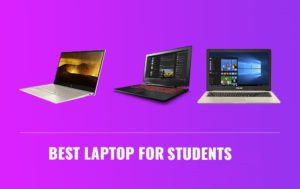 The Best Laptops for High-School and College Goers 
Apart from gaming and other high-end features, there are certain laptops that are highly compatible with a student's requirement. With the help of these devices, every student will gain the ease of acquiring knowledge interactively, in their own fields. So, let's check them out:
1. Hewlett Packard Envy 13
HP Envy 13 (2019 edition) is one of the most user-friendly laptops in the market. It comes with an Intel Core i5 and i7 processor. Intel UHD Graphics 620 or Nvidia GeForce MX250 is also present in this device, for the perfect graphical user interface as well as representation. The volatile memory comes in two variants- 8 GB and 16 GB. One of the most overwhelming features of this device is its display. The size is 13.3 inch with 4K Ultra HD video compatibility. 
The outer body is glossy and attractive. The overall performance of the device is fast enough to support normal operations like video presentation, doing assignments, Matlab, AutoCAD, and other projects as well. You will never get bored with studying, as it has the capability to deliver more than 11 hours of battery life. Thus, this device is counted among the best student laptops for students. 
 2. Asus VivoBook S14 
This device has the latest Windows 10 operating system installed in it. So, you will receive all the latest and sophisticated features associated with the Microsoft applications. The laptop is also powered by Intel's powerful Core i5 processor. The nerves of silicon will execute all of your tasks within just a blink of an eye. 
The looks of this laptop are what attracts the students. The volatile memory comes with 8 GB. 500 GB of non-volatile memory is just enough for a student to accomplish daily tasks and assignments or learn through online classes. Furthermore, it also has integrated high definition graphics powered by Intel Corporation. 
  3. Dell XPS 13
With its classy looks, Dell XPS 13 is considered as one of the premium or best student laptops. The device comes with Intel Core i3, i5, and i7 10th generation processors. The graphical processing unit is powered by Intel Iris Plus. The battery gives a maximum of 12 hours of backup. 
From all the previous models of Dell XPS, the host has made this device much lighter and thinner. So that the students don't face any difficulties while carrying it. Moreover, the display of this device is bezel-less. The trackpad and keyboard of XPS 13 are much bigger on every side. Probably, Dell is the first laptop making organization to incorporate such high-end features in a single laptop. 
 4. Google Pixelbook Go
The Pixelbook Go runs on the Chrome operating system made by Google. It might seem to be expensive but stuffed with innovative and high-end features. The device is powered by Intel Core m3-i7 processor with Ultra High Definition graphics. It has a molecular display that easily supports 4K Ultra High Definition. 
In this device's keyboard, Google has introduced the 'Hush' keys. This key reduces noise while typing. Compared to the previous Chromebooks, the keyboard has evolved a lot. The battery life is just top-notch and you will never face any difficulties while attending online classes for hours. As this laptop has a Chromebook OS, not Windows, you can seek assistance from laptop repair Dubai, in case of any glitch. 
 5. Lenovo IdeaPad S145
Lenovo IdeaPad S145 is the successor of its 2018 edition. The device comes with the latest Windows 10 home version powered by Intel 8th generation processor. The secondary memory comes with 1 Terabyte of HDD. Moreover, the non-volatile memory comes with 4 Gigabytes. 
There is one good thing about this laptop- if you want, you can replace the HDD with an SSD. Installing an SSD in your laptop will boost the non-volatile data transmission and synchronization. Several experts say that it will be a great working device for the ones pursuing higher-studies. 
 6. HP Pavilion 14
HP Pavilion 14 comes with 8th generation Intel Core i5-8250U processor including Intel's Ultra HD graphics card. The volatile memory is 8 Gigabytes and non-volatile memory comes with 256 Gigabytes of SSD, which is indeed great. The display is 14 inches, with Full High Definition resolution. The build quality is solid, with many latest features and specifications. The stylish design is bound to attract the students. 
So, what's your Decision?
As there are a huge number of choices in the market, you have to make a wise move. Choose a laptop that will be in your budget. In addition to that, make sure that it's features serve your purpose.