What are OST and PST Files?
When we talk about Outlook, two files come to our minds OST (Offline Storage Table) and PST (Portable Storage Table), which Outlook users use to store their data. PST files are used to store Outlook data, while OSTs hold email and other items in an Exchange account. so that you can easily share PST files and can be transferred from one Outlook client to another without any IT expertise. Whereas you cannot share or open an OST file. Well, there are many benefits of moving OST file data to PST, some of which are mentioned below.
Why Need to Convert OST to PST?
Here, we have pointed out some of the reasons that lead users to turn their Outlook OST files to PST.
Converting OST files into PST assures you a backup of your data for future reference.

It saves you from accidental deletion of your data.

Transfering your OST file to PST facilitates offline access to your data anytime anywhere. 

By creating a backup of your Outlook data, you can protect it from getting lost.

You cannot share an OST file, so you have to change it into PST to make it portable.
These are some merits of converting OST to PST. Now, let's move ahead to learn the methods to export Outlook OST to PST with maximum security and authenticity.
Methods to Convert Outlook OST File to PST
There are various ways to change OST files into PST but most of them are hard to perform and complex. Therefore, ahead in this section, we are going to explain the easy and secure solutions that can help to convert your OST files into PST.
Method 1: Convert OST to PST Using Import/Export Feature
To perform this method, you need to download the Outlook application on your system and follow the steps mentioned below.
Run Outlook on your system.

Go to File >> Open&Export >> Import/Export.

Choose Export to a file feature and click Next.

Select Outlook data file (.pst) and click Next to move forward.

Click on the account you need to transfer to PST, then hit Next.

Select the folders you require and press Next.

Browse the destination to save the resultant file then click Finish.
Method 2: Transfer Outlook OST file to PST Using the Archive Option
Outlook has this built-in feature to convert your OST files into PST without relying on any other application. So let's continue to explore the working of this process.
Open Outlook and go to the File tab.

Click on the Tools option.

Select Clean up old items.

Choose the folders that you want to turn into PST.

Lastly, click OK to finish the process.
These are the methods that are capable of turning OST into PST by using MS Outlook. However, if you are a professional and looking for the fastest solution that can change your OST files to PST files without any data loss then the above manual methods are not the reliable solution. They are only useful for small data conversions. In that case, we suggest you an automated Aryson OST to PST Converter that allows you to change OST to PST with ease and facilitates an attractive GUI with a straightforward procedure.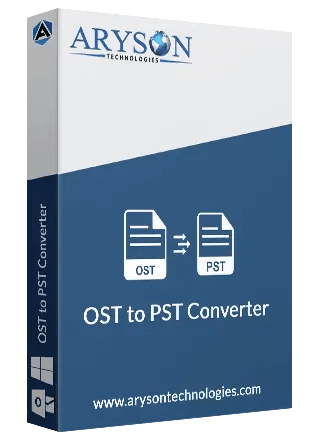 Conclusion
In this blog, we have described several methods to transfer Outlook OST file to PST. There are two manual solutions that can solve your OST conversion process if you have a small size of OST files. Moreover, if you are choosing any of the explained procedures then you should be aware of the fact that they are quite slow, hence they take time to complete the whole process. Well, go with methods that suit you the best, or try the automated approach for excellent results.   
Frequently Asked Questions
How do I convert MS Outlook OST to PST with all its data?
There are many manual methods that can convert your Outlook OST files into PST, but here we are describing the easiest and simple one.
Launch MS Outlook and go to the File tab.

Select the Tools option.

Click on the Clean up old items.

Pick the folders you require to turn to PST.

Finally, click on OK to end the process.
What is the best method to migrate OST files to Gmail with 100% data accuracy?
OST to PST Converter is the best solution to migrate OST files to Gmail with the utmost security and data integrity. It has many features that help in the smooth migration of OST files like a date range filter, removing duplicate items option, and many more.