OneDrive is a famous cloud drive that can store and sync your files online. It has been published by Microsoft in 2007 to let users store personal and business data online and sync data across different desktop and mobile devices. A OneDrive account offers 5 GB of free cloud storage, and users must pay for more cloud storage.
Why Copy Files from OneDrive to Another Account?
With only 5 GB of free storage, you are very likely to have more than one OneDrive account. There are many reasons to copy files and folders from one OneDrive account to another.
If there is a safety issue with your current OneDrive account, copying your files to another OneDrive account will ensure the safety and accessibility of your important data.
If you are transferring important documents from one shared OneDrive account to another shared OneDrive account or moving files from OneDrive personal to OneDrive business, it is appropriate to copy those files to a personal OneDrive account. This prevents others from modifying your files.
Another major reason to copy files between OneDrive accounts is to make a backup of OneDrive data to prevent data loss.
If the current OneDrive storage is almost full, files can be copied to another OneDrive to free up your current OneDrive account. You can remain with only the important ones in your current OneDrive that you cannot do without.
Best Way to Copy Files from One OneDrive Account to Another – MultCloud
If you want to share your OneDrive files with another team or give ownership of those files to another team, you can copy files between OneDrive for business or school accounts and Microsoft SharePoint Online sites. You can copy data between OneDrive and SharePoint Online, or between SharePoint Online sites.
These operations can easily be done with the "Copy to" function of OneDrive and SharePoint Online within the same Microsoft Office 365 account. However, with the help of a professional cloud-to-cloud transfer service, MultCloud, you can easily copy or transfer files from one OneDrive account to another whether they are in the same Microsoft Office domain account or not.

MultCloud is an industry-leading multiple cloud storage manager that offers Cloud Transfer, Cloud Sync, Cloud Backup, Team Transfer functions, and a well-designed web interface for you to manage all your clouds in one place and transfer data across clouds with one click.
Cloud Transfer: One-key superfast data transfer and copy across clouds.
Cloud Sync: 10 excellent one-way, two-way, and real-time sync modes.
Cloud Backup: Backup or restore up to 1000 versions between clouds.
Team Transfer: Achieve team migration with the auto-match function.
MultCloud supports more than 30 popular personal and business cloud storage services, including OneDrive, OneDrive for Business, SharePoint Online, Google Drive, Google Workspace, Dropbox, Dropbox Business, Box for Business, Amazon S3, MEGA, pCloud, FTP, WebDAV, etc. You can add all these clouds to MultCloud for free.
What's more, MultCloud uses 256-bit AES encryption for SSL to full-time protect your data copy process and ensure that none of your data would be damaged during copying.
How to Copy Files to Another OneDrive Account via MultCloud?
Step 1. On your browser, open the MultCloud website to create an account.
Step 2. Add a OneDrive account to MultCloud by clicking the "Add Cloud" button. Then choose the OneDrive or OneDrive for Business icon and log in to that OneDrive account. After that, this OneDrive would be automatically opened in MultCloud.
Step 3. Add another OneDrive account in the same way.
Figure 3. How to Copy Files to Another OneDrive Account via MultCloud?
Step 4. Open the Cloud Transfer function, choose files and folders in one of your OneDrive account as the source, and choose another OneDrive account or a folder in it as the destination.
Step 5. Now you can click the "Transfer Now" button below and MultCloud will copy files from OneDrive to another account immediately.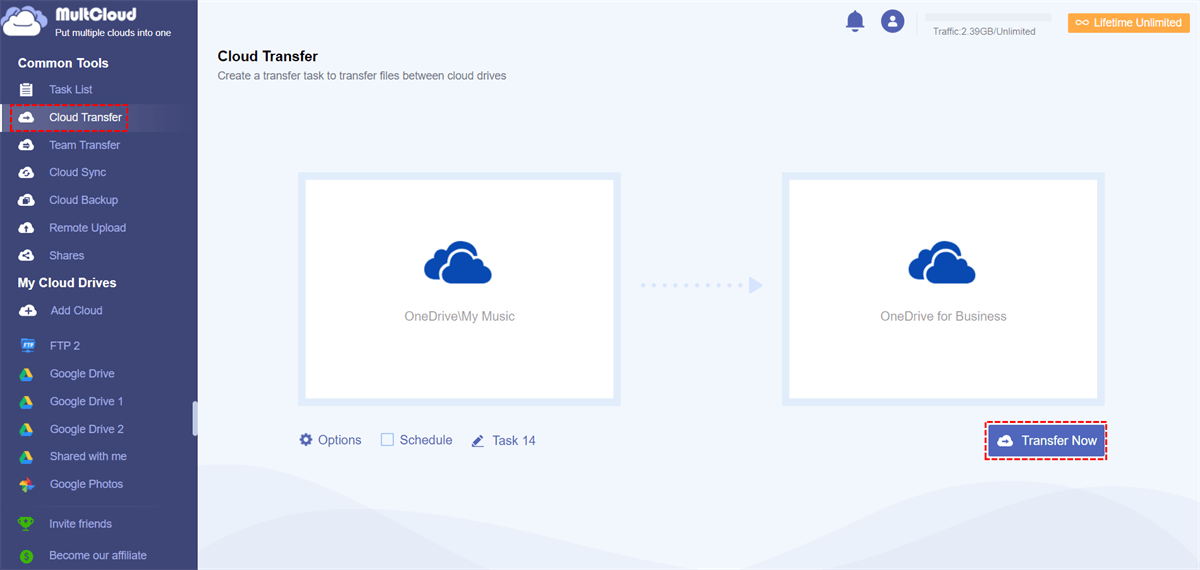 Cloud Transfer allows you to copy files within the same cloud account or between different clouds. And you don't need to wait for the process to be done since MultCloud supports the offline transfer.
Conclusion
It's perfect to copy files from OneDrive to another account if you own more than one OneDrive. As a free backup software, you can quickly access the same file from different OneDrive accounts without switching with it.