When you run a service or product-based company, it is very important to manage your products and services, market them appropriately before the right audience, let them know about features and functionalities, and make transactions immediately. There are many customers who land on your website, read advertising materials and go away instantly without taking any action.
Such unpleasant situations happen many times in business marketing campaigns when you neglect customer's preference and show them products and services that are irrelevant to them. That is why companies and entrepreneurs have started to use CRM software to manage products and services easily & run a lucrative business. Let's see :
How to Manage Products and Services with Software:
Product/Service Marketing in a Systematic Manner
Professionalism and consistency matter a lot when you promote products and services and generate sales. There are many companies that fail to generate enough business opportunities despite aggressive marketing campaigns. They can use the CRM software to advertise their products and services in a systematic manner. The CRM software captures data from customers, stores them on cloud servers, and tracks users' activities on your website/social media pages. You can analyse the collected data to get better insights about customer reaction to your marketing campaigns & generate more results.
Inventory Management
In simple words, Inventory management is the optimization of goods and services and other activities to reduce storage costs while ensuring the level of service and uninterrupted operation of the enterprise. Always keep in mind that effective inventory management allows an organization to meet or exceed customer expectations by creating stocks of each product that maximize net income.
Corporate policies that promote efficient stock optimisation are the first component of successful inventory management. It takes a lot of time to conduct a stock inventory manually. Furthermore, the chances of errors are always higher. So, the introduction of the CRM software allows cashiers, auditors, and company owners to generate reports about the available goods and services in the office and complete the stock audit easily and quickly without any problem. The chances are silly mistakes are also minimised up to a great extent. For example: If you are operating a salon business and managing the salon products inventory then Salon software helps you a lot to maintain the stock of your salon products.
Automated Recommendations for Related products
All entrepreneurs want to sell more products and services. All equipment has related products and spare parts. For example- TVs and music instruments need batteries. New shoes with high-quality cream and a brush will make a good package for buyers.
That is why companies use CRM software to make automated recommendations for related products to customers. Related sales can increase your store's profit by 10% every month.
Nearly 90% of all buyers agree to buy some useful stuff recommended by online shopping portals. Always keep in mind that product recommendations on online stores increase conversion and sales volumes tremendously. You can use the CRM software for automated  product suggestions to customers.
It will analyse the user behaviour on the site, viewed products, order history, preferences, interests, etc, and make automated recommendations to them for related products. It helps to boost the sales volume by leaps and bounds.
Instant Communication with Customers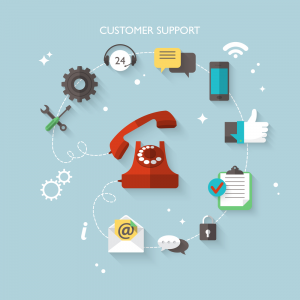 When customers buy regularly from you and use your products and services, they come up with issues from time-to-time. They contact you through Emails, social networking websites, chatting apps, and website and expect a speedy answer from your side. Companies with a large customer base have a huge pile of questions and concerns. So, their representatives fail to answer the questions of all customers in at the right time. Customers feel irritated with it, stop using your services, and spread negativity about your brand, which repels potential customers away.
By using the CRM software, you can improve the communication level with customers, respond to  frequently asked questions with Pre Made answers and make them happy. Subscribe good CRM software and ask its admin to set the answer of some FAQ and general questions with answers. When a customer submits the matching question, he/she will get answers instantly and react accordingly.
To Monitor Sales Flow & User reviews
When a company create products and services and put them on sale, some of its products sell like a hot cake. People make advance bookings and payments to avail a popular product and service. Such popular products go out of stock soon after their introduction to the market. However, there are many products that get a cold response from customers and bite the dust in your stock.
Be active, use the CRM software, and ask customers the reasons why they are not interested to buy certain advertised products. Based on their feedback, you can make improvements in products and services and ensure their sale every day. For this, use the analytics feature of the CRM. It gives up-to-date reports about different metrics of the business & enables you to boost the sale of goods and services.
Final Words
Proper management of products and services is the key to ensure their sale and increase the business volume. Use CRM software to make a remarkable improvement in product/service marketing, boost its management, and sell more products and services every day.